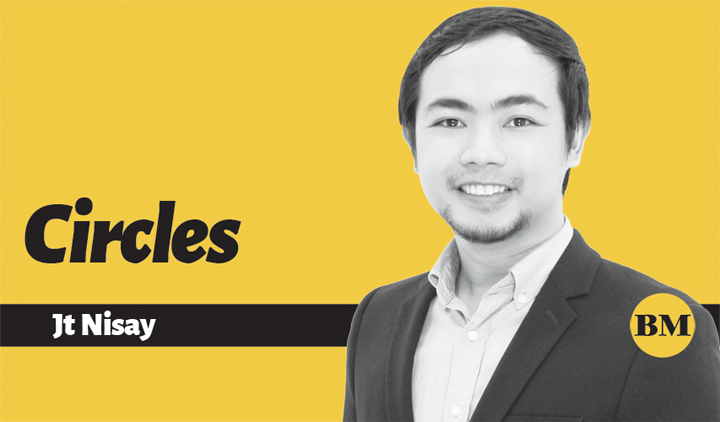 IN a quick, introductory chat on the sidelines of her debut solo exhibition at The Farm at San Benito in Batangas, Rachel Ngan Dueñas mentioned that she only started painting during the pandemic's onset.
"People made banana bread, I made paintings," said the giddy woman of the hour, laughing.
While most picked up a new hobby to simply pass the time in lockdown, Dueñas had a different reason for picking up a paint brush. Art-making served as her release, transforming all the intense emotions that her tea meditation students put into works of floral abstraction.
The hospitality management graduate began conducting tea meditation sessions a few years ago. Dueñas became only the second tea sommelier in the country after receiving her certification from the International Tea Masters Association, considered the global standard in tea education. She used her knowledge in tea and its relaxing benefits as a consultant for several bars. Eventually, she turned to it to meditate and help her deal with the changing world.
Dueñas's practice of tea meditation centers on extending compassion and kindness to one's self—"the kind you can control," she said. It involves acknowledging pain and making a wish for self-improvement, even something as simple as getting better sleep tonight. Regardless, the key is to channel that energy of hope into a hot cup of tea, take a sip, then feel that wish physically spread and manifest throughout the body.
She told her friends to give tea meditation a shot. Before long, Dueñas found herself conducting classes of different sizes. Group sessions are mostly fun and tackle only what's on the surface, but working one-on-one cuts deeper, she said, revealing more intense feelings of pain, insecurity, grief and more.
All those emotions weighed heavy on Dueñas. The shock-absorber searched for an outlet and found her answer in painting.
"I don't fully take credit for the artworks," she said, pointing to a certain "divine influence" at play after praying that her art materials take the pain that was not hers to begin with.
Interestingly, Dueñas's channeling of negative emotions on canvas produces works of almost child-like floral art, which feels as innocent as they are jubilant. The artist said it's a conscious decision to send the message that our perception of pain should be reimagined.
"A lot of people think that your pain is ugly, but what I learned in these paintings is that even your ugly parts protect you," Dueñas said. "Society has taught us that our pain should be censored, that our pain is not acceptable, but that's not the case. We had to endure a lot before blossom. That's how pain becomes flowers."
Showcased in Dueñas's maiden solo show, titled Healing with the Arts, are 44 floral abstractions. Each piece is charged with stories of pain and beautiful transformations. According to Dueñas, her collectors have compared her cathartic artworks to the likes of Gaugin, Monet and Matisse, as her style offers a distinct sense of joyful naïveté.
Healing with the Arts is on view at The Farm at San Benito until June 30. The venue, Dueñas said, proves perfect for the show's concept.
"As nature in itself is a great storyteller, I want my pieces and those who enjoy them to be surrounded by it," she said. "The Farm at San Benito incorporates ample nature, and because it's a place where one can rest, relax and heal, it is the perfect venue for Healing Art."
Apart from her mission to promote healing through visual arts, Dueñas also hopes to support Gospel ministry through her paintings. A portion of the proceeds for each painting sold goes to All Nations Mission School, which does missionary work and currently has 43 local Mangyan churches in four different regions of Occidental Mindoro.
After her show at The Farm, Dueñas is set for another solo show on October 7 at Galerya Amalia in Parañaque City, under the tutelage of art critic Cid Reyes.
"Next to that, I'm looking forward for more," Dueñas said. "I'm not done telling my story. I'm not done telling the story of others."