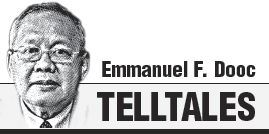 ---
Nurses in this country are treated as second-class citizens. After laboring hard to earn their diploma and passing the board exam, many of them accept indecent wages just to earn a living from their chosen profession. Many work despite the meager pay and working conditions to varnish their credentials and gain the work experience required for them to work abroad. They are lucky if they find jobs in government hospitals where the compensation is a little better.
The paltry sum they earn is hardly enough to pay for their board and lodging, clothing, transportation and food. The current nurse to patient ratio of 1:40 to 1:60 is one of the highest in the world. More often, nurses are required to do double shifts to cover the lack of relievers. They are overworked, underpaid, and, except those who are hired by big and modern hospitals, serve under harsh working conditions. Annually, we graduate close to 40,000 nurses. They all dream to work in hospitals overseas where the pay is much higher. When the job market for nurses abroad is huge, a BSN degree is equivalent to a visa and it is not even uncommon to find medical doctors retraining to become nurses and join the exodus. Nursing students and even graduates have great difficulty furthering their training locally due to lack of accredited hospitals that can provide them more training in an actual hospital setting, yet they fill up the critical shortage of nurses around the globe.
A great number of the ranks of nurses abroad are made up of Filipinos. In California alone, nearly 20 percent of the registered nurses are Filipinos. We are the top exporter of nurses to the US, Middle East, United Kingdom, the Netherlands and Ireland. This makes our nurses highly vulnerable to the virus, and this pandemic obviously is taking a devastating toll on them. In the US and UK, the obituaries reveal that the Filipino ranks of nurses take a heavy toll. A FIlipina nurse in London who contracted the coronavirus, Malujean Ballesteros, said before she died, " I love my job." To her, it was not just a job, it was a calling, which she answered with great devotion and care. She took care of others' lives better than her own.
The significant role that our nurses play has never been recognized or appreciated more than the present time during this pandemic. Our nursing work force bears the brunt of the lethal effect of the pandemic. They are mostly working in patients' care, medical and surgical rooms and ICUs where they are exposed to greater perils. The risks are disproportionately borne by them. The lack of PPEs poses a clear and present danger to our nurses. It poses a grave hazard to our nurses who man the first line of defense against the virus. Nurses are a valuable resource and we cannot afford to lose any of them. The WHO has expressed alarm about the big number of health workers who had been infected with Covid-19 in the Philippines. "The trend that we are seeing…where the percentage is about 13 percent…is worrisome. In our region, it is around 2 percent to 3 percent. The Philippines is a bit of an outlier."
Many Filipino nurses have perished fighting the virus both here and abroad and were proclaimed heroes for their extraordinary deeds. Recently, Prime Minister Boris Johnson of the United Kingdom, who had just recovered from the illness, was seen sporting a sweatshirt bearing our country's name—Philippines—while jogging. Obviously, it was a sign of Johnson's gratitude to the valuable services of the Filipino nurses in the UK's National Health Service who have lost their lives in the service of his country and people. It must be recalled that when he was released from his hospital confinement, Johnson said that the NHS "saved my life, no question."
Our nurses directly attend to their patients' needs until they recover or expire. All essential support health services will grind to a halt without them. While we have been grateful to their selfless services to our people, let's not overlook their sad plight. We need to give them economic protection by the immediate and full implementation of RA 9173, otherwise known as The Nursing Act of 2002 to increase the minimum salary of government nurses, and extend this to those working in the private sector. This has been unimplemented until recently and I trust that it will be continued. When we get back to normal, let's keep this in mind. Let's remember them as we rebuild our country from the effects of this pandemic. I understand that former Health Secretary Jaime Galvez-Tan and other experts have made a study on nurses' migration to other countries and suggested measures to reverse it. Let's revisit their recommendations and determine if they are workable. Maybe we can initiate a similar "Balik Pilipinas Program" for our nurses abroad and in the process promote transfer of skills and knowledge.
There's dignity and honor behind the crispy white uniform. The white cap the women nurses wear symbolizes commitment and dedication to their sworn duty to serve the sick and the fallen. It is the government and society's obligation to ensure that the nobility of the nursing profession is not compromised by lack of support to pursue their calling. This is one lesson we should learn from this pandemic.