---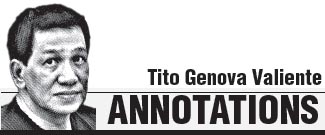 What name shall we give this generation?
I ask the question after seeing my grandniece, Leona, staring into the screen of her laptop. She was attending the orientation for Grade 1 student online. Her school calls the session "Grade School OrWeb [Orientation Webinar]."
Leona's father was beside her but she was alone dealing with the screen and with teachers whose images would appear and disappear because of the glitches in the Internet connection.
What are the expectations of this little girl? Did she think of asking questions and did that session allow a conversation among the children and the teachers? Was she comfortable at all?
What shall I tell Leona?
Shall I tell her she may never have real friends in class as the online class will not allow them to play with each other? I may be wrong; perhaps, these forward-looking teachers have devised means by which the pupils can have games online. I may also be assuming that our Leona will not be happy with online recreation. Perhaps, she will be.
Leona belongs now to this generation that does not have a name yet. If there is a label that stays close to what they can be, it is the name of this virus that has turned the world upside down. A severely contaminating disease is the badge of courage for this generation. While the previous ages had to contend with wars and conflicts, the present population has to deal with internecine crisis and more. There lies the big difference. For all the complexity of global disturbances caused by differences in ideologies and interpretations of geographies that has impacted humanity, there were always human and cultural solutions to everything then. Now, human groups are facing the inconsolable and the incurable. The world does not wait for humans to create peace but for science to generate a cure.
In the meantime, the world awaits in hopelessness. Fortunately, in the DNA of human groups can be found this gorgeous ability to hide the lack of a sense of the future. Intellectuals know this when they write treatises that go around and around syntax and smart diction to disguise surrender. Philosophers keenly are in touch with this when they generate tons of words just to define the most basic element of understanding, which is forgiveness. Artists are natural in contending with the bleakness of tomorrow when they are able to distort faces to nurture a bravado to be used to confront days of forever sunsets. Even gardeners ultimately are the most knowledgeable of sorrow when they rearrange nature into an allure that dares challenge any god's ideation of perfection.
Do young children like Leona understand what it is to lose hope? Or to have a tiny sliver of hope?
Leona and the rest of the young children about to start formal education are lucky: they have teachers who belong to this domain of educators. These are beings that can easily embrace any unusual event by coining concepts that brush away the reality of the issues. So, now they call the current conditions as the "new normal." While to us critiquing mortals, there is an obnoxious fatality in that term, educators will rush to the end of the world brandishing that concept like the mighty sword of a wayward prophet.
True enough, the nation's Secretary of Education running out of constructs about learning in the age of Tablets and Computers is said to have blurted "we will all die anyway."
Unlike teachers and other pedagogues, I would rather mistrust this impending age of online transaction. I could allow some ideas to slide off my back for lack of better things to do while the pandemic rages on. But I will not rest with the lie that normalcy can be called "new" or "neo" and think the world will birth a humane norm.
I take comfort with the poem of Yevgeny Yevtushenko who wrote with such simplicity Leona and her cohorts will understand his poem. In "Lies," the Russian poet writes: Telling lies to the young is wrong/Proving to them that lies are true is wrong.
Yevtushenko continues: Tell them the difficulties/can't be counted,/and let them see/not only/what will be/but see/with clarity these present times./Say obstacles exist they must encounter,/sorrow comes/hardship happens.
The bareness and barrenness of the verse belie the urgent entreaties it contains. I doubt teachers or parents will have the strength and vision to share these sad thoughts with the youth. Every generation tries to protect the generation that follows it. It is as if each generation carries this guilt that it has not done its duty to preserve a world in its pristine state. The result is a series of periods affirming what the old big books wanted to preserve—the fallen nature of man.
I do not know how much attention young pupils could give to the lessons given the cold detachment of online education. It is also possible that the generation of Leona is built to counter the insolent technology of the coming days. It is also possible that this new world is not anymore for us.
Still the words of Yevgeny Yevtushenko, the Angry Poet, persists as he closes his poem: Forgive no error/you recognize,/it will repeat itself,/a hundredfold/and afterward/our pupils/will not forgive in us/what we forgave.
E-mail: [email protected]
Image credits: Jimbo Albano