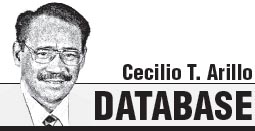 ON Monday Jesus I. Santos, the irrepressible lawyer who consistently advocated for a clear accounting of the multi-billion-peso funds of the Government Service Insurance System (GSIS) used in various currency investments, has again tactfully demanded for transparency in a letter to GSIS President and General Manager Atty. Jesus Clint O. Aranas.
Speaking as counsel for the Confederation of Government Employees Organization Inc. and the National Association of Lawyers for Justice, Santos said it is their "constitutional and God-given rights to know as to the status of the huge investments considering that we are part owner not mentioned in the exemptions cited by the letter of then-GSIS Officer in Charge Atty. Nora Saludares."
Saludares had written Santos a letter earlier mentioning confidential exemptions against transparency on GSIS funds.
"And so Mr. President, our rightful claim for transparency as part owner of these huge investments and to our regrets and disappointments up to now remained unanswered and ignored," Santos told Aranas.
"We most respectfully understood and respect her views," Santos said, "but unfortunately, we do not agree with her views and honestly believe that we have a right to be fully informed about the status of the huge investments on the following:
"1. How and what is now the status as to the $1 billion withdrawn and invested in the local stocks by the former board during the past administration?
"2. What happened to the P87 billion also invested by the former board in the local stock?
"3. What happened to the huge funds, proceeds of the sale of the Philcomcen Building by the GSIS, which was not revealed in public, but instead, what was published is the profit of P565 million also invested in the local stock market?
"4. Sir, there are other investments made by the former board which are part of the records in our communications with the GSIS."
"Our apprehension was aroused when prices in the local stock market dropped unfavorably affecting our country then during the past administration," Santos said, referring to President Benigno S. Aquino III's administration.
In a previous communication, Aranas referred Santos to the letter of Saludares, who mentioned several confidential exemptions on the transparency of GSIS funds.
Because of her letter, Santos filed a case against her with the Ombudsman for violating the anti-graft law (Case IC-OC-16-1267), which is now pending resolution.
Strangely, Santos, instead of being listened to, ended up being harassed and persecuted for safeguarding the interest of GSIS members and executives. At one time, revenue agents shadowed and secretly investigated him for tax evasion, while the GSIS management held his benefits as a board member along with another GSIS board trustee, Alejandro Roces, the late President Diosdado Macapagal's education secretary and a National Artist, who was also an avid advocate for transparency.
Before he died in May 2011 at the age of 86, Roces made a testament, with his family and Santos as his witnesses, that his benefits fund be donated to a charitable institution chosen by GSIS.
While others had gotten their benefits, the GSIS management refused to release the benefits of Santos and Roces, who both retired as GSIS board members in 2010.
Roces and Santos were appointed to the GSIS board by President Gloria Macapagal-Arroyo, who was persistently persecuted and put in jail by the Aquino administration.
Santos, now 92 but still active in lawyering, is known as a close friend of the Arroyo couple and former Senate President Juan Ponce Enrile, who was also jailed along with opposition Senators Jinggoy Estrada and Ramon Revilla Jr.
Santos' godson, Atty. Ruel Lasala, then deputy NBI director, was also unceremoniously removed from the service together with Atty. Reynaldo Esmeralda, also a deputy NBI director, by President Aquino's Justice Secretary Leila M. de Lima who was, in turn, jailed by President Duterte's administration on anti-drugs charges. The NBI is under the justice department.
In the preliminary investigation, Lasala and Esmeralda testified against de Lima on her alleged complicity in criminal activities. The case for reinstatement of the two highly decorated NBI officers are still pending in the office of Executive Secretary Salvador
C. Medialdea.
Are Santos and Roces not victims of the previous administration's pattern of hatred and vindictiveness?
To reach the writer, e-mail cecilio.arillo@gmail.com.