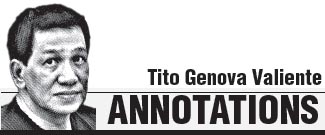 The old man at the plaza gazebo was looking at me when he asked, "What is faith?" I had been reading Kahlil Gibran's The Prophet, and I was in a prophet mode. It was the 1970s. The nation was scrambling to make sense of martial law. The man in the palace was called a dictator, but only in whisper. In our city the debate about religion continued uninterrupted. The government had already killed press freedom. Rumor-mongering was declared a crime. Each day a law, a rule, a conduct was being declared.
It was an era of declaration, an act which tricked one's memory. As someone was always declaring something, there was a feeling speech was unhampered.
Within that plaza, people could talk about the meaning of the Sabbath, the illusion of Sundays, the question about the Son of God becoming Man, Virgin birth and which was the true Bible. So long as one spoke of God or His absence or His person, one was free.
"Ano an pagtubod [What is believing?]" He could have also meant what is faith. But he was not asking me. His gaze pierced through me and went up the early evening sky. He was looking up as if faith and religion were located above, with the clouds. This makes any discourse about faith abstract, airy and elusive. That is why when a person is reasonable we often say he is grounded; his feet planted firmly on the ground. This must not be believing but accepting.
To believe, to have faith, is to be with the clouds in the sky, the heavens. To have faith is to ask without questioning.
The old man was not really talking to me. He was addressing his peers—all old men believing that age brought wisdom. In that park, they were all wise men dealing with the questions of faith.
If the old man said "speak to us of faith" that would have been easy. The person addressed became the prophet. As in Gibran's overwhelming and shamelessly overflowing romance with the huge concepts about life and love, the people asked, the prophet responded, the wind blew, the world whirled faster in its orbit, and the people listened. The people were believers.
Look at the word faith and transform it into a modifier. It becomes "faithful." One has fidelity to another if one is to believe. One must not be an infidel. One must surrender everything to one that talks of believing.
It has been years and years already since I was confronted by—and feared —the gaze of an old man asking another man to define faith. I have since learned to distinguish whether the gaze is for me and, more if the question is directed at me. I have learned how to not look and now not to answer questions. I have even become wiser not to ask and not to be bothered by questions. The world around me do not have anymore questions. There are plenty of answers, multitude of perspectives.
The spot in the park where wise men debated among themselves has been replaced by blind men easing tired muscles. These blind men talk a lot about anything—from economic crisis to love lost. If they are not teasing each other, they are singing of unchained melodies and rivers of no return. They do not talk about God and faith. It seems people are just tired now and the fatigue is of the body and not of the soul.
In that park, as with all other parks in our archipelago, there is a monument to a great hero. One early evening, as a blind oversaw and ministered to what he described as cold air in my muscles, he slowly and gently pulled up my chin. This made me look up. Then and there I saw the object of gaze of the wise man of Faith. The old man asking anyone to define faith was not looking at the Heaven and connecting with God; he was contemplating the Angel, his or her robe swaying even as it was made of stone, his or her hand holding aloft a wreath above the fearless head of the hero, careful not to touch this man dressed eternally for the cold season, unbelievably divine and distant from everyone else.
E-mail: titovaliente@yahoo.com.
Image credits: Jimbo Albano