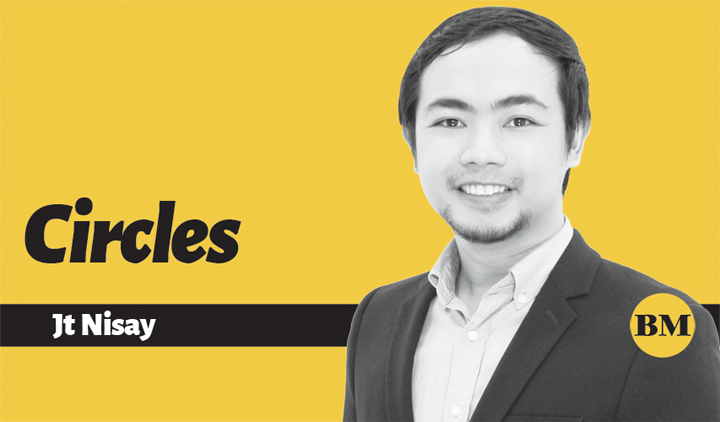 MUCH like anyone caught in the everyday grind, visual artist Nikka Reyes-Aligaen often loses sight of the other stuff. Work, after all, can grow so overwhelming that it becomes blinding, robbing us of our ability to view the world not just as a place, but as an experience.
It's a reality check served to the Antipolo-based artist during an eye-opening birdwatching session. A former preschool teacher, Aligaen was invited one morning by the head of the school's science department to walk around and see what might come their way.
Their trip yielded the exciting sight and sounds of bright-colored kingfishers and orioles going about their business, as they stood watch from a respectful distance.
The experience made Aligaen realize that in our constant chase for quotas, in our frenzied pursuit of perfection, there is beauty that surrounds us all the time. Yet, we still manage to miss it, even if the price we have to pay is a mere pause, a simple glance.
This is the message Aligaen conveys in her ongoing first solo exhibition, titled Test Flight. The show opened on Sunday, June 4, at Art Verité Gallery (www.artverite.net) at Serendra in BGC, Taguig.
Aligaen, an Ateneo de Manila University graduate, presents in the exhibit her acrylic paintings of birds inspired by her nature trip. The artist brings out the vibrancy of each specie in terms of color and character, placing them against gradient backgrounds where they shine.
Such is particularly evident in Aligaen's Regal series. For instance, a Philippine dwarf kingfisher, whose gaze goes deep into the distance, lights up with its fiery feathers set against a sea of golden yellow. Meanwhile, the common maya, a Eurasian tree sparrow which enthusiastically sports a tiny hat and tie, prepares to perch on a branch, as the moon shines behind in its full glory.
More birds take flight elsewhere. Lift off shows the avian version of a rush hour, where a flock of Philippine falconets and sparrows scamper in high traffic. In Dive, white-throated kingfishers missile down for food.
As art writer Kaye Oyek describes it in the exhibition note, "Through her finely detailed brushstrokes, [Aligaen] brings these avian creatures to life. Nestled against backgrounds of lush pigments, these paintings present a stunning visual symphony that captures the essence of the birds' flight and the energy of their natural habitat, highlighting both their endemic and migratory natures."
Perhaps Aligaen also teaches us to better appreciate these creatures that we often take for granted. If we're too busy to stop and look up, the artist made sure that we wouldn't miss seeing them this time, placing birds right in front of us on the canvas.