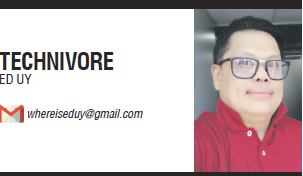 IF we are to believe the rumors, June is going to be an exciting month for Huawei as the tech giant is expected to launch its very intriguing HarmonyOS (outside China) alongside two new tablets and smartwatches. The Android OS alternative will then appear on all Huawei products going forward including the long-awaited Huawei P50—and maybe even for other smartphone brands.
The release of the Harmony OS may be the reason why we haven't seen any new smartphones from Huawei the past few months, but the brand has been gaining a lot of new fans with its other AIoT devices such as its audio wearables and the recently released Huawei Vision S TV.
This week we are going to talk about the Huawei FreeBuds 4i. Priced at P3,599, it presents a more a more affordable option to the FreeBuds Pro (P7,999) while carrying the innate qualities of the FreeBuds family, such as active noise cancellation (ANC), long-lasting battery and pristine sound quality.
DEVOUR
DISLIKE
The FreeBuds 4i that I have is ceramic white, but it is also available in carbon black and red. I would have preferred the red variant since I love striking colors, but if you want something that could match any of your outfits, the black version would be a better choice. The ceramic white is okay, but it does have that "AirPods lookalike" vibe that all other TWS earbuds seem to be pining for.
The design of the FreeBuds 4i was inspired by the Reynisfjara black sand beaches of Iceland and by the idea that, despite the hustle and bustle of modern times, people today need to find a moment of peace.
Its oval-shaped and compact charging case is silky smooth on the front, while its flat back allows it to sit easily on a flat surface. It does have a glossy finish which makes it a fingerprint magnet and a bit prone to scratches (don't worry Huawei is giving away a free silicone case). There's an LED indicator in front together with the Huawei branding. The pairing button is on the right, and at the bottom you'll find the charging port.
Opening the lid reveals the two in-ear buds that have slightly thicker stems compared to the FreeBuds 3i. There are also visible magnets at the bottom part of the stems to keep the earbuds securely tucked inside the case.
Also located at the stems are the left (L) and right (R) indicators and dual microphones on each. For controls, the FreeBuds 4i has built-in capacitive touch sensors on both sides of the earbuds, which according to Huawei can accurately determine the user's habits and further improve their degree of sensitivity. It works, but as with other touch controls, it can get a bit finicky at times.
Be sure to download the Huawei AI Life app to have more control over battery monitoring, shortcuts to the touch sensor, and noise controls for the ANC, Awareness and Off mode. You'll also need the Huawei AI Life app to get updates for your FreeBuds 4i.
If you have a Huawei smartphone or tablet that's running EMUI 10.0 or above, a pop-up on your screen will appear for a quick connect once you flip the case open. To pair other Android devices, simply flip the case open, then long-press the pairing button until the LED indicator turns to white light, and you'll find the FreeBuds 4i in your Bluetooth list.
At this price point, only a few other earphones offer ANC, and that is perhaps one of the biggest reasons to get the FreeBuds 4i. To achieve active noise cancellation, it uses microphones to detect ambient noise and adopts active noise cancellation algorithms to create inverted acoustic waves to cancel it out.
Huawei has clearly indicated in its marketing materials that FreeBuds 4i is the "perfect partner for pop music" so expect it to work best when listening to this genre—which is probably best as most people do listen to mainstream music. Vocals are clear and instruments are cleanly reproduced and so far, its sound quality is one of the best in its price point.
The FreeBuds 4i can offer 10 hours of continuous music playback when ANC is turned off, or 6.5 hours of voice call on a full charge. Together with the charging case, it could achieve up to 22 hours of music playback or 14 hours of voice call. It also supports quick charge features when you need to juice up quickly and a 10-minute charge can already get you 4 hours of audio enjoyment.
Huawei has been doing a splendid job with its audio wearables, so I wasn't surprised at how good the FreeBuds 4i was, and I have been using it almost daily for my walks, watching movies and even Zoom calls.
There's no shortage of good wireless earbuds in the market at this price point, and Huawei aims to stand out by offering ANC. The FreeBuds 4i might not have that "killer" feature, but it does have the right balance of clean sound, lengthy battery life and added features—offering lots of value for your money. The FreeBuds 4i sounds as good as it looks, fits comfortably and has a price tag that is just as comfy for your wallet.
ACER TABLET BUNDLE
For those looking to improve their work/study from home setups, Acer Philippines gives another compelling reason to choose their laptops as it has announced the extension of its #AcerOnePlusJuan promo until June 15. Under the promo, buyers will get a free Acer One 8 T2 worth P5,990, with every purchase of any participating Acer Swift or Spin laptop models.
The Acer One 8 T2 tablet has an 8-inch HD Display, with 2GB RAM and 32GB storage (expandable up to 128GB); 10 points multitouch capacitive screen; 4000mAH battery and runs Google Android 10.
Working and learning from home will be a breeze with the Acer Swift or Spin laptop and staying at the highest level of your work or school productivity is made easier with its powerful specs and overall performance.
"With everything going digital from school to work, we came up with the idea of sharing an exclusive promo which can help individuals who work from home or study online. For every purchase of participating Acer Swift and Spin laptops, shoppers get a free tablet. With this, learning or working from home can be much more flexible and convenient," said Acer Philippines general manager Sue Ong-Lim. This Acer bundle is available at Acer stores, authorized retailers, and through Acer's online store.