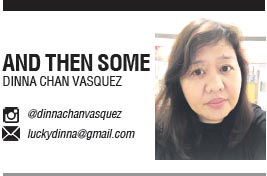 I HAVE always been in awe of women who became very successful because they took matters in their own hands.
Jazz Burilla is one such woman. She left her job years ago and started her own buy-and-sell business. It was while she was shuttling between Laguna and Metro Manila when she spotted a bar of soap that would serve as the foundation of her future beauty empire.
Beauty Elements Ventures Inc. (BEVi) became big because of Kojie San kojic acid soap, but the line has since expanded to a whole range of products that includes toner and sunscreen.
During a recent BEVi launch for its new campaign, dubbed "Command Beauty," the company introduced new products and lines and relaunched others. These include Kojie San Men; Life by Kojie San with its first product, the Glutathione Anti-Oxidant Drink, made with fermented pomegranate, acai berry extract and vitamins; Bellic for glowing skin; Pureganics and Defensil featuring isopropyl alcohol products.
During the event, BEVi also announced the launch of Breedwinner, a collection of pet grooming products, one of which is Top2Tail 2-in-1 Shampoo + Conditioner. Take note that this can be used by pets and their owners.
One of BEVi's milestones this year is the completion of its new manufacturing facility.
"There is an opportunity for the company which sees toll manufacturing and warehousing as a challenge to grow and break barriers, just like it did with Kojie San years ago. With all-new, state-of-the-art manufacturing facilities, we hope to make BEVi and the Philippines a major player in the toll manufacturing industry," said Jazz Burilla, who is BEVi's CEO and founder.
The new manufacturing warehouse will certainly help local and even global players improve and develop their own products, Chua stressed.
"With our new manufacturing equipment and extended warehouse capacity, BEVi is now capable of bringing to life any product. We are fully equipped and capable of developing private labels and facilitating logistics for even the biggest global players," she stressed.
BEVi also unveiled plans to export Kojie San and other products globally.
The company already exports Kojie San to countries where there are Filipino communities.
"We are exploring new markets and territories where fair complexion is highly sought-after. The Kojie San soap and product range are world-class, and we'd like to introduce to as many countries as possible Filipino excellence when it comes to innovation and marketing," said Burilla.
On a corporate level, BEVi will also expand its operations outside the beauty category, including real estate via Empro Property Leasing.
As a supporter of women and Filipino enterprises, I am excited to see what BEVi and Kojie San have lined up for 2020.