---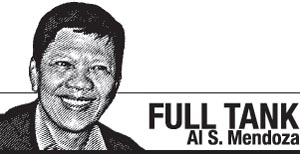 WHEN Vince Socco speaks, people stop and listen. The industry bigwigs themselves drop everything to lend their ears to the man long considered as one of the few authorities on the goings-on in the car world, not only on local happenings but on global directions as well. The reason is simple: Vince, a distinguished vehicle animal for years globally, always has something up his sleeves to unload when the situation arises, his stance quite often disturbingly distinct from the rest of his fellow pundits' views. It'd be a delight mostly to listen to him because of his usually metaphorical analysis about the state of the motoring industry, whether current or otherwise.
He did it anew this week—in blazing fashion yet again.
As guest of the eminent and internationally hailed Rico Hizon in his highly-popular The Final Word business television program at the much-respected CNN Philippines network, Vince delivered quite some eye-popping revelations on the auto world amid the pandemic, capping his dissertation by boldly predicting an irreversible rebound for the vehicle business from gloom to boom in no time.
Citing his turf's experience in the still-to-be-contained coronavirus, Vince said manufacturing had to practically be shut down mostly during the March-to-May murkiness as automobile sales absorbed the brunt of the Covid-19.
"While we were still reeling from the Taal Volcano eruption in January-February," Vince said in Rico's prime-time show, "we were suddenly hit by the coronavirus that brought instant doom to the entire industry." Or words to that effect.
When asked by Rico if vehicle sales were affected "across the board, or only the big-ticket brands," Vince was straightforward as usual in his reply: "Yes, across-the-board."
Meaning, all variants, or models if you will, reeled disastrously in sales amid the pandemic—from Toyota to practically all its rivals.
But was it a flickering of hope when Vince said "about 32 percent" was recorded as Toyota losses for June in year-to-year performance?
I'd say, yes, because industry data between March and May—the most miserable months of Covid-19's swath of destruction—were so brutal it forced some of Toyota's chief rivals to teeter between life and death. Honda alone closed four dealerships to avoid irreparable damage.
But credit it to its innate resilience that Toyota, being the perennial manufacturing frontrunner the last four decades or so, has stayed above water all this time, even priding itself at not having laid off even a single employee.
"At Toyota," said Vince, who is chairman of TMP's GT Capital Auto Dealership as well as executive vice president of GT Capital Holdings, "we don't have any plans at all to shut down any of our dealerships."
Indeed, Toyota's 71 dealerships nationwide have withstood the crisis—in flying colors yet. And, judging from its track record, the undisputed industry leader is seen courageously to stay afloat, come hell or high water. The company's triumphant return in 1989 is just too significant not to notice.
Thus, Toyota bouncing back from the virus-inflicted blows, sooner or later, seems achievable. No big talk there.
PEE STOP My deepest condolences to the loved ones of Eduardo "Danding" Cojuangco Jr., who bought San Miguel Corp. in 1983 and, together with Ramon S. Ang, they made the beer brand a global conglomerate diversifying in food, fuel, energy, power and infrastructure platforms. Danding, who collected vintage cars and big bikes as his hobby, had a net worth of $1.1 billion as Forbes magazine listed him recently as the Philippines's 16th richest person. He was my compadre as we stood together as godfathers in the wedding of two-time world boxing champion Luisito "Lindol" Espinosa in 1991.