---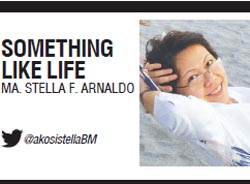 WHEN I think about the first restaurant I would visit once the novel coronavirus departs our midst, I think of places like Aling Tonya's II at Dampa near the SM Mall of Asia complex, to devour succulent seafoods in a lick-the-aligue-off-your-fingers style.
Or 22 Prime at Discovery Suites in Ortigas for a good old-fashioned rib-eye steak and velvety mashed potatoes, with a glass (okay…a bottle then!) of a subtly flavored Pinot Noir.
Another restaurant I constantly dream about is Tsukiji in Makati, for its super fresh sashimi and sushi and—well, yes, steak again!—its wagyu ohmi rib-eye. Or the steamed apahap in lime, garlic and chili at its sister-restaurant, Azuthai.
But sadly, we all know dining will never be the same again as we move into the "new normal," or general community quarantine setup.
For one, there will be less group dinners-out with the family or gang, unless you want to shout at each other across other adjoining tables. Taking off from the recent Department of Tourism (DOT) guidelines on hotel restaurants, banquet tables which used to seat 10 persons, will now be reduced to five persons.
And restaurants which have become celebrated because of their generous but inexpensive buffets will be a thing of the past. (See "DOT tells hotel restaurants to avoid buffets, reduce seating by 50%," BusinessMirror, May 26, 2020.)
But it's not so much about just healthy handling of food in the kitchens, because there are enough laws already that food businesses have to strictly follow to assure safety of the food they serve, but how to get the public back into dining establishments.
In a recent Webinar on Food Tourism by Wofex University, Philippine Tour Operators President Cesar Cruz said because of the Covid-19 health crisis, "we would be missing a lot of that 'personal touch' because of the social distancing." He tells us about a video he recently saw on restaurant dining in France, "wherein they have this kind of cubicles which, if you look at it, is so impersonal."
Chef Margarita Fores, who is behind many restaurant brands like Cibo, Cafe Bola, Lusso, etc., stresses in the same forum: "Our reputation is on the line. It's not just about what our food is anymore and about all the services—they [the public] have to feel secure that [they] are safe [in our restaurants]."
She said that since Covid-19, her catering business is the one "most challenged" due to the cancellation of wedding receptions. "So we've had to reinvent ourselves to do takeout and delivery because that is all that's allowed for the moment. And at the same time our front-of-house staff, many of them have shifted into our courier team. So the ones that have the motorcycles are helping us deliver the food, while the others are even helping us package food in the commissary." (Also, Fores says she is back to baking her crinkles, which apparently was a hit at the ADB cafeteria a few years ago, as well as breads.)
If there is one silver lining behind this dark, humongous Covid-19 cloud is the rise of many local home food businesses, notes food blogger JJ Yulo. "There's an outfit called Bibingka Manila and I know these people—they do other things, this is not their job. But because they have to make a little money just like everyone else, they started making bibingka." (According to JJ, the owners are actually events organizers.) Fores also tells of her friend's mom who now has a "thriving business as the entire White Plains community is ordering cochinillo, paella, etc. from her that she has no time to rest! So [Covid-19 and the ECQ) is also creating also a lot of new businesses for small entrepreneurs, which is really great."
Just recently, I tapped Estelle Osorio, the daughter of fellow BusinessMirror columnist Toots Ople, to deliver cooked crabs, which is my favorite among seafood. Sarap ng garlic butter crabs! She and her partners also sell US rib-eye steaks, pork ribs, pork belly, tuna and salmon sashimi, as well as shrimps. (Find her on Facebook.)
What's great about this development is that small "foodpreneurs" are using social media to announce their offerings, as well as online payment apps, instead of going the traditional exchange of currency for goods. While we don't welcome the Covid-19 health crisis at all, the lockdown itself has been an excellent time for many of us to dive right into fintech. (A friend confides that her 70-year-old mother is now so addicted to a mobile phone service's payment app, she has been going over her daily fund transfer limit!)
Meanwhile, Cruz, a veteran in the tourism industry, believes food tourism will bounce back, and mostly because of domestic tourists. "When we were having our culinary programs [Kulinarya food tourism], the No. 1 patrons were the domestic travelers…matatakaw ang Pinoy! For example, people from Metro Manila, they will crave for something like the silvanas from Dumaguete. Or 'What's the difference with the bagnet of Ilocos?' Then they go to Visayas, they taste lechon Cebu. So Filipinos as leisure travelers are our No. 1 clients in food tourism. So we just have to tap these domestic travelers to go out of their homes again."
According to Ivan Man Dy, famous for his popular Binondo food crawl, local governments can be a big help in regaining the public's interest in food tours. "If you have places, which are known as food destinations, the [LGU's] tourism office can make sure that they set the tone, and give that feeling of security [in their local restaurants], if you want your tourists to go back to that particular destination."
Hen also enjoins the public to "support local" and "support neighborhood shops." Let's help give these local restaurants or food stores some business. Even as we are all encountering personal challenges, we need to push each other up, lend a hand, so that hopefully, we all survive Covid-19 in a much better shape.