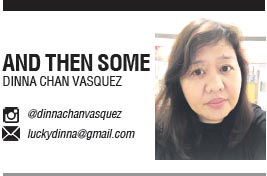 THERE are beauty products (skin care and makeup) that I use more often than others and I post them on my Instagram so there is a record of it. At the end of the year, I write a column or two about these products.
So here are the makeup and skin-care products that I loved in 2019. They aren't necessarily new products but mostly makeup that I started loving this year only:
• IT Cosmetics Bye Bye Under Eye Full-Coverage Anti-Aging Waterproof Concealer. I am not a regular user of concealers so if I use one almost everyday, you'll know it's a good one. My main beef with concealers is that they crease a few hours after application, even when I set it with a good powder.
Bye Bye Concealer does not just conceal the after-effects of a late night and the genetic curse of dark under-eye circles, but it's also like a highlighter. The texture is thick and pasty so you only need a dot but the magic happens when you apply it. I use a small brush then a damp sponge. You may or may not set it with powder. I love it because it has full coverage but the look is natural.
• Make Up For Ever HD Light-Capturing Self-Setting Concealer. This is another low-maintenance concealer that does not need to be set. The finish is second skin and it really just hides your blemishes and skin imperfections without a trace. This
concealer is my lazy-day makeup. I just apply and tap with my fingers. Sometimes I set it with powder. Sometimes I don't.
• Sunnies Face Lip Dip. I initially thought Lip Dip was a matte liquid lipstick. It's actually a lip cream that's perfect for a softly blurred look. Think of it as what a lip tint would be if it actually colored your lips. There are around nine shades but my favorites are Femmebot, Coco and So Good. I've been asked whether I prefer this over Fluffmates from the same brand. Yes, I do. For everyday wear, Lip Dip is a low-maintenance option, plus I like that the shade of the lip cream is the color of the tube. This is very helpful for women like me who have lots of lipsticks and change what's in their bags regularly.
• Make Up For Ever Matte Velvet Skin Blurring Powder Foundation. I have never tried a powder like this. It blurs skin imperfections and offers light to medium coverage. I daresay that so far, it is the best powder foundation I have tried in my life. It is best applied with the sponge it comes with or a Kabuki brush. Of course, because this is from Make Up For Ever, the powder foundation comes in a wide array of shades. The powder is finely milled and waterproof. I actually scraped off a bit from the compact and put the bits in a glass of water. The powder only started to dissolve after maybe eight hours. I usually use this alone over moisturizer and sunscreen.
• Laura Mercier Translucent Setting Powder. You know how it is when influencers all collectively rave about a certain product and you rush off to buy it, only to discover that the particular item is just so-so? Well, that is not the case with the Laura Mercier Translucent Setting Powder. It really performs well as a setting powder when you are wearing a liquid base.
• MAC Cosmetics ShapE+Shade Brow Tint. This is an all-in-one product with a powder on one end (with a sponge tip) and a liquid on another (with a brush). The liquid gives the most hair like strokes. When I use this, I apply the powder first, then line with the liquid and fill in the sparse areas.
• Milk Makeup Lip+Cheek. I have this in the color Quickie and while a full-sized product is quite expensive, it's a good investment if you're the type who likes makeup that's hassle-free to apply. Lip+Cheek Stick provides buildable color with Milk Makeup's Milk Melt Technology for instant and seamless absorption. I've never used it on my lips but for my cheeks, this performs above average. It is not easy for me to be impressed by a product calling itself a lip and cheek tint but this has my vote.
• Shiseido Minimalist WhippedPowder Blush. I first tried this (in Setsuko) after I had a facial at the Shiseido boutique in TriNoma. I love how effortless it is to apply. According to the Shiseido web site, this blush "uses breakthrough AirFusion Technology to blend effortlessly across skin." The finish is mousse-to-powder and it lasts for around six to eight hours. To use, I pick up the product with my finger and dab into my cheeks. I normally apply several layers because I am not the type to use blush sparingly.
• Sunnies Face Lifebrow Gel. I am always sweaty, even when it's not hot outside. That is one of the reasons why I don't like being outdoors. I cannot stand the thought of my brows being wiped out as I sweat. Well, this is the perfect product for people like me. Lifebrow Gel really holds up and stays on. In fact, my issue with it is that it is difficult to remove (it can only be removed by an oil). I also love the tiny brush which gives me better control. At P345, you couldn't find a more perfect product.
• Maybelline Fit Me Matte+Poreless Powder. This, for me, is the perfect powder for retouching. It offers value for money in terms of coverage and performance, and the shades are surprisingly friendly for warm skin tones. To be honest, I am not a big fan of the Fit Me liquid foundation but this pressed powder is one that I love so much.
More to follow…