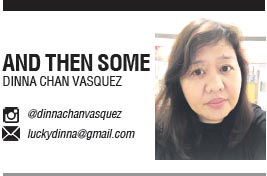 IF you are in a panic over gifts you haven't bought for people on your list, we have a few suggestions you might want to check out. You can get customized denim pieces from Levi's Tailor Shop by personalizing your Trucker jacket with cool patches and pins, fabric applique and embroidery. This year, they are expanding their Levi's Tailor Shop to include the first-ever Print Shop in the Philippines at The SM Store in Makati (second floor).
To create a personalized shirt, you simply need to purchase a white Levi's crew neck shirt. You can choose the placement of your design—either on the front center, front left chest, or front right chest. You can choose from a variety of designs and prints for the logo.
Customers are given a wide range of choices so you can guarantee that there is a design to match everyone's taste and personality. So if you're looking for the perfect Christmas gift, get something that is personalized and customizable with Levi's.
There are collaborations with Star Wars, Hello Kitty, Stranger Things and Peanuts, so you can also choose from those if the recipient is into that. The shop is offering this one-of-a-kind service and customization for as low as P999.50. That price would include the t-shirt and the printing services.
Express your love for family and friends by personalizing your holiday presents with Levi's. I got two shirts, one for myself and another for Juliana (a personalized Stars Wars with her name on it). They can also place the shirt in a gift box and all these can be done in minutes, excluding the time you spend paying for your purchases, of course. This is really a very practical gift. You can't go wrong with Levi's, really. I wish I had gotten more except that Makati is too far from me. One regret I have is not getting the Hello Kitty t-shirt. You can replace the Kitty with a friend's name.
I really love the idea of personalized but usable gifts. After I posted my visit to Levi's Print Shop on Instagram, I got a lot of questions from friends, all wanting to visit and shop for gifts. Check out www.levi.com.ph.
You also can't go wrong with Tom Ford Beauty. I recently received a bottle of perfume and a lipstick from the brand, and realized the brand has combination gift suggestions. Tom Ford is one of my go-to brands for fragrances, my favorite scent being Noir de Noir.
For men, they suggest Oud Wood Shower Gel and Over All Body Spray (P8,340) and Neroli Portofino Shower Gel and Over All Body Spray (P8,340). Neroli Portofino is one of Tom Ford's best-selling unisex scents.
I would love to get the Boys and Girls Lipstick Set of three small lipsticks (P5,880). Tom Ford's Boys and Girls set is a good way of trying (and hoarding) lipsticks. They don't take up too much space. Tom Ford has counters at Rustan's Makati, Adora in Greenbelt, and SM Makati.
Other suggestions for last-minute gifts that recipients will love would be Starbucks mugs and bottles. Everybody is bringing these bottles around now and you can't go wrong with these. They even have Christmas-themed ones.
Another popular water bottle brand would be Hydro Flask. Everybody has a Hydro Flask. It's a status symbol, kind of. A few years ago, it was Klean Kanteen. It's now Hydro Flask.
Anyway, when in doubt, you can always give cash or gift cards. Those are always appreciated.