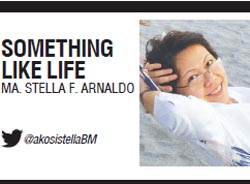 I WAS out of the country when the water crisis reared its ugly head. But as soon as I made my way back home to Quezon City, I checked Manila Water Co.'s Facebook page to find out our city's water interruption schedule. Whew! I still had about 45 minutes to clean out my large water container (left over from the previous summer dry spells) and start stocking up on the precious commodity.
I literally zipped through the flat—watered my oh-so-thirsty plants that I had left behind for 10 days, brought in my luggage and plunked down my other bags in my room, went about my business in the bathroom, but as soon as I returned to the balcony where I had intended to use my garden faucet to fill up my water container, the tap was dry. Nooooooooooo!
As you can imagine, dear reader, I totally forgot my private Catholic girls' school upbringing as my mouth unleashed a torrent of curses at Manila Water. But can you blame me? I had always considered myself lucky to be living in the north because, up until last week, Manila Water had been a most efficient utility company. During past dry spells, we could count on them to go around with their trucks, supplying us with water. And besides, our water bills were almost insignificant compared to other providers.
I don't think the water company would have reaped so much hate from its customers if only they had prepared us for what was coming. And I don't mean those warnings issued year or two ago in media about an eventual shortfall. I mean at least two weeks to a month's notice: "Hey guys, we're having supply issues. Could you please conserve water as we try address the problem?" Or something like, "Dear valued customer, due to some supply issues, we will be implementing water interruption schedules by March [put dates here]. Kindly be ready to store water in your containers." But as our colleague and fellow columnist Toots Ople wrote this past week, the utility firm's advisory was issued on the same day as our faucets ran dry. Not only that, as we all had noticed, the firm didn't even bother to follow its own water interruption schedule—in Quezon City, it was supposed to be 5 pm to 4 am the next day.
However, my faucets stopped flowing at 4:15 pm, and would not give even just a drop until 11 am the next day. This happened for a few more days, prompting a friend to wonder aloud on Facebook what time zone was Manila Water following?!
Also, it really didn't help at all when the company blamed the El Niño dry spell for the low level of the La Mesa Dam, when the Angat Dam, which supplies the needs of Metro Manila, was still full. In fact, CNN Philippines flew over Angat Dam to disprove Manila Water's claims. Gah. Poor information, and outright lying—the hallmark of any PR crisis.
I will leave the nitty-gritty details of how we had ended up in this water crisis to my more learned media colleagues. But as I have always said in this space, companies, especially utility firms, need to learn how to craft proper communications plans or programs not just to alert the public when there will be an interruption in services, but to increase customer awareness of how these companies are working to make their lives better. This all goes to fomenting good will and forming a harmonious relationship with their customers. An efficient communications plan becomes even more urgent now that everyone is on social media, and the public backlash to poor services is immediate.
(I can't even believe that Manila Water, which is owned by the Ayala Group, would have a PR crisis of this magnitude when most of its companies have adequate communications programs and are usually forthcoming to the media on vital information about their firms' operations.)
The situation has improved these past few days with water flowing through our taps much longer, albeit at a lower pressure. More or less, the water interruption schedule has been easier to anticipate. But we do still need to conserve water.
Here are a few tips:
Forego those showers in the meantime. Use a pail and water dipper in taking a bath.
Close the faucet when brushing your teeth. It's possible to use just one glass of water for gargling and cleaning the toothbrush after brushing.
Adjust your toilet fixture so you use less water when flushing. Or if you can stand it, don't flush the toilet until you've peed in it about two to three times.
Don't let the water run when washing dishes. Use a basin (palanggana) and put all the dishes and utensils there for washing. Rinse with hot water just to make sure no bacteria is left behind.
Use a water basin to launder and rinse clothes, instead of the washing machine. (The upside—you get to conserve electricity too!)
Use any excess water from washing and laundering (the last rinse) to water plants. Water them in the evening so the moisture doesn't evaporate immediately.
Fix all leaky toilets and repair faucets.
We've been informed the water situation will normalize in June. In the meantime, we just need to grin and bear it.