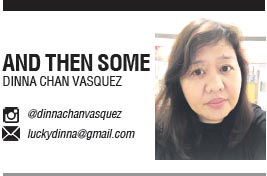 If it is true that the eyes are the windows to the soul, then eyewear should be important, right? What we wear to help improve the way we see the world and also protect our eyes is important. But is it form before function or the other way around when it comes to eyewear?
Form and function, in this case, should go hand in hand. Luxury eyewear has more features that make wear more comfortable and effortless. For example, I have a pair of Burberry glasses with very flexible sides so that they don't press into the sides of your head and give you a headache.
Designer eyewear brands such as Bvlgari, Giorgio Armani, Prada, Dolce & Gabbana and many others also help shape the trends every season. For the Spring/Summer 2019 collection, popular styles are oversized frames, bolder designs, and gems and stones.
Giorgio Armani has its Heritage line with All About Details that emphasizes the vintage soul of the brand and its meticulous attention to detail. The line features a new, ultra-fine metal temple decorated with beautifully crafted leitmotif obtained by point-hammering the plain metal temple and bridge. The result? A truly timeless piece of supreme comfort and exquisite style.
On the other hand, Giorgio Armani's Vintage Plaque has details such as refined acetate temple design with a vintage-effect matte rhomboidal metal plaque. The finishing touch is a laser-engraved logo.
Bvlgari opens the season with its best-selling Condotti curved metal temple and iconic enamel scales décor. The collection showcases trendy transparent layers with exclusive suspended serpent scales which emphasize iconic serpent's eyes stepped brows on new fashion-forward acetate shapes.
Cuore Sacro makes a grand entrance as Dolce & Gabbana's Spring/Summer 2019 addition. Featuring oversized cat-eye shapes with refined logo prints on a sacred heart embellishment, frames of the brand's Damasco pattern are created through a quadri-layer structure that results in a chic and fashion-forward piece.
Dolce & Gabbana also showcases Griffes and Stones and Stones and Logo Plaque in this season's offerings: an array of bold pieces in sparkling, shiny styles embellished by the iconic logo plaque for the perfect integration across product categories.
Prada's opens the season with the Ornate, Core, Man Special Project and Metal Plaque collections, a multitude of edgy yet wearable high-end pieces. The Ornate collection features stunning styles with colorful frames and inserts that have distinctive flame embellishments—an homage to the collaboration done with the footwear design that was released during the FW18 catwalk last year. The Core collection is a mix of refined open wire profiles, modern matte finish contrasts and intriguing color accents which take inspiration from contemporary metal architecture and style. The Man Special Project and Metal Plaque campaigns are very unconventional in their choice of patterns, with contrasting colors and multilayered proportions in its designs. It is a vintage-classic, bold and on-trend collection perfect for everyday fashion wear.
Miu Miu, Burberry and Emporio Armani provide more classic options for more reserved looks. Guess, Esprit and Vedi Vero's eyewear collections have unique angular shape frames and colorful styles that adapt to hip and cool millennial market trends.
Check out eyesocietyPH and @visionexpressPH on Facebook and Instagram for more information about these new styles.