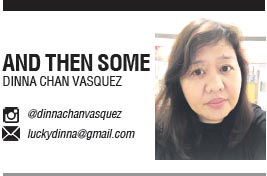 Some of my favorite products for 2018 weren't really new. But for me, one thing stood out: I realized that I could wear nude lipstick. It just depended on the rest of my makeup. My skin tone is such that I need to pair a nude lip with a strong eye or blush that's popping.
So here's the second part of my list, which includes the nude lipsticks that I loved.
1. MAC Cosmetics @mainedcm Matte Lipstick
This beige lipstick is something that I didn't expect I could wear because normally, nudes make me look washed out. By some miracle, it didn't. I would get compliments whenever I wore this. Disclaimer: I wear this with Kat Von D lip liner in Lolita II to "dim" my dark lip line. The truth is, I expected Maine Mendoza to come up with a brownish lipstick because she's young and young people like brown matte lipstick. But Maine wanted something all her fans and supporters could wear and, let's face it, not many people wear makeup and are intimidated by stronger colors.
2.  MAC Cosmetics Lipstick in Velvet Teddy
I cannot remember how many times I have owned Velvet Teddy to give it away later on because it really made me look dead. Thanks to Maine's lipstick, I became braver in wearing nudes. You'd be surprised that I am more comfortable wearing reds than nudes. You can wear red lipstick with a bare face. A nude lipstick needs more effort.
3.  Tarte Amazonian Clay 12-Hour Blush in Natural Beauty
I have three other Tarte blushes but Natural Beauty, a rosy red, is my favorite. This blush claims to last for 12 hours and it really does stay on that long. I wish it were easier to buy Tarte here because right now, they don't ship to the Philippines.
4.  It Cosmetics Your Skin But Better CC+ Cream with SPF 50+
I've been using this for about two years and I love everything about it—from the finish to the SPF 50+. I have this in the original formula and the illuminating one and I love them both. This CC Cream is really for lazy days when you can't be bothered with layering skin care + sun protection + foundation. The only thing I don't like about it is that it's expensive and previously not available here. I'm glad we can now get it via Sephora.ph.
5.  MAC Cosmetics Multi-Dimension Skinfinish in Beaming Blush
I can't help but put a lot of MAC items in my list. I am a MAC Girl and I love their products because they really work for me. This highlighter doesn't emphasize skin texture (meaning it doesn't make my pores look enormous) and lasts relatively long.
6. Estée Lauder Advanced Night Repair Synchronized Recovery Complex II
No other skin care works as effectively for me as this. It's quite expensive at almost P6,000 but trust me, this is the best antiaging serum in the market right now.
7. Sunnies Face Fluffmate
Aside from Nudist, I don't really use Fluffmate as a lipstick but as a blush. I love Hot Sauce and Baked. Major is a pretty decent red lipstick at its price point.