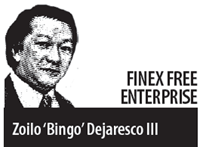 INDEED, we live in the 4th industrial revolution today. Many changes will occur in the way we do things because of technology.
For instance, artificial intelligence and automation now combine to produce drones. They are flying machines controlled by radio gadgets from below which can be used by hobbyists, the military and for commercial purposes.
For hobbyists—the most popular use is to have aerial shots of one's group taken or take a panoramic view of the terrain one is in like mountains, valleys and seas like one had his own camera plane.
They are not allowed to be used during nighttime, near populated areas like schools and marketplace, nor to be flown above 400 feet, and must be 10 kilometers away from airports. If one uses them for commercial purposes, one must get permission from the the Civil Aviation Authority of the Philippines.
Worldwide, the drone's popularity has surged that they now count 3 million users (as of 2017), and by 2021, we could see "air traffic" with the projected usage of 30 million drones
in the world.
Time Magazine had a special issue on "The Age of the Drones" and cited their many uses.
Militarily, the United States has used drones (since the time of Obama) to scout and target high-value enemies in Afghanistan, while the ISIS had dropped crude bombs on allied troops in Iraq and Syria using drones.
The drone war has escalated since drones achieve military objectives with no human casualty on the offensive side, much like sending Robocops to wage battle in the fields. It is for this reason that the Pentagon is reportedly set to spend $400 million in research for counter-drone mechanisms.
Drones can also be used for bad ends, as in the case of convicted kidnapper Jimmy Causey of South Carolina, whose allies sent a drone to drop two wire cutters into the prison compound and allowed him to escape prison—at least temporarily.
Still, there are far more beneficial uses for drones than bad.
For instance, when Hurricane Maria cut off all communications in Puerto Rico, AT&T sent off a giant Flying COW—a drone in the sky that set off mobile data signal 40 miles in all directions—negating the need for the damaged land-based mobile towers.
In Africa, a man badly needing an O+ blood type got his package in six minutes dropped from a drone via a small parachute—in what would have taken six hours by a land trip.
Operation zipline in Rwanda did its first commercial drone flight carrying medical supplies and blood to far-flung areas.
The drone is very helpful in the field of movie-making, where the best aerial shots can be achieved at the least cost.
Drones were extensively used to shoot scenes from James Bond's Skyfall, Jurassic Park and the sci-fi film Black Mirror.
Using the traditional helicopters would have cost Hollywood from $20,000 to $40,000 per 10-hour shoot. Drones can be had for as low as $4,000 to $13,000 for a whole-day shooting. And with no risk to pilots and crew on helicopters.
Even in the Philippines, inventors are riding on the worldwide craze to innovate. For instance, former dancer and camera operator Kyxz Mendiola—using the  "multicopter technology"—has invented what she calls a "flying sports car" drone.
The air drone can seat one person (up to 220 pounds including the drone and accessories), can fly over 20 feet at 67 kilometers per hour, powered by six lithium batteries with portable radio frequency controller.
Star8, Australia's technology company, is eager to perfect the prototype with Mendiola as this will revolutionize travel in Manila, where traffic is crazy. Mendiola's drone can navigate for one passenger in just five minutes a distance that normally would have taken an hour. Wow.
Yes, guys, this is the New World coming to your doorsteps with incredible speed.  And guess who controls the drone global trade?
It is a Chinese company based in Shenzhen which controls 75 percent of the drone technology production in the world. This is not a wonder.
A recent article indicated that it has become a national policy of China to appoint engineers and scientists to key government posts—to better take advantage of the trends in this 4th Industrial Revolution.
For a start, Chinese President Xi Jimping is an engineer. This brings out a negative case for the Philippines, where Philippine democracy has produced more than its just share of lawyers as presidents.
We had better read the handwriting on the wall.