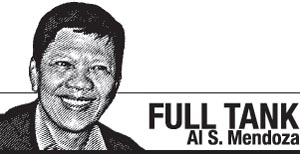 IS it true that we just saw the final staging of the Vios Cup on September 22 at Clark International Speedway in Pampanga?  Nobody would either confirm or deny it.
Just this from someone not authorized to speak on behalf of Toyota Motor Philippines (TMP):   "Nothing definite."
But why stop an event that has gained success after success each year in its five-year staging?
Surely, the legion of fans that the Vios Cup has built will be   deeply disappointed if its demise happens.
When did a No. 1 car brand ever surrender?
At any rate, the following is the speech of TMP President Satoru Suzuki ushering in the fifth Vios Cup.   Tell me if you sniff a hint of it being a farewell speech?
"Ladies and gentlemen, a pleasant morning to all of you, it is my pleasure to welcome you to the third and final leg of the Vios Cup Season 5! Thank you for joining us today in this momentous race for this season.
"Since the first Vios Cup in 2014, staging this event has been one of Toyota's biggest efforts to introduce the thrill of racing and the essence of waku-doki spirit to the Filipino public.
"Now on its fifth season, we at Toyota are very proud that we were able to successfully reach out to the car enthusiasts and spectators, seeking to experience heart-pounding races.
"As we begin the last race for this season, I would like to personally thank the unrelenting support of our major sponsors—Bridgestone, Rota and our official fuel partner Petron; supported by Motul, Brembo, AVT, 3M, Denso, OMP, Tuason Racing.
"Together with Toyota, you have been with us in our advocacy of promoting the passion of Filipinos in local motorsports.   Without your strong support, the Vios Cup would not be a big success.
"As our drivers start their engines and race off to the track, I would like to wish them all a safe and exciting race! To our dealers, friends from the media, the various Toyota Car Clubs, and guests who gathered here today, thank you very much for being here to support your teams and cheer for your favorite racers.
"As we cap off this season, ladies and gentlemen… Let us start the fun for the last race of the 2018 Vios Cup! Racers, again, the best of luck, drive safe and let's enjoy the waku-doki way!"
The Complete Results: (Thank you to TMP's Crtistina "Tini" Arevalo, Royce Tomei L. Aquino and Jose Carlo G. Nemo.)