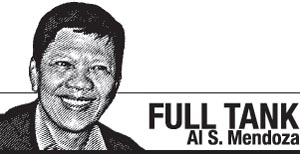 IF you are Floyd Mayweather Jr., you personify fame and fortune. With his treasure chest alone, he can virtually do anything, except, of course, to part the Red Sea.
Early on, Mayweather loved challenges, dreamed big dreams.
He became a boxer because he wanted to be the best, which he achieved—spectacularly.
Becoming quickly as a multiple world champion, he'd end up holding a world boxing record that may never be equaled, it not surpassed.
For, by compiling a 50-0 win-loss record, Mayweather broke the 49-0 of his fellow American, the world heavyweight champion Rocky Marciano.
Like Marciano, Mayweather also retired as an undefeated world boxing champion, making them the only two boxers to hang their gloves without a loss in professional boxing.
But Marciano died not long after his retirement, failing to enjoy his wealth as he perished in a plane crash during a mercy mission.
In contrast, Mayweather has been living a life befitting a king for quite sometime now.
Seemingly, Mayweather embraces the saying, "If you have it, flaunt it."
If basketball star LeBron James's net worth is $400 million, Mayweather won't be far behind.
They have one striking commonality: They love cars.
From sports cars like Ferraris, Lambos, LFAs and Porsches to luxury rides like Rolls-Royces, BMWs, Benzes, Cadillacs and Lexus high-ends, name it, they've got it.
James's collection is that many that I may run out of space naming them all here. Mayweather's, too.
But how about this?
Mayweather has a personal jet and James none.
It is this Gulfstream aircraft worth $3 million that Mayweather used in his five-country fun-filled tour that brought him to Dubai, Singapore, Indonesia, Malaysia and, finally, the Philippines. No, he was not an ambassador or something on a goodwill voyage representing America or President Trump. He just loves doing things not the ordinary, normal way.
Thus, he jetted in at dawn at the Ninoy Aquino International Airport airport practically unannounced and, before we knew it, he'd sneaked out in lightning-speed to his base in Las Vegas, Nevada.
"He immediately fell in love with our country and he promised to come back as soon as he can," said my boss Tet Andolong, who was among the very lucky few who was part of the welcoming Filipino crew to the 25-strong or so entourage of Mayweather. "Contrary to popular belief, Floyd is a gentleman of the first degree, a very warm person and is with a soft heart to the max."
While in Davao's world-famed Pearl Farm beach/hotel resort for his final destination after having visited El Nido, Palawan, Mayweather got interested in an old, bent woman seated beside a boutique shop weaving a table runner. Tet's story:
"How long would it take you to finish that, Ma'am?" Mayweather asked the weaver.
"About three months, Sir."
"How much would one cost, Ma'am?" Mayweather said.
"Six thousand and five hundred pesos, Sir," the lady said. "But for you, Sir, you can have it at P5,000."
"It's beautiful," he told the weaver. Mayweather dug his hand into his pouch, plucked out some crisp bills and gave them all to the lady. Then he walked away.
Before leaving, Mayweather told Tet: "Tell her [the weaver] it's all hers."
Shaking and trembling in the knees, the weaver was speechless, her mouth agape, jaws dropping as she clasped five hundred-dollar bills. "What shall I do with the money, Madam?" she asked Tet.
"It's all yours, Ma'am," Tet said. "Come, let's have them changed into pesos at the cashier."
The weaver got roughly P25,000.
"This is more than half of my earnings per year, Ma'am," she told Tet, still shaking, trembling in the knees. "God is alive, indeed."
STV-ARCC event
GLAD to note that the STV-ARCC (Automotive Rallye Corporate Challenge) of Ray Butch "Elvis" Gamboa had its 10th straight staging in smashing success once more last weekend at Clark, Pampanga.
The event, sponsored by North Luzon Expressway and Subic-Clark-Tarlac Expressway, through boss man Rod Franco and Phoenix Pulse, and which drew 11 car companies fielding in some 31 cars of various models, was doubly memorable for me as it gave birth to a new partnership that I consider very extraordinarily special.
I refer to Lexus Manila President Raymond T. Rodriguez's decision to make me the "invisible" captain anew of the Lexus Team, making it my ninth year to hold that prestigious position. It also unveiled a tandem that put Raymond the Lexus manager for the first time and me Lexus skipper again in the yearly race also known as "Sampaguita Rally."
Thank you for the trust and confidence, Raymond. And for your stunning move, Danny "Sir John" Isla has texted his greetings to us from New Zealand, his new base since he retired in 2017 as Lexus chieftain.  Indeed, the original will always be original. Cheers!
PEE STOP If plans didn't go awry, the now-iconic Toyota Road Trek would be on its 14th edition in a faraway island resort in Quezon generally regarded as almost equal with, if not better than, Boracay in beauty and mystic. More about this soon…Happy birthday to Mareng May Sison Uy, the Bacolod beauty!