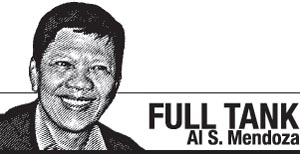 AN open letter to Transportation Secretary Tugade.
Dear APT,
Why not put up a commission each for buses, taxis, jeepneys, transportation network vehicle service (TNVS), trains—and more?
You've known me for years, Apo. Like you, I tell it straight. We both hate to mince words. A trait Ilocanos cherish with much pride.
Your Land Transportation Franchising and Regulatory Board (LTFRB) has always been besieged with, if not beset by, complaints of graft and corruption for the longest time.
The agency has failed—been failing—us in the crucial area of checking irregularities swamping our public-utility vehicles (PUVs).
It's about time something was done concretely to address them.
Only your will, decisiveness and wealth of mental calisthenics can solve the situation.
If legislation is needed to put up the commissions I have mentioned above, fine.
But if and when Congress, known to be the home of the slowest-moving, two-legged species in this corner of the globe, would resort to its habit of dilly-dallying, then, perhaps, why not put divisions for each of the vehicle concerns, instead? Bus Division. Taxi Division. Jeepney Division. TNVS Division. OK, include Tricycle Division, if not Motorcycle Division, too.  Each division will address concerns strictly defined in its mandate.
And since your turf also includes sea and air travels, let's do the same?
This way, each head of these divisions/commissions will be distinctly and solely responsible for anything happening under his or her own roof. No more finger-pointing.
Putting up said divisions/commissions will, likewise, free the LTFRB—okay, include the Metropolitan Manila Development Authority (MMDA)—of workload and can start concentrating on their defined assignments.
Isn't the LTFRB, for one, tasked to tackle mainly franchising and regulating PUVs operating in the metropolis and nationwide?
And isn't the MMDA's main job, as its name connotes, is to see to it that Metro Manila be developed as an ideal place to live so that every Manileño can be proud of it, most especially if they travel abroad and were asked to describe their habitat back home?
I know you can do it, Apo. As I said, I've known you for the longest time. Your style is one that can flatten mountains, calm a stormy sea, and tame the wind, even.
As President Duterte keeps on saying, you are a billionaire through sheer hard work. And he says that with pride, citing your being a dedicated worker, which is why you've become Mr. Success 10 times over. Before Alibaba, there was already APT.
Your work ethic is legendary. You said to me your secret of success is requiring your employees to make the habit of smiling from 8 to 5, Monday to Friday. Go figure that out, Trump.
Your love for country is worthy of emulation. You require your employees to know the lyrics of Lupang Hinirang or "they have no business working in my company." Patriotism at its best. Got the drift, Trump?
Your discipline of keeping honesty to the hilt is unquestionable. When you acceded to be at the helm of Clark under PNoy's watch, the first thing you told your managers was: "From now on, all your lunches with Clark's clients are to be held in our offices."
You hate even an iota of inference. You used to host a yearly golf tournament called the APT Cup. (Now you know why I addressed Secretary Tugade as "APT"—Art P. Tugade.)
It was the most thrilling, fun-filled golf event one could ever imagine.
But once you assumed office at Clark, you killed it with one swift motion,guillotine-like. Many were saddened, including Rolly Enriquez—but they readily understood.
Years and years, the APT is the most talked-about golf tournament outside of the Philippine Open.
"I don't want people to say, think, I will use my position at Clark to continue making the APT Cup a success," you said.
Ah, I miss the poktanju portion during the APT Cup's awarding ceremonies, which also regularly featured the heart-rending distribution of bountiful bonuses to the caddies at The Orchard. And how about your vow to "give a little" to Fr. Rocky's Tuloy Don Bosco Foundation the morning after our APT Cup? Your admirable way of celebrating your birthday.
In closing, if only to prove to you that I mean every word I said, I'm willing, finally, to work under you. Yes, make me a commissioner—of the Caretela Commission. And on one condition: I receive one peso a year. Deal?
PEE STOP No one won either the Mirage or Strada staked as a hole-in-one prize in the recent 17th Diamond Motors Invitationals at the Manila Golf Club, which saw Miguel Tabuena, the Philippines's No. 1 golfer today, play in our flight that included Mitsubishi President Oshikiri Matsuhiro. Because of this, Diamond boss-chief George Blaylock, our flight mate, might raffle one vehicle next year during the 50th founding of Diamond Motors. Wow. Looking forward to that, George.