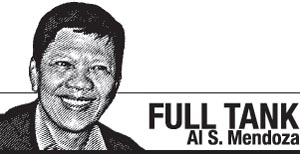 THE turbulent 1970s saw a court issuing a ruling banning vehicles from entering roads in the Greater Manila Area (that's your GMA then), mainly Edsa. It was in response to a resolution crafted by the MMC (Metro Manila Commission) on the proposed vehicle ban in the metropolis.
Those were dangerous times, when freedom of speech was killed, when freedom of movement was limited.
But still, the courts were still around to give a semblance that justice was not junked. But in essence, they were Marcos-controlled courts.   There was "no dictatorship then," just a one-man rule.
To millennials not too familiar with the 1970s, it was that time when martial law (1972 to 1986) was imposed by the unlamented dictator, Ferdinand Edralin Marcos.   He died in 1989 while in exile in Hawaii.
Yes, he was the father of BongBong and Imee, who are now hell-bent to make the Marcos magic mess of Hitlerian manipulation reenter into the nation's consciousness. Their route is through the vulnerability of the vote, which was restored after the bloodless 1986 Edsa People Power Revolt. Imee is now Ilocos Norte governor, and Bongbong is on hammer and tongs trying to nullify Leni Robredo's vice presidential win in 2016 through a relentless fight at the Comelec.
The MMC is now the MMDA (Metropolitan Manila Development Authority), a government agency enacted by law to look after the "welfare, progress and development" of the metropolis.
Do you know that the MMC of old had only four cities (Manila, Caloocan, Quezon and Makati) and 13 municipalities?
Today, it had grown so large I have lost count on how many cities and municipalities the MMDA has under its jurisdiction.
Back then, there were only 2 million in Metro Manila.   Today, the population had bloated to more than 12 million.
Back then, too, a traffic jam—whether at Edsa or Roxas Boulevard or España—would immediately merit a banner story in the newspapers.   Today, traffic jams all over the metropolis have become as ordinary as seeing people queuing up for their rice quota at NFA outlets.   Non-news.
Do you know, too, that the first MMDA/MMC chief was Imelda Marcos, the former First Lady?   In her 80s now, she is an incumbent representative.
And what was that court ruling again favoring the MMC?
That Imelda's MMC had all the right to ban vehicles in major roads "during a national emergency, calamity, war or if public safety required."
Was that ever questioned? No.
You could be jailed if you did, if not banished to Timbuktu.
But has the MMDA's recent HOV (High Occupancy Vehicle, allowing a one-person-only vehicle at Edsa) traffic scheme been questioned?   Yes.  By our lawmakers at that.
That is why it is not being officially implemented yet.
It restricts man's inherent right to free movement.
And Senate President Vicente C. Sotto III is right: "It is pro-rich as only the rich, can afford to hire a driver."
When will the MMDA under Jojo Garcia become pro-poor?
Not for a court to decide. Today.
'Me and My Toyota'
"TOYOTA Motor Philippines has always believed in giving Filipinos better experiences through the power of mobility. More than just its vehicles, Toyota recognizes that it is the precious moments we create along the way that would make every ride worthwhile."
Again, the above came from Carlo Nemo, Toyota's newly minted barker from Tini Arevalo's brave band of drumbeaters.
Carlo's complete craft:
"And now, as a way to say thank you for an incredible 30 years of driving together, Toyota Motor Philippines has created  "Me and My Toyota."  It is an online platform for people to share their timeless, unforgettable and deeply personal Toyota stories.
"The microsite was launched on  August 23, 2018,  and will run until  February 2019.
"Participants simply need to upload a memorable photo or video of their Toyota vehicle at the  Me and My Toyota site to get a chance to win premium prizes. Winners will be randomly selected at three different draw dates: the first on October 25, the second on December 20 and the last on February 14, 2019. Early submissions will have higher chances of winning, so make sure to share your Toyota story now!
"Feeling nostalgic? Visitors to the  Me and My Toyota  site can also enjoy reading the entries of other Toyota owners, and search by model name and year.
"Part of a Toyota car club? You can find other posts from fellow members on the site using the search function. Show your Toyota pride together while sharing your prized vehicle.
"For more details, check out the web site at https://meandmytoyota.com.ph/."
PEE STOP Thank you again to Mr. Sucing Chua, the go-to guy of Bacolod-Toyota's amiable Robert Uy, for his kindness in always standing by me whenever I am in the so-called City of Smiles. Keep well, Mr. Sucing.   Always, the Good Lord has a special place in his heart for people like you.… And, speaking of Bacolodnons, Ramon Uy is celebrating today. His wife, the beauteous Mareng May, wishes him many more birthdays to come. Their children Mayra, Princess, Michelle, Maeggie and Tsin-Tsin, and their respective families also send their greetings as well.… Not to be outdone is Pareng Joe Cajile, the famous founder of Bacolod Chicken House, who is set to prepare his signature "adobo sili," a.k.a. Ilonggo Catfish, exclusively for Pareng Ramon and his friends. Mabuhay ka, Pareng Joe!… And, of course, Pia and Marvin Velayo, plus Sahlee and Johnny Tan, extend their warm wishes as well. Cheers!
Latest posts by Al S. Mendoza (see all)