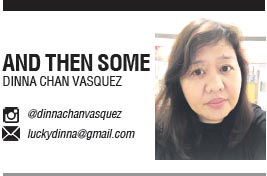 OF all the roles Barbie Forteza has portrayed, my favorite has got to be that of Happylou, the cute, feisty and courageous young woman in Inday Will Always Love You, which airs every night in prime time on GMA.
Happylou works hard and goes through many challenges, including abuse from her boss's jealous girlfriend, just to support her family. She is based in Cebu while her family is in Metro Manila. Anybody can relate to Happylou, a fighter and survivor who goes through life with a smile on her face and a twinkle in her eye.
Another reason I think Happylou is a good role for Barbie is because she doesn't play a giggling schoolgirl. I'm not sure how old Barbie is in the series but she doesn't seem to be playing a teenager who's in love for the first time in her life. In the show, Barbie may be a teenager but a mature one.
I first noticed Barbie in the GMA remake of the Korean drama Stairway to Heaven, where she played the young Jodi.
One thing I noticed while watching Barbie on TV was how smooth her skin was and how lustruous her hair were. While it's so easy to think of her as a child because she is petite, Barbie is already 20 and ready to tackle other roles.
So I sent some beauty-related questions to Barbie through her management (GMA Artist Center) and the young actress replied in less than 24 hours and she answered all my questions.
How do you protect your skin from the sun when you're outdoors, considering that you're very fair-skinned?
I learned to apply sunscreen on my face before putting any makeup on and sunblock all over my body. I used to ignore it but now that the heat is undeniably strong, sunscreen really is a must.
What is your skin-care routine like? 
Morning: After cleansing, I apply toner then moisturizer (face and lips) and sunscreen.
Nighttime: After moisturizing, I apply toner, then moisturizer (face and lips), eye serum and eye cream.
I use a balm-type makeup remover because I get acne from oil-based products and anything water-based is too light as it doesn't remove all the makeup on my face. Plus, the balm-type  remover also moisturizes the skin while removing the makeup.
Do you wear makeup even when you're not working?
On a normal day, I only need my brows naturally done, cheeks tinted and lips hydrated with a lip moisturizer.
What are the three beauty products you can't live without?
Lip and cheek tint, brow pencil and smudge-proof mascara.
Who are your beauty inspirations and how do they inspire you?
Anne Curtis, because she always goes for the natural look— no foundation and no false eyelashes. Taylor Swift, who is the reason why I became addicted to glitter eye makeup and red lipstick. Rihanna because she is the Queen of Highlights.
What's the worst thing you've done to your skin?
Applied body sunblock on my face. It's a big NO NO! It left my skin dry and full of acne. You really need to put the right sunscreen for your face.
What are your beauty secrets?
I always remove my makeup when I get home or right after work. I warm my lash curler with my hair blower before curling my lashes. It makes my lashes stay up longer than usual. Think of it as a curling iron for your lashes, but make sure you can handle the heat. You can feel it on your hand if it is warm enough for you.
How has your mom inspired you to take care of yourself?
She has taught me a lot—not just about makeup but also how to take care of myself entirely. She's taught me to handle myself with grace. Treat people nicely but never let anyone take advantage of me. Last, never depend on anyone. Do it yourself, for yourself.