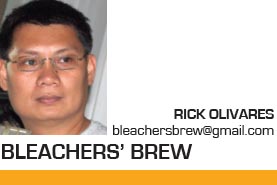 My eyes welled up on several occasions during Philippine Wrestling Revolution (PWR): Homecoming last Saturday at the ABS-CBN Tent in Vertis North.
This isn't my first time to attend a PWR show. It is my fourth. Like all the others I've seen, they were all enjoyable. Homecoming…was historic and memorable.
While the presence and talent of Filipino-American professional wrestlers TJ Perkins and Jeff Cobb accounted for a good chunk of that, I'd give huge props to the local wrestlers, the organizers and the fans.
I grew up watching those old World Wrestling Federation shows on IBC-13 (Thursday nights if I am not mistaken) that were shown late nights around 10:30 p.m. I was in grade school at that time and I couldn't stay up that late as there was school the next day. When I got to high school, I could afford to rent Betamax tapes of WWF house shows. Later on in my adult life, I got to watch Wrestlemania XX in New York, plus a few other shows in the United States and in Manila.
As much as I was a fan of the WWF (later the WWE) and other foreign circuits, I was thrilled by the Pinoy Wrestling put up by music man Ramon Jacinto back in the late 1980s with Max Buwaya, Joe Pogi, the Smokey Mountain Boys, and others. Yes, it was crude, imperfect, and at time, lacking in wrestling and mike skills, but I enjoyed it as only a kid can. It might have been several notches below the established norm of pro wrestling, but it was ours.
So you can imagine how I felt when Philippine Wrestling Revolution was organized in 2013. I have been to their shows intermittently because of scheduling conflicts and work. But through each one, I have seen the marked improvement across the board.
I was worried about the discrepancy in skills, and while it was clear that Perkins, Cobb, and the others operated at a much higher level…the local wrestlers held their own and put on a show.
Sometimes, you worry about fans. Do they copy much of what they see in American pro wrestling? But is sure is nice to see the crowd chanting, cheering and clapping. Scripted this ain't…it is pure unadulterated bliss.
I wonder at times about Fil-foreigners trumping their ethnicity. I am wary about that. Not that I doubt their lineage. Sometimes, I feel they know they are swimming against the huge tide abroad so they look for a more focused audience. Perkins though has worn his heart on his sleeve, costume and tattoos.
He bared his being asked to wear as mask and compete as a "Mexican" but his burning desire to represent the Philippines and he did that. The Cruiserweight Classic was engrossing and intoxicating. The talent out there is unbelievable. For Perkins to win a title and become a phenomenon is mind-boggling.
And I am hugely appreciative of his efforts. Watching him on WWE (I was hugely disappointed when he was released) or other promotions, he is always impressive. I love these technical wrestlers and he's one of the best in this generation. Yet, to see him perform up close is amazing. I loved his passionate post-match talk where he bared his heart and soul. He even engaged the local fans who urged his to cuss in the vernacular (he did).
I also like the fact that he patiently took the time to pose for pictures and chat with a lot of fans after the conclusion of PWR Homecoming. It was late and yet, he did not disappoint.
I thought back to the time when the WWE made its return to this shores after a long absence and I was in a room with Edge and Lita. Maybe they were tired and jet lagged, but they did not hide their unhappiness. They pouted and slouched. The other fans and I who waited for two hours for them to show up were so disappointed.
Maybe it is because Perkins is half-Filipino, but I don't think so. Recently, Irish wrestler Sheamus who is massively popular (you can tell that too because he has his own Funko Pop) graciously gave a lot of time to the local wrestling fans. And I had a grand time interviewing him and women's champ, Bayley who is one of my favorites.
When I learned that PWR wrestlers Jake de Leon, Crystal and Ken Warren were invited to a WWE tryout in Shanghai, China, I felt proud and happy. While others from regional promotions were invited as well, it sure is nice to be recognized.
In the midst of PWR Homecoming, I felt transported back to those days when I was a kid and I would hope my parents would come home late on a Thursday night so I could watch even a few minutes or WWF wrestling. When my brothers and I would stage our own bouts (safely I must impress) at home and make our own championship belts. When I got to my one and only Wrestlemania event.
Who says that you can't go home again?
Thanks, PWR.