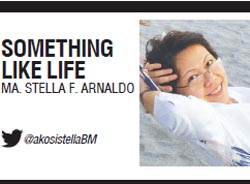 I WAS fortunate to have enjoyed a steady diet of plays, musicals and ballets when I was growing up in the 1970s and 1980s, for which I am grateful.
Back then, the arts and cultural scene mainly revolved around Pasay, where the Cultural Center of the Philippines, Folk Arts Theater, the Philippine International Convention Center were located; or in Manila, at the Manila Metropolitan Theater or the Rajah Sulayman Theater in Intramuros. Once in a while, there would be ballet recitals at the Meralco Theater, whose strikingly stylish, accordion-like façade fascinated me as a youngster.
Praise be that traffic jams were close to nonexistent then, so the travel time for us, a family based in Quezon City, was just 30 minutes, or on the rare occasion 45 minutes to the bay area. (But, no, traveling from Cubao to Makati then never took just five minutes, even through a less crowded Edsa. Anyone who claims as this being possible is living in a fantasy world, and has never lived in Metro Manila.)
Over the years, going to the CCP complex or even at the Mall of Asia Arena, where sports games or concerts are held, have become a pain due to the congestion of our main highways. I remember leaving the house three hours before the 8 pm show time of Madonna with my late friend Tito Mon because he didn't want us to get stuck in traffic.
So the New Frontier Theater in the Araneta-Cubao complex is certainly a welcome addition to spaces for cultural events in the Metro. Recently, it was the venue of the Moscow Ballet "La Classique" production of Swan Lake, featuring Oksana Bondareva (Odette/Odile) and Alexander Volchov (Prince Siegfried), both of the Bolshoi Ballet. (I later found out that Nina Kaptsova, who was supposed to play the Swan Princess, did not make it to Manila due to an injury, and the role was shared by Bondareva and another Bolshoi star, Anastasia Goryacheva.)
Bondareva's performance was captivating, as she executed swan-like fluttering moves in lyrical precision, despite Volchov's rather tepid display of what should've been a prince crazy in love with a woman who is a swan by day. (Telenovelas cannot hold a candle to the dramatic storylines in ballets!)
To make up for Volchov's rather unenthusiastic performance—maybe due to an injury?—were the hilarious court jester essayed by Sergey Kotov, whose leaps were breathtaking, and the evil wizard Rothbart, played by Kirill Popov, who added the mystery and drama to the story.
The iconic music, composed by Peter Ilyich Tchaikovsky, was performed by the 35-piece Russian Symphony Orchestra conducted by Maestro Yaroslav Tkalenko. Unfortunately, it was a bit difficult to watch the ballet if one were seated close to the stage as we were, because the theater has no orchestra pit. So I had to move to an empty seat as the tall conductor was blocking my view. (Perhaps next time, the orchestra could be moved to one side of the stage, instead of being right in front to allow guests to view performances better.)
It was unfortunate there were not too many people in the audience, either from the lack of interest or just due to poor publicity. As my friend Miggy pointed out, it was a waste because the tickets were quite reasonable: even at P10,000, which was the most expensive, this was still cheaper than riding a plane and going to Russia to get a glimpse of these talented dancers in Moscow. The performances were only over seven days, so by the time anyone would be excited and interested to watch the ballet after reading rave reviews from their friends on Facebook, there were no more tickets being sold, or the run was over.
But yay to more artistic performances at New Frontier please! The space is just right for medium-sized events, and there are so many stalls in their very clean restroom that a 10-minute intermission would be enough to accommodate all the women in the audience doing their business.
***
I WAS also fortunate to have seen Beautiful: The Carole King Musical, this time at the Meralco Theater, which is also quite accessible from my neck of the woods— another whoop! whoop! to that.
Produced by Atlantis Theatrical Entertainment Group with direction by Bobby Garcia, the musical traces the beginnings of King's career from being just one of the so-called Brill Building composers to a successful solo act.
The story itself was a bit dull—I actually dozed off for a few minutes—but oh the songs! If it's outstanding, chart-busting, and meaningful music you are after, this is the one you should watch. Because I have only heard of King's songs she herself renders in Tapestry, probably her best-selling album of all time, as well as a disc of her concert at Carnegie Hall, I was quite unaware that many of these were popularized by an older set of singers and musicians in the 1950s and 1960s. The Drifters ("Some Kind of Wonderful") and The Shirelles ("Will You Love Me Tomorrow") were among those groups, which made King's songs top music charts.
The role of King is essayed by Kayla Rivera, while her partner-lyricist and first husband Gerry Goffin is played by Nick Varrichio. Not enough chemistry I thought, and overshadowed by the more memorable performances of George Schulze and Mikkie Bradshaw-Volante (wow! the best singer in the lot!), who play another thriving songwriting duo of the day, Barry Mann and Cynthia Weil.
One leaves the theater humming the tunes and in a good mood, and the next few days found me listening to King's albums over and over again.
The musical runs until July 7 and ticket holders may claim a complimentary "A Natural Woman" limited-edition cocktail, when they dine at 22 Prime within the show's run.
This is part of Discovery Suites' tribute to King's hit songs, and also features delectable "You've Got a Friend" for sharing platters.