EVERY October, the Philippines observes Breast Cancer Awareness Month with the primary goal of educating women about the importance of diagnosing breast cancer at an early stage when treatment is easier and the outcome is better.
The Philippines has the highest rate of breast cancer in Asia and the ninth highest in the world in 2019, with about 64 percent of cases diagnosed in the advanced or late stages due to the lack of adequate treatment and early detection.
Being diagnosed with breast cancer, though, is no longer a death sentence and breast cancer survivorship has come a long way in recent years. Innovative treatments offer women a greater chance than ever before to live healthy, fulfilling lives following their diagnosis. This approach has not only improved survival rates but has also led to an increased focus on quality of life for breast cancer survivors.
For those whose breast cancer has made a turn for the worse, they might want to consider palliative care. Not too many people know that the month of October is also National Hospice and Palliative Care Month. Palliative care focuses on easing pain and discomfort, reducing stress, and helping people have the highest quality of life possible. Hospice care focuses on quality of life when a cure is no longer possible, or the burdens of treatment outweigh the benefits.
In a research paper titled, "The escalated global burden of serious health-related suffering: Projections to 2060 by world regions, age groups and health conditions," authors led by KE Sleeman pointed out that by 2060, an estimated 48 million people, or 47 percent of all deaths globally, will die each year with serious health-related suffering, and 83 percent of these deaths will occur in low-income and middle-income countries."
Last year of life
THE World Health Organization estimated that 56.8 million people, including 25.7 million in the last year of life, need palliative care.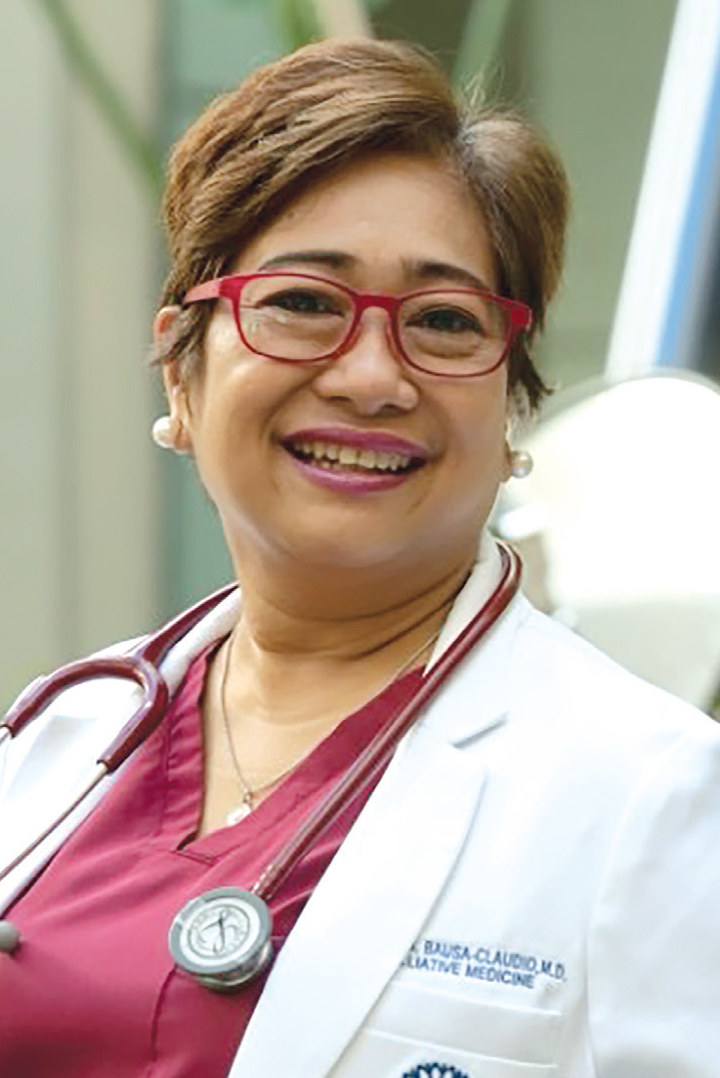 This is the scenario that the Philippines is experiencing right now. Dr. Agnes Bausa, a palliative care specialist and chair of the Department of Health's TWG of Palliative and End of Life Care and Clinical Practice Guidelines, noted that there are many patients in the community who are suffering from life-threatening illnesses and whose medical condition has deteriorated and become incurable.
"These medical conditions are not limited to cancer but also to end organ damage such as those with congestive heart disease (CHD), chronic obstructive pulmonary disease (COPD), Chronic kidney disease (CKD), stroke or cardiovascular disease (CVD) and other neurological diseases that are debilitating," Dr. Bausa said.
When these diseases reach the state of irreversibility towards the end of life, the majority of these patients will opt to stay at home without support from the hospital they were admitted to earlier. These patients might also have been sent home without proper discharge planning and discussing the goals of care and advance care planning when sent home.
Challenges at home
THE chronically ill patient faces a lot of challenges if he decides to spend the remaining years of his life at home. The patient's prognosis and survival may not have been discussed thoroughly with the patient and his family and they are not often guided on what to prioritize given their depleted resources after many treatments, diagnostic, imaging and repeated hospitalizations.
"Not all will sit down with the patient and ask what is important to him and his wishes or ask about his bucket list, his aspirations, values and preferences. There is nobody to guide the patient and his family moving forward, as the medical condition changes from curable to incurable to terminal stage and even towards end-of-life care at home," Dr. Bausa said.
To date, there are only 75 palliative care specialists in the country, not enough to cover those who have life-threatening conditions in hospitals as well those in the community.
Palliative care was introduced in the Philippines in the 1980s and the Palliative Medicine fellowship started in 2002 under the UP-PGH Department of Family and Community Medicine. The palliative care fellowship program is now available in Southern Philippines Medical Center and Davao Regional Medical Center, both in Davao; Jose B. Lingad Memorial General Hospital in Pampanga; Far Eastern University-Dr. Nicanor Reyes Medical Foundation in Quezon City; The Medical City in Pasig City; Batangas Medical Center and will soon be offered in Amang Rodriguez Medical Center and East Avenue Medical Center.
"Previously, there were not many doctors and nurses who were interested in palliative care and care for terminally ill patients. But through the years, after many years of education and advocacy, it created a wave of awareness to the medical societies and allied healthcare professionals, the policymakers and to the Department of Health, the public and awakened compassion and volunteerism," Dr. Bausa said.
Lobbying
THANKS to the years of lobbying and advocacy, there are now more doctors who are interested to go on further training in palliative medicine as a subspecialty.
This growing interest comes in light of the passage of the National Integrated Cancer Control Act (NICCA) and the Universal Health Care (UHC) Law in 2019. Both laws ensure that palliative care will be made "available, accessible and integrated in cancer centers both government and private hospitals and in all healthcare settings from hospitals (tertiary or apex hospitals, provincial, district/community hospitals), to local government units and to communities where the majority of patients are in their homes.
Both laws also aim to prevent financial hardship brought about by the chronic illness and frequent/repeated hospitalizations and high cost of diagnostics and treatment. It also aims to make services affordable, and, in the future, covered by PhilHealth.
In response to the NICCA and UHC laws, the DOH developed the National Manual of Operations, Procedures and Standards for Palliative and Hospice Care in the Philippines (MOPS). Relatedly, the DOH is expected to roll out by the first quarter of 2024 the Basic and Intermediate Training Modules for Primary Care Providers in all settings and all levels of care.
"We emphasize on the standardization of knowledge and skills so that wherever the patient is, they should receive the same quality of care," Dr. Bausa explained.
Integration into healthcare
HAVING identified the solution, the next problem to solve is how to integrate palliative care into the Philippine healthcare system: how a patient can move, navigate and have a seamless transition from hospital to home and vice versa.
"It's part of Filipino culture that the majority of chronically ill patients want to stay in the comfort of their homes where the environment is familiar and the family serves as the main caregiver," Dr. Bausa said.
Another challenge facing chronically ill patients is the shortage of pain medicines in the market. Dr. Diana Edralin, president of the Pharmaceutical and Healthcare Association of the Philippines (PHAP) and General Manager of Roche, pointed out that a number of factors could contribute to the shortage of medicines in any country.
The PHAP represents the biopharmaceutical medicines and vaccines industry in the country. Composed of 40 companies, its members are in the forefront of research and development efforts for Covid-19 and other diseases that affect Filipinos.
Medicine supply
FACTORS that affect supply of pain medicines include, among others, rapid and unpredictable changes in healthcare needs. Manufacturing concerns, supply-chain disruptions and regulatory requirements such as registration delays and customs clearance processes are also factors.
"A quick search in the Food and Drug Administration verification portal showed that there are at least eight registered morphine formulations in the country. As morphine has already been genericized, there are multiple suppliers for this drug. However, only one is carried by a PHAP member company and they have reported to have no supply issues as of the moment," Dr. Edralin stated.
While the country has the capability of producing its own pain medicines, including morphine, PHAP members will continue doing what they did during the Covid-19 pandemic, and that is to collaborate efforts to minimize supply disruptions through close coordination with the manufacturers located worldwide, regulatory agencies, healthcare professionals and patient organizations.
"While supplies remain stable, it is imperative that we strengthen our pharmaceutical planning, forecasting and inventory management to determine the volume of medicines needed by the Filipino people. This will enable the pharmaceutical manufacturers to provide for these medicines at the time of need," she said.
Government collaboration
THIS, however, will need the help of the government in terms of sharing data and real-time information on demand and supply of medicines which will significantly help both local and global manufacturers' forecast accuracy.
"PHAP and its members remain committed to continue partnering with the government as the country prepares for new global health, economic and geopolitical developments. We continue to work with high priority and urgency to mitigate any future supply disruptions. As we have done during the pandemic, PHAP is also looking forward to an even intensive coordination with the respective economic and health authorities to have accurate planning and forecast of medicines, vaccines and diagnostics supply in the Philippines," Dr. Edralin said.
According to Dr. Bausa, the National Hospice and Palliative Care Council of the Philippines and the Philippine Cancer Society are collaborating with different government agencies to make opioids available in all government hospitals through the allocation from the Cancer Support Palliative Medicine Access Program (CSP-Map) and Cancer Assistance Fund through collaboration with the DOH, the Dangerous Drugs Board on policies on opioids and the Philippine Drug Enforcement Agency to ensure that there is no misuse and abuse.
For now, Filipinos have to make the initiative to have their doctors refer their chronically ill relatives to palliative care specialists so that they can enjoy a better quality of life.
"The majority of Filipinos want to die in the comfort of their homes. However, if something happens to the patient, and there is a lack of available palliative and hospice care, the patient is brought to the emergency room by families who are confused or in panic," Dr. Bausa said.
Having experienced this on numerous occasions, Dr. Bausa trained nurses in the government hospital where she is head of the Palliative and Supportive Care Unit to be part of the Palliative Care Team. These nurses then become advocates of patients for palliative care in their area of assignment and this improves access through networking and collaboration.
"A lot of patients and families appreciate the service and feel they are not abandoned but rather guided in the care even when discharged. I think there is an increasing acceptance of palliative care among Filipinos," she said, adding that they always emphasize that palliative care is not about dying but about living with a disease that is life-threatening.
There is also a rising interest in pediatric palliative care. Presently there are only a few hospitals that provide this service: National Children's Hospital, Philippine General Hospital, Southern Philippines Medical Center and Philippine Children's Medical Center.
"Palliative and hospice care is a new industry with a lot of growth and body of knowledge. It offers a promising future to those suffering with life-threatening and life-limiting situations to have a better quality of life living with the illness and complications of the diseases," Dr. Bausa said.
The story is published with the support of the Philippine Press Institute, Novartis and ICanServe Foundation.
Image credits: Peerayot To-Im | Dreamstime.com