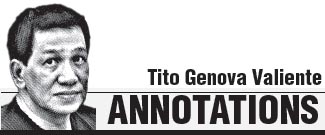 "Reading the world is like writing, and both are like traveling."—Kim Fortuny
This is an old book, even as it was published in 2003, this book about a writer talking about the writing of Elizabeth Bishop, the poet.
The book had remained untouched for a long time, lost as it was in the disorderly personal file and unseen given my vision then before my eye operation. It is interesting for me, at most, that after I had regained my good vision I would reclaim this book about traveling, about leaving one's home to see the world outside.
The book carries the title, Elizabeth Bishop. The Art of Travel. The book, however, is not Bishop, the poet talking about the art of travel, but about Kim Fortuny, a literary scholar, deconstructing the ideas of the poet about travel by way of her poetry and prose.
For a poet seen by many as apolitical, Elizabeth Bishop's writing is explored for its political engagement. Fortuny explains how Bishop differed from the "many of her contemporaries and predecessors in the field of travel literature because she approached the subject fully conscious of her position as a colonial writer."
The book is with me now. Unlike Bishop described by Fortuny as possessing this "unpremeditated or reluctant positioning vis-à-vis her foreign subject," I have this book with me because I planned to write about this trip.
I am now in a relatively progressive town in Camarines Norte. I took the plane and landed in Naga and from there took a cab to this town, passing through a national park.
There are good memories about this park: many years ago, this forest was a forest. The buses were not air-conditioned then. When we passed through the park, the canopies of the huge trees cast grand shadows over the road. The air would turn cool and, on some months, packed with pleasant chill. Lest I sound presumptuous, I like to think I was, without my knowing it, following the path of Bishop who was conscious of the colonial gaze she was employing, and never denied it. On one of those trips, I looked out of the window of the bus trudging up the curved highway and caught the sight of two children. One was a boy aged 6 or 7; in his arms was a baby, his sister or brother, perhaps? The boy could be older but, because of malnutrition or undernutrition, he was tiny and thin. Where were their parents?
Children in rural areas or in forested places are usually given tasks that are unimaginable to parents or children in urban areas or in families that are economically comfortable and, maybe, possessing surplus. Talking about the economic aspects of children living in the forest, I feel I have ruined my prose. What am I doing by commenting about these children and, for that matter, on child labor? Am I seeking outside help? Do I have plans to go back to that clearing in the forest to rescue them?
My prose—with the mention of scenes of poverty—is attempting to save me. The prose is talking: this writer is a good person and he is writing the world of poor children because he cannot ignore it.
It has been years from that quick time in the forest. The bus had left the area that day and I arrived in my destination. I believe I forgot about the children as soon as I stepped into the comfort of the home that day.
I am here again in that town at the end of the forest, a great area of it reduced to grassland. I am writing about my travel this time. On the way to my destination, I was thinking of a place, a hotel to stay in. This is not a foreign travel but I might as well be a foreigner questioning the lack of hotels, the absence of the kind of aesthetics that I preferred in a hotel. I was raising issues that, perhaps, are not even imagined in this town.
I arrived at the hotel finally selected by the organization that invited me. It looked good enough. The registration happened quickly and, soon, I was being led to a row of rooms with tiny, lovely verandas outside. The hotel staff who insisted on carrying my small luggage walked on and on, passing by what looked like rooms worthy at least of the label, "Deluxe." He walked on and on till we reached another area. The small verandas had disappeared and there was just this door. He opened it and a sorry excuse for a bed begged to be considered. The next few minutes were blurred. I am being melodramatic of course. I was complaining about the accommodation. I proceeded to the restaurant, hoping that food could assuage my irritation. I ordered for Caesar's Salad and when it arrived, I was looking at tough lettuce, tender croutons, hard, hard carrot strips, bacon strips stripped of any sign of fat, sliced olives as old as the Redeemer who once prayed in a garden planted to the same fruits.
This is not my day, I told myself. Outside the restaurant, in a dank aquarium, floated half-dead big fishes from the deep sea, some shells and some crustaceans. I don't eat them. While contemplating the sorrow for that moment, the staff who carried my bags, appeared and asked if I would be willing to add a few hundred and they could move me to another room. I agreed. In a few minutes, I was in a room that was dull but clean. But that was not the heart of the moment. Just outside my door, a wide sea opened with uneven surfs rushing to the shore, the reefs breaking the waves, the wind endlessly shattering the day.
Back to the book, Fortuny has looked into Bishop's poem. "Questions of Travel," where, according to Fortuny, she questions the speaker's motives for foreign travel. Here are those lines: Should we have stayed at home and thought of here?/ Where should we be today? Then it continues: Is it lack of imagination that makes us come/to imagined places, not just stay at home?"
After I finish this essay, written in my dull but clean room, I will step out and be stunned by the surfs, the lighthouse condemned, it seems, to beam from afar, and regard my lack of imagination.
E-mail: [email protected]