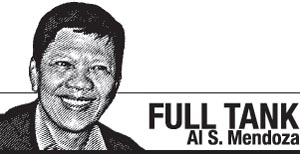 IN case you have forgotten, the serious search for traffic cure in Manila, as well as in Cebu started as early as 10 years or so ago. That long and today, with remedies remaining in limbo, the road gridlocks are costing almost P3.5 billion a day in Metro Manila alone. If nothing is done to address the malady, it would worsen to P5.4 billion a day by 2035—or 13 years after President Duterte has ended his term in 2022.
I am not trying to inflict fear. I am just simply citing data from the Japan International Cooperation Agency (Jica).
Just six years ago in 2012 the Jica report said the daily cost of traffic snarls in the metropolis was P2.4 billion—meaning, the economic spill had hopped to P1.1 billion more in a span of just six years.
Year 2012 was when Cebu completed its prefeasibility studies on Cebu's bus rapid transit (BRT) system that, according to Inquirer's Miguel R. Camus, began in 2009.The 23-kilometers (km) system will run through Cebu's traffic-prone Bulacao, Ayala and Talamban arteries.
"It has been thoroughly reviewed and evaluated by Neda (National Economic and Development Authority) on its technical and economic feasibility and found to be highly viable," said Nigel Villarete, Cebu City administrator, as quoted by Camus.
In September last year the Neda Board approved the National Transport Policy position stating that "high capacity public transport systems shall be the preferred mode in high passenger density corridors."
P53-billion total cost
THE Cebu BRT is but one of three BRTs under study; the other two are in Metro Manila. They cost a total of P53 billion as pegged before the 2016 onset of the Duterte administration.
But a concrete move to pursue the three projects has yet to be implemented. Curiously, a giant opponent of the BRT is Art Tugade, who is—you guessed it right—the transportation secretary himself.
His main beef?
The BRT will not click on busy roads.
It is a given that the BRT systems require a dedicated road, as well as specialized buses and stations for quick loading and unloading of passengers.
"They would only worsen our already congested roads," Tugade was quoted as saying during the recent Asia CEO Forum.
"It is known that I was not inclined to approve a BRT system at Edsa and Cebu," said Tugade, insisting that a dedicated lane is needed for BRTs. "Can you dedicate one more lane in a place where there are only three lanes? Can you dedicate a lane in a system like Edsa, where you have six lanes but are already overcrowded?"
He has a point there.
Review the project
BUT all is not lost, as Tugade admitted he had ordered a review of the project.
"I have been instructed by a higher authority (the President?) to get technical consultants and review my position, which they are doing right now," he said.
And here's a glimmer of hope.
"I'm not entirely ruling out the BRT system," said Tugade. "But these would be more effective in areas that are not yet crowded or congested, as in the New Clark City."
According to Tugade, up for review of the BRT systems apart from the Cebu project are the 12.3-km Manila BRT Line 1 from Quezon Memorial Circle in Quezon City to Espana Boulevard in Manila and the 48.6-km BRT Line 2 along Edsa traversing to Ayala Avenue in Makati to World Trade Center; from Ortigas to Bonifacio Global City; and Pasay City's Ninoy Aquino International Airport.
When lines aren't completely shut down, believe. Hope springs eternal, 'di ba?
Aisin links with Toyota    
THE manual transmission took a big blow somewhat when Toyota Autoparts Philippines recently became Toyota Aisin Philippines. The old TAP had annually produced thousands of manual transmission units installed in Toyota cars such as the Vios, with the bulks exported to markets in Asia, South Africa and South America.
But with the entry into Toyota of Aisin, which has more than 200 companies around the globe, seemingly a new thrust of expanding the automatic transmission outlook is in the offing.
Alfred Ty, vice chairman of Toyota Motor Philippines, has been informed of TAP's plan to invest P1.2 billion for automatic transmission production volume of 400,000 sets per year, although the new timeline for export markets of the product still remains under wraps.
The automatic transmission is most suitable in traffic-plagued countries like the Philippines as changing gears could be cumbersome and knee-hurting in turtle-paced travels, especially at Edsa.
Aisin President Yasumori Ihara said: "…We decided to do the automatic transmission production here [Manila] and we think it's going to be a win-win for both Aisin and TAP."
I can only agree.
PEE STOP Happy birthday (June 3) to Joy Isla, who is now enjoying a mostly happiness-filled life in the serene city of Auckland in New Zealand with hubby Dan "Sir John" Isla, the founding president of Lexus Manila in 2009. Joy used to be a top Unilever executive before she and Sir John decided to hop to the Land of the Sheep where all their children have been living for years now. Solmate says many more cheers to come your way, Mareng Joy!