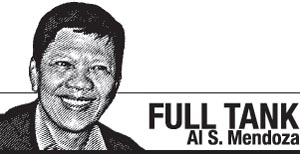 BACOLOD CITY—I am here covering the PAL Interclub Golf and playing, as well, in the PAL Media Golf.  It's been a yearly thing for me for nearly 35 years or so now.
As I've said—bragged?—in another column, the PAL Media Golf takes a special spot in my heart for the "simple" reason that I won it during the golden anniversary of the PAL Interclub right in this city in 1997.  That long. Time flies, indeed.
I've never won it since, but it's all right.
I know we can't win them all.
I'm happy as can be, though, as the thought of having won it on the tournament's 50th year is something I will cherish forever.  And I don't mind repeating myself if I say, again, that my victory 21 years ago earned me two PAL tickets to New York—business class. Eat your heart out, Mokong Muryoti!
Anyway, in flying here last Sunday, I made a rare "discovery."
To travel at dawn saves us from stress tenfold.  (As if you didn't know.)
I left the house with Jake P. Ayson at 3 in the morning or so to pick up Tony Sisante.  By 3:20 a.m.,   we got to Tony's place in Pasig, a distance of maybe 12 kilometers or so from our village in Quezon City Traversing C-5 from Danny Floro Street, we arrived at the Ninoy Aquino International Airport Terminal 2 (Centennial Airport), using the Skyway beside Villamor Golf Club.  We arrived at the airport at 4 a.m. or thereabouts—too early for our 6:40 a.m. PAL flight to here.
"We have all day to kill," Jake said.
"I like that," Tony said.  "I can enjoy my steaming cup of coffee without a hassle."
Well, we were given the luxury of a Mabuhay Lounge stint at Centennial Airport, through the combined efforts of Eya Prospero, Pinky Mag-iba and Nannette Versoza, courtesy of, who else, but PAL President Jaime J. Bautista.  Thank you, Sir!
Jake and I were required to arrive early to iron out the kinks of the PAL Media Golf March 5 to 6.  As for Tony, he got the luxury of playing in the two-day event trouble-free, representing Balita Sports Editor Edwin Rollon.  (Tournament results later as I wrote this in advance to beat, yes, deadline tyranny.)
As our PAL flight was on time, we arrived here at 8 a.m.  And who would meet us at the swanky Silay-Bacolod airport but Sucing Chua, the most trusted man of Robert Uy, the multiple-owner of Toyota dealerships in Bacolod, Iloilo, Kalibo, Roxas and Puerto Princesa.  Sucing drove a shiny Fortuner, depositing us at Ramon Uy's RU Foundry, where Jake, Tony and I would share a light breakfast before giving us a tour of May's Organic Garden, an exotic panorama of rare flora and fauna surrounding a resort.  Wow! It has an Olympic-size pool and is abundantly planted to organic vegetables, fruit-bearing trees and is adorned with fowl, livestock and poultry fed with nothing but organically grown vegetation.
And who would motor in for lunch but the trio of Atty. Domeng Duerme, Bong Cruz and Jess Garcia, three retired PAL big shots, whose invaluable experiences Jimmy B had tapped to ensure success of the PAL Interclub.
As in the past, I've again enjoyed every minute of my stay here, Bacolod being a city that is not yet choked by traffic jams to make it really an ideal place to stay if you want to escape the asphalt jungle that is Metro Manila.
To my City of Smiles, thank you for the memories once more.
Canlubang dethrones Luisita
CANLUBANG recorded its 10th crown in 12 years of play in the PAL Seniors.  Immediately after the victory, Luigi Yulo, Canlubang's perennial team captain, dedicated the win to their fallen comrade last year.
"This is for Mike," said Yulo, referring to Miguel Preysler, a former national player based in Spain.
Preysler died of stomach cancer last December. Canlubang won vehind Abe Rosal's 50 points to beat Luisita by eight points.
Also scoring for Canlubang were Zaldy Villa with 46 points, and Rolly Viray 44 or Damasus Wong 44.
Luisita could not recover from a seven-point deficit at the start of the final round, virtually giving up the ghost in the 12th hole.
"Their young players are the ones who came through," said Luisita skipper Jeric Hechanova, referring to Abe and Pem Rosal, Wong and Villa.
Luisita's Eddie Bagtas, who fired 52 points at Binitin in the second round, struggled with 44 points at Marapara.
"We thought that Luisita made a poor decision sitting out Bagtas in the third round," Yulo said. "He should have played at Binitin."
Canlubang lost only twice since its first victory in 2006.
The Interclub's Platinum sponsors are Primax Broadcasting, RMN and Fox, while major sponsors are BusinessWorld Publishing, Rolls Royce, TV5, Philippine Standard.
Other sponsors include Boeing, Under Armour, Eton Properties and Asia Brewery.
PEE STOP Let us raise a glass once more to Ray Butch "Elvis" Gamboa for again hosting the STV Golf Tournament today (March 9) at Riviera in windswept Silang, Cavite.  It is his way of giving back to his friends who tirelessly support his Motoring Today and Business Leisure, his twin television programs held weekly to the delectation of motoring buffs and business-minded folk, as well.  To his credit, Elvis never forgets to invite me in this now-iconic event, which I never fail to attend not only because I hold Elvis dearly but also because the tournament also afford the chance to renew ties with buddies both beloved and nearly beloved.  Here's to Elvis, indeed!  Cheers!