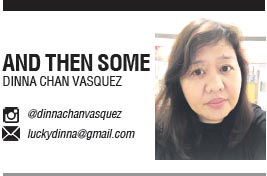 In celebration of Women's Month in March, Burt's Bees chose four women to talk about their life choices at the "Be a True of Nature" event held at Burt's Bees Flagship store on the second floor of Capitol Commons, Estancia Mall.
The talk, hosted by Angel Jacob, put the spotlight on Bianca King, who gave up acting in favor of a more peaceful and focused life; Dzi Gervacio, a law student who became a volleyball player; Reese Fernandez-Ruiz, a social entrepreneur who cofounded Rag2Riches; and Denise Go-Ochoa, a well-known makeup artist.
Bianca talked about how she now favors a quieter and simpler life.
"My decision to change my career was brought on by my desire to do other things aside from acting. It was time to move on. I neglected certain things that are important, such as sleep. I need eight hours of sleep.
"I also want to cook and read," Bianca said.
She has moved out of the city and lives near the sea.
"What's my definition of success? Being able to sleep eight hours a day, being able to eat good food, being one with the home that you live in," Bianca said.
"Everybody tells me that I'm helping people. Ninety percent of the time, I don't feel that way. I'm becoming a better person because of our Rags2Riches artisans. I'm forever grateful to them," said Reese, who founded Rags2Riches 10 years ago when she was just out of college.
"It's not easy taking this road less traveled. So the pressure was immense but because of being a volleyball player, I'm able to inspire kids to be the best versions of themselves. I always have an #AttitudeOfGratitude," Dzi said.
"Being mindful, being grateful. These are important," she added.
Denise, whose star clients include Kathryn Bernardo, Toni Gonzaga and Julia Barretto, recalled her somewhat difficult journey toward becoming a makeup artist.
"My mother's dream was for me to develop a skill. She told me to learn a skill in order to survive. I faked it till I made it and now I realize that this is probably where I was meant to be," Denise said.
Burt's Bees is a line of responsibly sourced, sustainably made and naturally moisturizing beauty products.
Burt Shavitz cofounded Burt's Bees in the 1980s after experimenting with beekeeping at his home in Maine. He and cofounder Roxanne Quimby started the brand by producing simple wax candles.
Burt's Bees most popular products include Beeswax Lip Balm, Lemon & Vitamin E Bath & Body Oil, Lemon Butter Cuticle Cream, Intense Hydration Day Lotion, Hand Salve and Coconut Foot Creme.
Burt's Bees is available at all Beauty Bar stores and SM beauty outlets nationwide. Follow Burt's Bees at @burtsbeesph and share your stories with us with the hashtag #BeATrueForceofNature.