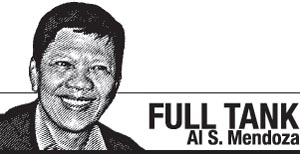 THERE is today the so-called entry SUV segment market. Coined by Tini Arevalo, who is described by Jade B. Sison as "a very discerning boss," this NIT (novel industry term) is broken into five parts: median age, gender, marital status, average monthly income and primary reason to purchase.
As per Tini's exhaustive studies, the median age of prospective entry SUV segment buyers are 37, gender is 52 percent female and 48 percent male. The marital status aspect is 61 percent, average monthly income is P95,000 and primary reason to purchase is exterior style design.
According to Tini, the ever-smiling first vice president for brand and product planning cluster of Toyota Motor Philippines (TMP), the NIT, already existent for quite some time now but has been generally ignored by even the major players for reasons known only to them, covers customers who aspire to move forward from being mere passenger car lovers to finally owning their very first SUV (sport-utility vehicle).
"But, of course, that very first SUV of their desire must have a price that is not far off from their previous vehicle purchase," said Tini, who I had the rare chance to chat with many times over during the recent smashingly successful Toyota Road Trek after memorable stops at the plush, state-of-the-art Toyota dealerships in Angeles (Pampanga), Balanga (Bataan) and Tarlac (Tarlac), all the way to Balesin Island in Polilio, Quezon province.
Within the budget
THUS, for those in the P95,000 earning bracket, the new Toyota Rush is well within the budget for first-time SUV owners. The top-of-the-line Rush is pegged at P1,070,000—a steal, if you ask me, considering it is an SUV; a very handsome ride at that. The other Rush two variants—all at 1.5 liter—are priced from P800,000 to P900,000. Practically each to be had for a song.
But, ah, that now-iconic Toyota Road Trek again.
Unknown to many, especially the event's main destination owner/investor, the Toyota Road Trek has become, wittingly or unwittingly, a regular endorser of tourist spots in the country. And Balesin Island is no exception, of course—the so-called island paradise having become a favorite wedding place and of honeymooners among celebrities that include high-value politicians and big TV/movie stars.
The beauty of it all is Toyota gets nothing out of its tourism-oriented approaches as the chief intent of the Road Trek since its birth in 2005 is to allow a broad mix of motoring journalists to test-drive a new model. Not even discounts of room rates for the entire Road Trek entourage that numbers normally 50-plus pax. Toyota is simply too proud to even try to attempt it.
Not in Toyota's DNA.
Ethics man, ethics.
Cool, cozy spot
THE Road Trek usually covers long stretches of practically all kinds of roads attended by challenges of mental and physical quizzes along the way. The drive that usually takes a whole day to complete ends on a cool and cozy spot in the neck of the woods if you will, usually on a beachside hotel—a virtual refuge normally for two days to soothe the delegation's frayed nerves and creaking bones, maybe, at the end of the journey.
"Despite its long years of existence [13 straight summers already]," said Jing Atienza of the Road Trek, "we still try our best to introduce new features to make it palatable and exciting for all of you when it's finally here."
And, definitely, a "new feature" thus was Tini Arevalo's baptism of fire in the last Road Trek.
"It is very educational, indeed, and gives me inspiration to devise more innovations for a product push in the ever-changing landscape of the automotive market," said Tini, who is a certified fitness buff; her having already accomplished a complete marathon race screamingly attests to that.
Marathon Tini
I could vouch for that as I was lucky enough to walk with her to help "unload" a heavy dinner going back to our hotel at Clark, Pampanga, on the eve of our flight to Balesin Island—a good 3 to 5 kilometer.
"Watch your pace, Al," said colleague Ron de los Reyes, a marathoner himself, during our "walkathon" back to Midori in the company of Ray Butch "Elvis" Gamboa and Lexus president Raymond T. Rodriguez, among others. "Tini has two 42-km marathons across her name."
Elvis was soaked in sweat after the walk. But not the rest of the pack.
"Well, he was the only one in sweat shirt that's why," said Tini, suppressing a giggle.
Very observant.
PEE STOP Karl Magsuci is the new general manager of BMW Autoallee at Centris Edsa Quezon City. That's a big, if not joyful, jump for Karl, who was formerly a major cog in the SMC-BMW Cars Philippines. "He is perfect for his new post and we wish him well," said Spencer Yu, a former Lexus top gun who is now the president of SMC-BMW Cars, replacing Maricar Parco. Maricar will take charge of the new direction of BMW by supervising the establishment of SMC-owned dealerships.…congratulations to Jaime J. Bautista, the Philippine Airlines president, for recently garnering the Tourism Hall of Fame Award from the Rotary Club of Manila in line with PAL's consistent efforts at promoting Philippine tourism worldwide. Mabuhay ka, Jimmy!