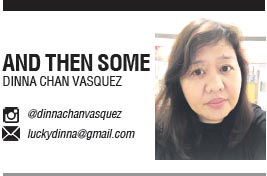 IN the past week and a half, many of the women I know could only talk about one thing—Sunnies Face and its lipsticks.
Most of my Instagram friends, even those who live abroad, also kept asking me about the nine lipsticks. Truthfully, I wasn't paying a lot of attention to Sunnies Face in the beginning, although I had received an invite to the launch from Vani Vergara and Gaby Azarcon, two lovely girls who used to work for another makeup brand.
Everywhere I went, I would be asked if I had swatched the products. The round Sunnies Face PR bag was the week's most coveted item. Finally, on August 8, Sunnies Face, the logical child of the Instagramfamous Sunnies Studios, was introduced formally to members of the press, bloggers, vloggers and influencers.
Georgina Wilson, Martine Cajucom, Jess Wilson and Bea Soriano-Dee and Eric Dee talked about how the makeup line was their dream and that it took two years for it to finally come to life.
"Beauty that gets you" is the brand's mantra. "We're all obsessed with makeup," said Cajucom, the "creative director of all things Sunnies" whose Instagram feed is color-obsessed.
Of all the Sunnies girls, it's always Cajucom who is asked, "What is your lipstick?" It is admittedly fascinating to see her in her favorite orange/coral lipstick color.
The first Sunnies Face collection consists of nine lipsticks collectively known as Fluffmate. They are, as Sunnies Face explained, "inspired by your girl crushes." Each lipstick is priced at P345. The whole collection has a cool girl vibe—that is (yes, I'll come out and say it) very Glossier, the makeup and skin-care brand created by and for cool girls.
Naturally, every lipstick color has a vibe.
Nudist, a warm almond nude, has a "best-kept secret vibe." Baked, a terracotta peach, "belongs to your fave K-pop star." Vacay, Cajucom's favorite, is a peachy papaya that reminds you of a "tropical holiday." Milkshake, a warm peach nude, is for "the girl next door" while Girl Crush, a terracotta rose, is for "the popular girl in school." 143 is a berry rose that's "for an I-love-me moment," while Mood is a taupe that's a "throwback to the 1990s." The reds are quite bold and audacious. Hot Sauce is a tomato red for "when you're feeling a little spicy" while Major, a most perfect cool red, is "for all your major life moments."
Sunnies Face described the Fluffmate formula as "a weightless modern matte lipstick formulated with silk-structure technology to give you that second skin feel."
By the evening of August 8, the Sunnies Face site had crashed with all the products sold-out. The lipsticks also sold-out in Lazada.
At presstime, Sunnies Face had just opened stores in Glorietta and UP Town Center with long lines of women (with husbands or boyfriends in tow). You can't argue with success, that's for sure. We wish marketing professors would discuss the Sunnies Face story with their students because it really is a good one.
Meanwhile, everyone is eagerly awaiting the next drop of products, which reportedly include a mascara and a highlighter.