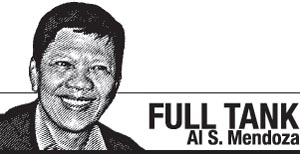 THE one good thing I like in Satoru Suzuki, the always dapper president of Toyota Motor Philippines (TMP), is that he always makes it a point to find time to be with the motoring media whenever there is a Toyota event.
Despite his usually very hectic schedule, he somehow manages to squeeze in some precious moments, if only to exchange banter and pleasantries with us. Or is Jade B. Sison simply too good in snaring Suzuki-san for the Fourth Estate's eternal delectation each time an opportunity presents itself?
And so it was that Suzuki-san did that again in Tokyo, during the tail end of our trip to the recently ended Tokyo Motor Show.
Just when we thought we wouldn't be meeting him anymore in person, here he was, suddenly materializing at the 45th-floor penthouse of the Keio Plaza Hotel in the heart of Tokyo. It was close to midnight when he came. He shook hands with everybody, very warmly, as though we hadn't seen each other for ages.
What a time that was, an occasion worth remembering. Cocktails on the eve of our departure for Manila. Thank you, Suzuki-san.
Carlo S. Ablaza had put me beside Suzuki-san and what an honor, indeed, to be seated next to the Toyota president, a very amiable, refined person with the gentlest of manners.
I wasn't totally well yet that night, traces of fever and bronchial infection still causing me some body pain and irritability. The lure of single malt was there, especially when Suzuki-san ordered a double on the rocks.
Earlier, the Japanese doctor had said to me it was OK for me to drink either a glass of wine or a bottle of beer. No way. Thank God, I had restrained myself. Six days of bed rest might yet go down the drain, I said to myself. I simply didn't want the whole gamut of receiving a massive infusion of antibiotics via intravenous (Ouch! Ouch!), á la dextrose, go to waste.
In short, I had to compose myself, steel my nerves, control my spirited desire, if only to make it to Narita the next morning (alarm clock was set at 4 a.m.).
And so to the penthouse waiter, this order: "Hot water, please?"
The conversation with Suzuki-san went freewheeling, from Toyota's beautiful concept cars on display at the Tokyo Big Site Motor Show to sales forecasts in 2018 and beyond.
I asked him about what would be the real impact to vehicle sales next year in light of the much-debated increase in excise taxes.
"Definitely, there will be behavioral changes in the mood of car buyers next year," Suzuki-san said. "They will think twice before they even start thinking of buying a new car in 2018."
But he said the motoring industry will not really suffer that much, sales-wise.
"Motorization will continue to advance and progress because that is the law of nature," he said.
Then this eye-popping thesis from Suzuki-san: "Demand for vehicles next year will be affected. But nothing to worry about, though, because the expected demand in 2018 had already been practically realized this year."
That's bull's-eye, if you ask me.
With projected car sales already virtually achieved by the industry—it's almost a whopping 450,000 vehicles already sold with still two months to go before 2017 bows out—the car world can rest assured of a future resting on its laurels.
"We will move on and roll with the punches," Suzuki-san said. "That's what we are here for: Ride out every storm that comes our way."
PEE STOP All roads lead to Clark Freeport in Pampanga again as the season-ending Vios Cup is held there today extending up to the weekend. The nation's car buffs, race hounds and entire car-loving families will converge anew at the SMC-Clark International Speedway to savor the thrills and spills only a Vios Cup spectacle is capable of dishing off. To all the participants, good luck. Drive safely…I'm sure Carlo S. Ablaza, the energetic vice president of Toyota Motor Philippines, will still be working side by side with Jade B. Sison in ensuring a smooth coverage for the motoring media of this now-iconic carfest that features, as usual, some of the biggest celebrities from the celluloid world. To those not in the know, my dear friend Carlo is moving over to Lexus Manila shortly, handling the delicate job of Lexus distributorship and branding. Good luck on your new mission, Carlo. I'll always be behind you, podner! Cheers!