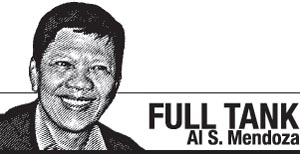 AS disagreement looms between the Lower House and the Upper House of Congress, the projected astronomical increase in excise tax for cars could be in jeopardy.
I refer to our lawmakers' contrasting takes on the planned imposition of car excise taxes, set for implementation sans kinks, starting in 2018.
The opposing views could yet trigger the strong possibility that the feared jump of vehicle levies might not even materialize all. Or, worse, it'd be pruned down to the minimum, resulting in a general boon to a crowd craving to own a first-ever car. Stating the obvious, lower taxes mean more car sales. But if the proposed Senate bill is a watered down version of the Lower House bill to mean it would drastically cut the figures being peddled by the House of Representatives, there could be a dogfight soon between both camps.
In its robust defense of its already approved excise-tax draft, Congress said its action would thoroughly support the President's "Build, Build, Build" vision that is meant to triple, even quadruple, infrastructure spending.   That's very admirable as, truly, we are very much behind in this aspect in global appraisal.
The revenues to be generated from huge excise car taxes aligned with the government's new economic tax package would tremendously help finance Malacañang's "Triple B" mission—a trillion-peso undertaking that would help spur construction of new roads, bridges and highways stretching from Luzon to the Visayas and Mindanao, seaports as well as airports, a world-class train system both going North and South, a massive flood-control project in the metropolis, railways and the first-ever subway system in Metro Manila.
This is because, while the House of Representatives had somewhat approved a rather pocket-hurting plan to inflict a set of perceived excessive high excise tax on car buyers starting next year, the Senate seems bent on fighting it, to the extent of even seriously thinking of blocking it—if some senators are to be believed.
This might be in complete disregard of President Duterte's wishes.
Didn't the President even utter asides on it, showing a bit of impatience on what he said was the Senate's dilly-dallying stance about the new tax-reform package espoused by the Palace during his State of the National Address in July?
The Senate is almost done with its excise-tax version, which is not as "expensive" and "telling" to the ordinary car buyer's budget.   It is generally being seen as almost the complete opposite of the Lower House's draft—a surefire spark to heated debates soon.
Some of our senators had expressed, in no uncertain terms, that our congressmen had drafted an excise tax that is not too friendly to both first-time vehicle buyers and the car companies, as well.
This early, the bicameral sessions heating up next year could really be "bloody," and divisiveness might yet torpedo the essence of the new car-excise scheme: Generate massive revenues to help finance long-overdue infratructure projects.
Amid all the hoopla and anxiety if you will, one respected auto executive said, "Once our customers who had already made advance orders on our high-end cars get the feeling that the new excise tax wouldn't be that exorbitant after all, expect a torrent of withdrawal of orders happening shortly."
Indeed, that is not far-fetched, should the Senate prove to really be stubborn and decide to stand its ground in the bicameral debates.
Zero growth
And while we are at it, here's the stunning forecast in the auto industry for 2018, coming from no less than Rommel Gutierrez, the Chamber of Automotive Manufacturers of the Philippines president.
At the sidelines of the recent Tokyo Motor Show, Gutierrez, the dapper vice president of Toyota Motor Philippines (TMP), said to me:   "With the impending increase in the excise tax for cars, I expect a grim scenario of 2018, calling it as the year of zero growth. If we break even in our projections, that'd be good enough."
With only just days left before 2017 bows out, the industry has more than surpassed its sales projection of more than 430,000 units sold—a heartwarming growth of nearly 21 percent from last year's performance.
TMP President Satoru Suzuki had somewhat augmented Gutierrez's rather dark forecast by saying—did he whisper it to me in Tokyo during the Midnight  farewell drinks on the eve of our departure?—this to me: "The demand for cars in 2018 had already happened this year."
Who can dispute the one that heads the country's no. 1 car brand for the longest time?
PEE STOP Here's to the all-new Kia Picanto for emerging as the most fuel efficient,   gasoline category, in the recent Fuel Eco Run supported by Petron and the Department of Energy. The  Picanto 1.2L A/T GT-Line  bested 26 other vehicles with its impressive 29.23-km/l  performance in Clark, Pampanga.   If Kia President Ginia Domingo is still on Cloud 9 right now, let her be. Cheers!… Coding has been suspended in Baguio City for the benefit of more than 1,200 golfers from here and abroad playing in the 68th Fil-Am Golf Invitational ending  on December 16. "We are one with the City Hall in tourism promotion, as always," said Anthony de Leon, the affable Baguio Country Club General Motors and golf tournament cochairman with Tim Allen of John Hay. Mabuhay ka, Anthony!