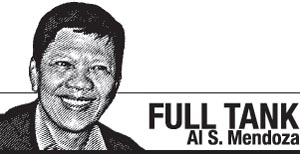 BECAUSE he is my fellow Beatlemaniac, Danny "Sir John" Isla, the former Lexus Manila president, deserves not only a special spot here but the entire length of my space, as well. We act generously, let us do it to the fullest to give it real substance. So here is Sir John's unexpurgated account of Sir Paul McCartney's live concert last December 16 in Auckland, New Zealand.
"My dear Al a.k.a. Sir Paul,
"I have always had this dream of watching the Beatles perform live [you did when the Beatles performed in 1966 in Manila—lucky you!] but that opportunity vanished in the haste when John Lennon [1980] and George Harrison [2001] died. I took satisfaction in having my own Beatles room at home decked with various Beatles collection. I always made it a point to be at the Cavern Club or the Abbey Road Beatles Bar in Roppongi each time I'd be in Japan. They feature Beatles look- and soundalikes, who sing nothing but Beatles songs. I also had a chance to be at Abbey Road in London. Still, I longed to see a real live performance, this time by the only active Beatle, Sir Paul McCartney, who is second place in my Beatles heart—next to John Lennon, my personal favorite.
"The first opportunity to watch Paul came two years ago in a concert in Tokyo. My wife and I bought the best seats for the show, only to be disappointed when Paul got seriously ill and had to be hospitalized in Japan—leading to the concert's cancellation.
"I thought I had completely lost my chance to watch Paul's One on One Tour. Then the unexpected happened—Paul scheduled his last stop of the One on One Tour in Auckland, New Zealand. Wow! Amazing! We could shoot two birds with one stone: Watch the concert and then spend Christmas with our children and grandchildren who are all Auckland-based.
"Sadly, we got scammed buying tickets online but that did not stop us from pursuing my dream. My wife and bought new tickets on site [masakit man sa dibdib lalo na sa bulsa] just to be able to watch the show at Mount Smart Coliseum in Penrose, Auckland.
"Huge was the venue but it was still packed to the brim with maybe nearly 40,000 people present, singing along and dancing to the beat of Paul's songs.
"They came from different parts of New Zealand. Some watched Paul's concert in Sydney then watched him again in New Zealand. The crowd consisted of mostly baby boomers, Gen Xers and even millennials who were just as excited as the older generation. They came as families with parents, obviously Beatles fanatics, bringing in their young children who know Beatles songs, too.
"My opportunity of a lifetime has finally come.
"At Paul's opening song, the crowd rose and sang 'A Hard Day's Night' with Paul—beer or wine in one hand while the other was steadily holding the phone capturing the moment they had waited for. The ditty was followed by "Jet," "Can't Buy Me Love," "Drive My Car," "Let Me Roll It," "I've Got a Feeling" and many other Beatles and McCartney songs, which he sang in the original arrangements as we know them back in the 1960s.
"Paul sang continuously for three hours, resting only to change instruments from one guitar to another, from the ukulele to the piano.
"He narrated stories of his youth and of his relationships with the Beatles. He was an engaging story-teller with a good sense of humor as he talked about their experiences in being the first rock band to perform at the Red Square in Russia. He talked about Sir George Martin, his friendship with John and George and even with Jimi Hendrix and Mick Jagger. The crowd listened intently and laughed at his fun-filled tales.
"At 75 years of age, Paul was amazingly strong, alert and in his best elements. He made his way deeper into the hearts of the audience by singing mostly Beatles songs. He knew these were what the crowd came for. He said that in all of his concerts, he noticed that the place would light up with camera lights like a galaxy of stars each time he sang original Beatles hits but would be like a black hole when he sang his other songs. People sat down to politely and quietly listen to him sing his other compositions but would rush back to their feet at the first chord of any Beatles song.
"Unlike his previous concerts that I watched on DVDs, he sang quite a number of John Lennon songs like "A Day In The Life," "Give Peace a Chance" and "For the Benefit of Mr Kite." He turned emotional when he sang "Here Today," a song he composed for John Lennon that speaks of a degree of pain in not being able to express how he loved John when he had the time. The song was structured as an imaginary conversation between him and John, who had been dead for close to two years at the time Paul was composing it. His story was a message to the audience to express their feelings before it is too late.
Paul also gave a heartwarming tribute to George with his touching rendition of the song "Something," which he played on the ukulele, an instrument that George had taken fancy of.
"Obladi Oblada" obviously energized the crowd even more, getting wilder as the pyrotechnics and live fireworks reverberated with the music in the song "Live and Let Die." There were real live explosions.
"You knew the concert was coming to an end with "Hey Jude" renting the air. We had slowly inched our way towards the exit (while the crowd was singing the super extendedNAH-NAH-NAH-NA-NAH!) to avoid getting hemmed in by the massive flow of exiting people. But the crowd did not budge. Surely, more songs from Paul's encore were coming. Who's the singer who would dish out eight more songs to wind up a concert? Paul McCartney! And, maybe, just him! His entire repertoire for the concert was a total of 40 songs. Every moment was remarkable and the enthusiasm of the audience had heightened the experience.
"Paul's concert was super spectacular, to say the least. Truly impressive. I am extremely delighted to have witnessed his performance. It was a night that will be remembered through the years.
"One off my bucket list."