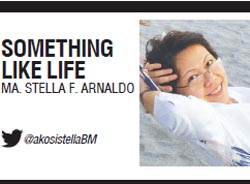 EVERY Pinoy who has ever learned how to cook pork adobo, pocherong manok, pinakbet, kinilaw, or any other basic Filipino dish, will likely have learned it at home from their mothers or grandmothers.
In the case of Singaporean "cake boss" and author Bryan Koh (Chalk Farm), he learned to enjoy Philippine cuisine from his nanny, who would fry him up milkfish marinated in black peppercorns, garlic and vinegar. These days, he employs a Filipino househelp who makes him sinigang, confessing that she cheats using ready-to-mix sinigang broth.
His memories of being nurtured by a string of Filipino nannies who fed him well are published in his first cookbook, Milk Pigs and Violet Gold (Xochipilli Press), and recently updated with more regional Filipino dishes and recipes.
Bryan, along with experts from Hong Kong and Singapore's vibrant food and beverage scene, were in Manila last week for the first Asian Culinary Exchange. Held at the Samsung Hall in SM Aura, the event also featured local chefs, such as Margarita Fores (Cibo/Lusso), Bruce Ricketts (Mecha Uma), Dedet dela Fuente (Pepita's Kitchen) and Myke "Tatung" Sarthou. Also featured was local restaurateur Eliza Antonino (The Moment Group), responsible for such local foodie favorites like 8 Cuts and Din Tai Fung, among others.
As an "outsider," Bryan spoke about ways to improve the food identity of the Philippines. Having so many regional cuisines from the north to south, how was it even possible to come up with a cohesive Philippine identity for our cuisine, I asked.
But even before we can talk about the differences (or similarities) in certain dishes around the Philippines, Bryan said we must, first of all, address the issue of our food's "accessibility."
He continued: "I have found that you get such good local Filipino food in the smaller establishments [e.g. carinderia]. But as a nonlocal, the chances of me getting there without help is quite slim. Look at Manila, for instance. It's not designed in such a way that I can walk out [of my hotel] and be blown away by something. I've got to know where I'm going."
He said most foreigners are able to get "decent local meals" in the Philippines in a restaurant, or, if they are lucky, someone's home. Tourists are automatically dissuaded even by locals from eating at roadside eateries, for instance, even if they serve the best home-cooked dishes, being told these may not be safe and hygienic. "It's been out too long," he said, quoting a local. "But for many people who don't have that luxury to sit in a restaurant…. Foreigners have no idea of all the stuff that you have in the villages. We don't get it, we've not had that before…. So I think that should be readjusted slightly, so there are good little places you can eat. It would be great to have this in places where people like me can go to without having to worry about needing local help."
It is an observation that's quite striking. One of my favorite carinderias as a young journalist was Aling Sosing's along Zobel Roxas Street in Makati. Starting out as an eatery for cab drivers, at the height of its popularity, lines of luxury sedans were parked along the road as their sosyal owners slurped steaming bowls of bulalo and enjoyed sautéed fish eggs (bihod) with hot fluffy white rice. But no foreign tourist, to my recollection, ever made his way there.
For tourists who want to enjoy Pinoy cuisine, they would likely be pointed to any of the LJC restaurants. Don't get me wrong, I love these restaurants, especially Bistro Remedios, which serves delightful treats like gising-gising in gata and crispy tadyang.
Perhaps we can have food halls like Singapore's hawker centers that specialize in similarly hearty and soulful Filipino street food, but at half the price of the usual Pinoy restaurants to which we bring our own balikbayan friends and relatives.
Bryan also suggested making regional food offerings more readily available in the city. "Many people actually don't make it past the big cities [like Manila or Cebu]…. So they come to Manila, most of the Tagalog food here is quite similar. So it will be good to have more variety here, so nonlocals can try these things. And the thing about the Filipino food, the many variations are quite slight, not noticeable; what a lot of regional restaurants here do is that they end up adjusting things to the palate of the local, which I understand from a business perspective, but the process is no longer regional."
He mentioned the pakbet, a favorite dish in the Ilocos region which is cooked by putting all the vegetables in one cauldron and left to cook on their own. "You don't begin with sofrito. You don't fry the onions or whatever; everything goes into a banga. And this banga goes on a kalan or stove, and the vegetables take care of themselves! And the juice that comes out is very pure and clean." In many restaurants in Manila, he observed, cooks put squash in their pakbet. "But to the Ilocanos, that's anathema. You're dirtying the broth. Why did you do that for?"
Bryan also expressed his belief in the importance of education and setting up cooking schools that specialize in regional Filipino cuisine, "because if I were a nonlocal and I'd like to learn a regional cuisine more than the basic Filipino cuisine, where do I learn the basics?" The Thais have shown the way in this regard, opening cooking schools specializing in their own cuisine, or including a Thai cooking session as an option for tourists staying in hotels.
Food tours are very useful, as well in promoting Philippine regional cuisines, according to Bryan. "They've got food tours in Cavite and Pampanga—that's brilliant. But I think it would be good to have more outside, up north, or across the Visayas, because a lot of the good food is out there. We need to have people taste good local food." He proceeded to narrate about people going up to Sagada to eat pancakes, yogurt and ice cream. "I was a bit shocked! What's up with that?"
Bryan noted that foreigners find out about Filipino food not through restaurants but through overseas Filipino workers, which is similar to his own experience. But he observed that younger Filipinos can't even cook Filipino dishes the traditional way. "They can't cook sinigang without a sinigang cube! It's unthinkable; they won't do it. It's fine, but in the event that you don't have that, I will give you the sampaloc—but then, you won't know what to do with it!"
Again this goes to education, and if we must keep alive our Filipino cuisine, and promote this to foreigners and tourists, we also need to learn and propagate the traditional ways of cooking our beloved dishes.