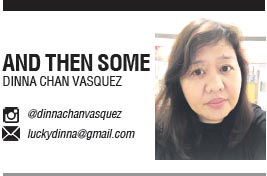 With two children, it's difficult to imagine how celebrity Sarah Lahbati can look so effortlessly glam and beautiful in her Instagram photos. Even when she is traveling with her fiancé Richard Gutierrez and their kids Zion and Kai, Sarah always looks put together when she should appear frazzled and have burp stains on her clothes.
"The secret is really having someone who takes good pictures for you and of you. I have to give amazing props to Chard, who is amazing photographer. He really has a good eye. Chard really knows my angles and what poses I look good in," said Sarah.
It's a bonus that Sarah has a strong support group that includes her mom Esther and Richard's mother Annabelle Rama. With Annabelle and Richard's sister Ruffa Gutierrez, Sarah shares beauty tips and tricks. From her own mother, Sarah has learned to be practical.
"My mom is obviously someone who doesn't wear a lot of makeup. Her philosophy is 'Less is more.' My mom is very practical and I got that from her. But I'm lucky because we now have the Internet so I can Google whatever information I need."
Sarah describes herself as the disciplinarian in the family. She prefers her children to play and read instead of being tethered to their gadgets. When they're traveling, for instance, Sarah and Richard try to read to Zion or help him draw so that he will be entertained during long flights. Otherwise, the couple tries to get evening flights so the kids can just sleep.
Time management is the key for this young mom. Sarah doesn't have time for 12 skin-care steps. Actually, even half of that is already time-consuming for someone like her who has so much on her plate.
Even with makeup, Sarah is a minimalist unless she is working. On normal days, she just uses some foundation under her eyes and lip and cheek tint. KJM Cheek and Lip Tint in Bloodshot is a favorite. She always fixes her eyebrows though.
"Skin care is always more important than makeup. I just need three steps—cleansing, moisturizing and protecting with a sunblock. Cetaphil is my go-to brand because their products are gentle on my skin. The cleanser, for instance, has a PH of 5.5, which is ideal," said Sarah.
Sarah recently took part in the Cetaphil 7 Days at SM Makati, where she talked about "How to Achieve Glass Skin."
"Glass skin is a Korean trend that's very popular right now. This is something you can achieve with highlighters but proper skin care with my favorite products from Cetaphil have helped my skin become more luminous," said Sarah.
Choose your Cetaphil in this year's Cetaphil 7 Days and use #MyCetaphilSkin and #7DaysOfCetaphil to let them know what goes into your health routine. Follow
@cetaphilph on Instagram and like Cetaphil Philippines on Facebook for the latest updates.
If you want to fake glass skin, here are some products you can use:
Becca Champagne Pop Shimmering Skin Perfector Pressed, one of the most popular highlighters in the market right now. This is a medium gold with peachy undertones. Like all other Becca highlighters, this one has great texture—soft and easy to apply and blend. It's not for those who want a subtle glow as this one has a highlight that's very in-your-face. This is available on Sephora.ph.
MAC Cosmetics Hyper Real Foundation in Rose Gold FX, touted to be the more pigmented version of the brand's cult product Strobe Cream. Having said that, Hyper Real Foundation is not a foundation but is something that you'd wear over your usual face base or mixed with your foundation to give your face a lit-from-within glow. This is available at all MAC boutiques and Lazada.
The Balm Mary Lou Manizer, a versatile powder that can be used as an eyeshadow and a face highlight. The brand description for this is "subtle glowing sheen." Actually, the glow this gives off is not subtle at all but still very beautiful. I love using this during the summer. This is available at Beauty Bar and BeautyMNL.