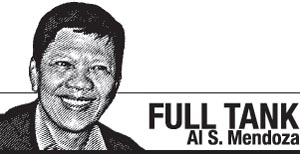 HOW many times have you heard this question: Is diesel on the way out?
Did you notice that the standard reply was "yes?"
But Kei Mizuguchi, the executive vice president for marketing of Toyota Motor Philippines (TMP), had a different reaction when I asked him that during the recent launch of Rush, Toyota's latest sport-utility vehicle (SUV) model.
"Umm, nice question," he said. "Maybe change is coming.   The global trend is telling us that.   Diesel would be out soon."
He paused. Then it was his turn to ask me a question.
"Why did you ask that?"
I pointed my index finger to the Rush parked on the stage during the Rush launch at spacious and spanking Okada Hotel in Pasay City.
Kei san rolled his eyes. He didn't get the drift.
"What has Rush got to do with my question?" he said.
"Well, not a single one of the three Rush variants has a diesel engine in it," I said.
"Ah, so desu ka ne," he said. "You got me there!"
Nearby, a fellow journalist arrived and requested for an interview with Alfred Ty, the dashing-as-ever TMP vice chairman.
"I just need to ask you two questions, sir," my colleague said.
"Upps," said Alfred. "Yes, but no questions, please, on the technical aspect of Rush."
At this juncture, Rommel Gutierrez, seated to my right, stood up quickly.
"I will handle the technical questions, sir," said Rommel, the vice president for TMP's legal affairs.
A knight in shining armor, this lawyer cum Bee Gees crooner. He left his lunch to come to his boss's rescue.
But back to Rush.
This seven-seater SUV seems to carry Toyota's emphatic message that, indeed, clean air is the sign of the times. Rush personifies that—obviously.
And another good thing about the new Toyota model is it comes cheap—really, really cheap. Its 1.5G A/T variant costs only P1.070 million.   The 1.5 E A/T is pegged at only P988 thousand and the 1.5 E M/T at only P948 thousand.
Where in the world can you find such bargain prices?   It's like buying one for a song. A Toyota brand at that.
No wonder advance orders have piled up long before the Rush launch.
Anyway, here's a chance anew for me to print in full another speech by who else but Satoru Suzuki, the cool-as-a-cat TMP president.
"To our dearest friends from the media, good afternoon. It is my pleasure to welcome you to the launch of Toyota's newest SUV, appealing largely to the city dwellers who want a vehicle that can keep up with their active and exciting lifestyle; a car that is stylish and allows them to express themselves.   We are optimistic that this new model will become a popular choice for first-time SUV buyers.   I can't wait to see, feel and experience the rush that we have been building up since February…and now the wait is finally over.
"However, before we get ahead in terms of discussing the specifications of our newest SUV and all the other elements of this brand-new model—I have to pose a question…. 'What gives you that feeling of a rush?'
"For me, I get that rush of adrenaline when I run. I remember fondly when I finished my first full marathon. That experience gave me that special form of drive and feeling that, even at my age, I could do something so physically challenging.
"Other than that, watching football, especially the World Cup games at the actual venue, also gives me that feeling of rush. In a way, it creates that distinct mood of breaking away from my routine.
"In our everyday lives, with our busy schedules and maybe even bordering on routinary agendas—we look for activities or experiences that give us that sense of a rush.   Today we at Toyota have found the perfect vehicle that gives you that kind of experience.   A kind of experience that 'breaks away from the everyday.'
"Ladies and gentlemen, the Toyota Rush is nothing short of what the word rush itself stands for.   It is a car that brings versatility, energy, self-confidence and, because it carries the badge of a Toyota, you can be assured of its quality, durability and, most of all, its reliability.
"However, like what I said, I would want you to see for yourselves why we are excited about the newest model in our lineup.
"So, without further ado, friends from the media…the Toyota Rush."
The Rush appears, and the rush of applause engulfs the crowded room.
PEE STOP Happy birthday (May 9) to super tyke Paco G. Fernandez of San Fernando, Pampanga.   Paco is the son of Yugin and Donna and the grandson of Dante and Ching Fernandez of Roxas City and Calauag, Quezon, respectively…. Happy 25th wedding anniversary to Freddie and Maricelle Abellar (May 8).   Fittingly, the loverbirds' nest this time was the Baguio Country Club…. And finally, happy birthday to Migel Antonio R. Mendoza (May 12) from Mayo, Dada, Mayasoh and Ikap. Called "Kuya Biley" by Ikap, Migel also gets warm wishes from Shang and Coach Dayong. But the loudest shout out comes from Nanay Soh, Kuya Biley's No. 1 fan. Cheers!