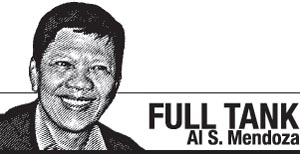 THE beauty of the Toyota RoadTrek is that it is like a golf course, if not a smorgasbord. OK, include watches, if not clocks, in the equation.
There are millions of golf courses in the world, and yet, there are no two golf courses that are alike. Always, there's a difference, even strikingly most of the time.
There are smorgasbords scattered in millions of restaurants around the world, and yet, there are no two smorgasbords that are alike. Always, there's a difference, even strikingly most of the time.
OK, to those not in the know, smorgasbord is a type of Scandinavian meal, originating in Sweden, served buffet-style with multiple hot and cold dishes of various foods on a table. Its Chinese version is the lauriat.
Having said that, let me continue.
Jing's 'joke' floored me
THERE are millions of watches churned out from Switzerland and other famous clock-making countries in the world, and yet, there are no two chimes that show identical times precisely, even strikingly most, ummm, of the time.
That is why I was blown away when Jing Atienza, the newly minted first vice president of Toyota Motor Philippines (TMP), fired me this question last week: "Sir Al, do you still find the Toyota RoadTrek interesting after all these years? Does it remain an event that is worth your while?"
Occasion was the nightcap of the Toyota RoadTrek's first day of action, held at the bar of massive Midori Hotel in Clark Pampanga.
At first, I was taken aback by Jing's query. I thought he was just joking.
But when I saw seriousness written all over Jing's face (Jing always struck me as someone with a poker face since the day I met him in 1994 in London), I knew at once that he was up to something more cerebral than normal.
Exact as a compass
BEFORE I could answer, I had to muster all my mental manners. Just can't afford to bungle it. Jing has always been as exact as a compass.
"Of course," I said, gently raising my Macallan-filled, iceless glass. "No motoring event the last 14 years is given top priority from among our ranks other than the Toyota RoadTrek."
"Are you sure, Sir Al?" Jing asked.
Without batting an eyelash, I swiftly said: "Yes, I am sure, Jing. As sure as Toyota emerging with its 17th straight Triple Crown in 2018!"
Jing raised his glass and said, "Long live the RoadTrek!"
I am proud to say that I have joined all but one of the 14 RoadTreks since it had its baptism of fire in 2005 from Manila to Boracay via Iloilo. Only because I was out of the country when the RoadTrek had its stint at the San Juanico Bridge in Leyte (was that in 2011?).
Like all the previous 12 RoadTreks that I had been a part of, I also enjoyed every minute of the last edition from May 16 to 19.
'Sisig' set the tone
THIS year's "starting grid" at Toyota Angeles (Pampanga) was an instant blast, what with the iconic sisig as the main breakfast fare at the spanking Toyota dealership owned by Alex Macapagal. With the chicken tocino and salted egg "drowned" liberally by white onions and red tomatoes to go with the sisig, the "brain battles" and other friendly jousts among the 30 or so motoring journalists were real fun from start to finish.
With the sumptuous lunch that followed at the quaint Souq, the gabi ice cream at Toyota Bataan owned by Boldman Yulangco was all that mattered when we arrived there from Angeles—even as we were waylaid to Subic on our way to Balanga. What is one hitch when the RoadTrek is taken to its totality?
And when we finally wrapped up the daylong saga at Toyota Tarlac, the latest of a slew of state-of-the-art Toyota dealerships owned by the legendary Jose "Doyong" Tan Jr., where a plethora of rice cakes defined our last stop, the dinner at Clark's Salt & Crab restaurant prepared the entourage amply well for the flight the next morning to Balesin Island, the famous and exclusive hideaway of mostly the high and mighty on Polilio Island in Quezon Province.
The 30-minute chartered flight aboard a 55-seater from Clark to Balesin had set us up for a test-drive of Toyota's brand-new sport-utility vehicle, the seven-seater Rush that has now almost surpassed sales projections in advance orders only, in the 500-hectare island resort far from the eyes of the madding crowd.
With the sun, sea and sand at our gaudy disposal for two straight days, who needs another trip away from home sweet home?
Undisputed brand leader
WHICH leads me again to the question: "Why can't the competition also cook up something as meaningful as the now-iconic Toyota RoadTrek?"
If you are still wondering why Toyota has been the undisputed brand leader the last 16 years or so, quit it.
Sorry to say, but in any aspect of encounter, whether in sales or sealing lasting relationships, Toyota's way is the only way.
Dispute that and you know nothing about what success is.  Ganern?
PEE STOP Ray Butch "Elvis" Gamboa was particularly struck by a line in the speech of Satoru Suzuki, the diffident TMP president, during the awarding/closing ceremonies of the Toyota RoadTrek on Balesin Island. And I quote Suzuki-san, thus: "…A friendship that goes beyond business." Indeed, in every deal, it is not all business. Friendship forged during the transaction should always take precedence over a deal sealed….Aside from Jing, thank you very much as well to Toyota's Kei Mizuguchi, Tini Arevalo, Rommel Gutierrez, Shawin ChuaLim, Carlo Ablaza, Jade B. Sison and to Jade's magnificent millennials Royce, Jeanne, Marilena, Nemo, Joyce and Reggie, and Lexus President Raymond T. Rodriguez. You made it all very worthwhile. Cheers!