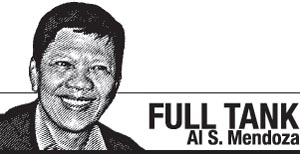 LEXUS Manila President Raymond T. Rodriguez, a first cousin of Ang Larawan director Loy Arcenas, admits he has hurdled with flying colors last year the biggest test of his checkered motoring career that started right after graduating from college. He says the new excise tax for vehicles will change the industry landscape drastically this year but added, "I am ready to face the daunting challenges ahead."
Below is the question and answer I just had with Raymond, whose vast experiences and escapades in life include living/studying in Guyana in his teenage years—but that's another story.
Who was Raymond T. Rodriguez before he was appointed Lexus president in 2017?
I was then the OEO and assistant to the president, holding office at Lexus Manila Inc. I was tasked to oversee the operations of the dealership and to make the necessary recommendations for improvements.
College degree, school?
Bachelor of Science in Mechanical Engineering, De La Salle University.
Why that course?
I was always interested in technology. I love cars and motorsports. Always curious on how things would work and how to explain it when asked by my colleagues and friends.
What did you do immediately after graduation?
I took the board examination for mechanical engineering. Review classes lasted for six months and, afterward,I started applying for work.
Hobbies and interests?
Did karting and rallying. Joined fun runs and recently went into sport shooting and golf. I always try to stay fit as much as possible.
First job?
I started as a localization engineer, manufacturing division, for Toyota Motor Philippines Corp.
Your duties and responsibilities as Lexus president?
I must ensure that the operations and results in the Lexus organization are always in line with the company's goals and objectives. I am tasked to improve the dealership operations and to provide the best customer experience for our guests.
What was your dream job? Why?
Working for Lexus was one of my dream jobs since it is the luxury brand of Toyota. After spending over 20 years with Toyota, focusing on the Lexus brand is something new to me. The products are very different from Toyota, including the profile of our customers. I am now able to learn new things and one of the most interesting is having the time to actually converse with clients and meet them right at my workplace. Knowing our customers is very important and is one of the keys to success.
Favorite music, band, food, color? Why?
My favorite music comes from the 1980s when I was in high school. Until now, I can access them easily using my latest gadget, DAP (Digital Audio Player). I use Spotify to source the titles I want to play. I am into pop and rock songs and occasionally classical music. My favorite band would be Queen. Favorite food would mainly be Spanish—paella and lengua. Favorite color would be white since it is light, pure and the color of perfection.
Favorite lesson in life?
Never make the same mistake twice.
Your mentor or role model at Toyota, or elsewhere?
None really.
Philosophy in life?
Work hard and you will be rewarded.
Be good to others and you will be blessed.
Health is wealth.
Your fave PHL president?
Duterte is one of them.
How does Duterte appeal to you?
A disciplinarian. One who wants things done right away. Build, build, build—infrastructure projects to sustain the economic growth of the Philippines.
Main mission at Lexus?
Make Lexus the most preferred automotive luxury brand in the country.
Target sales and projections in 2018?
Still under study due to the recent change in the excise-tax structure for automobiles.
2016: 670 units (reference).
2017: 1,200 plus units this year.
Please take note that some of our customers made advance purchases due to the anticipated price increase for next year—excise tax.
2018: 700 to 800 units. Will not be able to better 2017 sales result due to the advance purchases by our customers.
What is your biggest challenge at Lexus?
The growth of the business. We must be able to accommodate and service the Lexus customers, especially in the area of after-sales.
What do you enjoy doing aside from golf?
Spending time with my family. Either staying home and watching movies or driving out of town for quick getaways.
What is your favorite Lexus vehicle?
The Lexus ES 350.
What is your biggest accomplishment thus far, aim in 2018?
Being able to achieve our company targets and setting a new sales record for this year.
Advice for motoring wannabes?
First of all, you must have a passion for automobiles. It is difficult to work for an automotive company when you are not well-versed on how cars operate and function. Technology is the key to the future. You have to acquire a lot of information to be able to keep up with the pace on trends, developments, etc. Otherwise, others may be ahead of you. Work for big companies (global) that you can gain a lot of knowledge and experience from, including trainings overseas.
How do you describe Danny Isla?
A gentleman. I know Danny since I was working at TMP. He is a good boss, and I learned many things from him. He is definitely a Beatles fan and loves to watch boxing, especially Manny Pacquiao. Danny is a good golf player and has many friends, especially in his home course, Alabang. A loving father and husband who always takes care of his family.
What do you think is his biggest legacy at Lexus?
Danny started the Lexus dealership in 2009. He was able to successfully introduce the Lexus brand in the country despite having only one dealership. From then on, the Lexus business grew year after year under his leadership. He was able to instill a good culture in the dealership that promoted respect and a healthy work environment for the Lexus associates. He was also responsible for introducing various customer events that promoted the Lexus brand and are still being implemented to this day.
What's Mr. Isla's most important, appealing advice to you when he passed on the baton to you?
"We built the business through the years so please take good care of our Lexus customers."
PEE STOP I raise a glass once more to Jose "Jing" Atienza for his recent promotion as senior vice president for marketing, Toyota Motor Philippines. Mabuhay ka, Jing! Also, kudos to Jose Ariel Arias, whose versatility has made him president simultaneously of Toyota dealerships in Makati, Bicutan and Santa Rosa. Cheers!