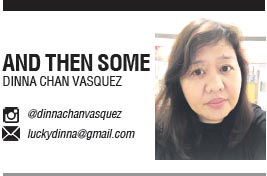 WHAT are retinols, retinoids and tretinoin? Are they similar?
Retinol, a form of retinoid, is a type of vitamin A. Tretinoin is also a form of retinoid. Other forms of retinoid include retinyl palmitate and retinaldehyde, which can be found in skin care products. Adapalene, the active ingredient in the acne-fighting Differin Gel, is another form of retinoid.
Tretinoin and OTC retinol help improve skin cell turnover and stimulate collagen production. According to experts, consistent use of a topical retinol or tretinoin (usually at night) can help improve the appearance of fine lines, dark spots and skin texture and tone.
There's this lady I follow on Instagram (Melissa55), who has used Retin-A for almost 30 years and her skin looks fabulous. She doesn't even use it with a moisturizer. If you want to see her videos, visit youtu.be/dqkt9rYtt2Q.
I got into retinoids years ago because many women I know who use it have great skin. They also make sure to always wear sunscreen, even when the sun isn't out.
Every woman above the age of 21, in my opinion, should include a retinoid in her nighttime skin care routine. I alternate between Epiduo (a combination of adapalene and benzoyl peroxide), The Ordinary's Advanced Retinoid, and the Murad Retinol Youth Renewal Serum, which was launched just last year.
Murad products were created by Dr. Howard Murad, who is recognized as a visionary for his scientific innovations, total body approach to youth building and overall wellness.
"His mission and passion is to help people unlock their potential to look younger, to feel younger, and to live healthier, happier and more rewarding lives," according to the Murad web site. I use Murad Youth Renewal Retinol Serum or any retinol at night because it increases photo sensitivity. I apply it after toning and before moisturizing with a night cream or facial oil.
Murad has just launched two new products: Retinol Youth Renewal Eye Serum and Night Cream to complete its Resurgence collection.
Like the serum, the two products target wrinkles, dark circles and signs of aging. The power duo is formulated with Murad's groundbreaking Retinol Tri-Active Technology. This helps hasten system cellular turnover, with the lipid-encased retinol gradually melting into the skin with magnet-like effects that promote efficacy and absorption.
The eye serum and the night cream also contain Swertia Flower Extract, a Himalayan ingredient with the ability to aid skin regeneration, soothe skin and keep irritation at bay. What I love about Murad retinol products are the tiny spheres containing retinol that slowly melt onto the skin and deliver a sustained supply at low doses. I would say these products are best for those starting out with retinoids and are afraid of effects such as peeling and photosensitivity. Murad retinol products are gentle on the skin.
In a Murad-sponsored study, 93 percent of the Retinol Youth Renewal Eye Serum users saw a reduction in lines and wrinkles, and 87 percent attested to firmer skin in four weeks. In addition to the Retinol Tri-Active Technology present across the product range, the eye serum also has Marine Kelp Complex, which produces a lit-from-within look by brightening stubborn dark circles.
The Retinol Youth Renewal Night Cream, which is luxurious and thick in consistency, is a peptide-rich double agent that delivers moisture and elasticity, as well as a provide a relaxing sensation. The Retinol Youth Renewal Eye Serum (15 ml) retails for P4,850, while the Retinol Youth Renewal Night Cream (50 ml) is priced at P4,550. Both additions to the Murad Resurgence collection are available in all Rustan's Department Stores.