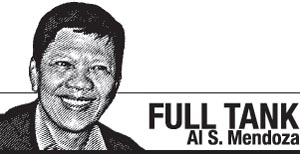 HERE is to continue with the experts' views of the motoring landscape for 2018.
As elucidated here a while back, who could possibly do it best—studying the contours of the car world, that is—if not the industry leaders themselves?
Let's fire away, quick!
Ginia Domingo, Kia president
"2018 will be the most challenging year for motoring, as brands will try to best each other in the market due to the excise tax and increase in petroleum prices. Columbian Autocar Corp. is optimistic, seeing this as an opportunity to show off the value our range brings, from technological advancements in driving and mobility, to the convenience and comfort our after-sales can offer.
We have also aligned our business with Kia's global strategy, and rather than focusing on quantitative growth alone, we will also strive to enhance future competitiveness and quality growth this year."
Greg Yu, chairman of Auto Nation Group Inc. (distributor of Mercedes-Benz, Chrysler, Jeep and Dodge)
"I'm bullish about the motoring industry in 2018. I think that our local economy will continue to grow and expand. Thus, market for automobiles will continue to be very strong. It might start a bit slow as the market adjusts to the effects of TRAIN, but I expect the adjustment period will be short."
Glen Dasig, Peugeot president
"I have no doubt that the Philippines will continue to experience another growth year, even with the new excise-tax implementation. With the projected continued positive economic outlook, and the free-trade agreement with China kicking in this year, we will see more products being made available to the increasing needs of the motoring public.
I am forecasting more models with lower engine displacements, but with higher power outputs to enter the market this year.
"In addition, it will be interesting how the product mix for the industry will change this year, given that there are significant movements in the retail pricing as the New Year starts, with the new excise-tax table.
Globally, we will probably see more plug-in hybrids become more main mainstream with more affordable fully electric models coming out from the car manufacturers as the world gets nearer the strict Café requirements in 2020.
The Asean markets will become increasingly important due to the integration efforts in the next three years.
This is going to be beneficial to markets like the Philippines, since we will get more attention on our local requirements to be served by the global brands."
Raymond T. Rodriguez, Lexus Manila president
"OVERALL, the luxury car market in 2017 grew by as much as 46 percent [estimated 'till November]. The huge growth was mainly due to the sales rush by some customers who anticipated that the excise-tax system for automobiles, especially the luxury models, will have significant price increases in 2018. Lexus alone sold 1,251 units, growing by 87 percent from the 670 units sold in 2016.
Reference as of November, the luxury car market was around 4,347 units. For the whole year, it may have reached 5,000 units.
For 2018, we cannot expect the same growth experienced last year since the new excise-tax structure will be implemented.
As for the luxury car market, we can expect negative growth this year and recover from 2019 onward due to an expected improvement in the economy and the increase in marketing campaigns and promotional activities by the various automotive companies to promote product sales."
So that ends our forum, fellas. Direct from the horse's mouth, so to speak. I cannot thank them enough for sparing us some of their precious times.
Other car moguls from Nissan, Isuzu, Hyundai, Volkswagen and Honda were also approached but they either ignored us or didn't comply with their promise to respond.
No worries. They were just too busy a bit?
SMC's P700-billion 'Aerotropolis'
CURRENTLY under evaluation by Neda's Investment Coordination Committee is San Miguel Corp.'s (SMC) unsolicited proposal to build the airport-mall complex in Bulacan dubbed "Aerotropolis" by SMC.
The tremendous project was labeled an original proponent status, making it wholly qualified for a Swiss challenge platform that is being strongly supported by the present administration.
SMC's P700-billion Aerotropolis now also for study with Secretary Arthur P. Tugade's Department of Transportation would involve construction of a massive airport spanning 1,168 hectares and a city complex sitting on a 2,500-hectare property along Bulakan town's Manila Bay.
With an initial passenger volume of 100 million, it would be almost triple that of the Ninoy Aquino International Airport's (Naia) current holding capacity backstopped by six parallel runways.
SMC's Aerotropolis is being proposed as a build-operate-transfer project on a 50-year concession. An expressway will be built to link the airport to the Nlex ending in Marilao, Bulacan. The entire project will take only six years to complete.
Through the years, the Naia is getting consistently hit by worsening congestion. Its bloated 42 million passengers yearly is 40 percent more than its designated capacity.
So, what are we waiting for, fellers? If we don't do it now, when?
PEE STOP Congratulations to Inquirer sportswriter Marc Anthony Reyes for winning the Vios car raffled off during the recent SMC Media Golf at Wack Wack. SMC's MJ Llanes and Jason Brizuela handed off the symbolic key to Marc, my wedding godson.   Cheers!