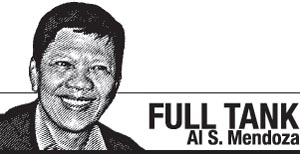 WE thought we'd brace up for traffic woes only on the Metro's major thoroughfares as Christmas approaches. Wrong. In many villages in the Big City, including in my own place in Quezon City, road-street jams have started. The main cause? Diggings all over.
Even at busy Morato Avenue in Quezon City, road excavations have been wreaking havoc on motorists there almost daily. Pavements there are being dug up, again, to make way for new decorative tiles, messing up traffic anew.
In my village, Quezon City Mayor Herbert "Bistek" Bautista has rapaciously ordered the wanton digging of our pavements on both sides of our roads by bulldozers backstopped by brigades of workers. Culverts block our streets in wild abandon, forcing us to navigate for routes in struggling to snake our way out of the village. Unfortunately, our small village (Don Enrique Heights) has only two gates—making it hell for us now to exit-enter our subdivision.
This early, we seem to see a chaotic Christmas atmosphere in our beloved village as an uncompleted construction by December 25 lurks in the horizons. Paging Mayor Bistek!
Rolls-Royce fashion spin
A unique event is being featured in Thailand, starring Rolls-Royce Motor Cars Bangkok and renowned Thai designer Vatanika Patamasingh.
It will mark a first as Rolls-Royce and Vatanika will costar in the "Effortless Luxury" at the 34th Thailand International Motor Expo 2017 that begun on November 29 and will run up to  December 11, set at the Impact Challenger Exhibition Centre at Muang Thong Thani, Bangkok.
Rolls-Royce's range of iconic models, such as the  Ghost, Wraith and Dawn, will be showcased alongside a special collection of Vatanika's new designs under her eponymous label, with three looks inspired by each of the models on display.
According to Sunthornpan Dhechatech, general manager for Rolls-Royce Motor Cars Bangkok, the collaboration is well aligned with the increasingly younger base of customers in Thailand.
"We've seen a trend of younger and more fashion-savvy customers interested in our cars and walking into our showrooms, in addition to our traditional customer base. We are excited and honored to be working with Vatanika, one of Thailand's most prominent and internationally renowned labels, on this show and collection," he said.
This is a unique fusion of car and fashion, and it could trigger a revolution in marketing and promotion.
If a car company here should soon include 2015 Miss Universe Pia Wurtzbach to ramp up alongside a high-end automobile brand, wouldn't that be a surefire head-turner hit? Indeed, in the world of motorization, the possibilities are limitless.
Hyundai sales up
HYUNDAI recorded a 33-percent year-on-year growth, from 2,462 units sold in 2016 to 3,266 unit sales for October this year.
And from January to October 2017, the brand sold 30,717 units, a 12-percent growth from last year's sales of 27,483 units.
Hyundai'spassenger-car strength rose to 22 percent, from 1,726 units sold in October 2016 to 2,113 units sold this year, propped up by Accent's breakthrough performance. Accent grew by 88 percent, from 758 units in October last year to 1,424 units in October this year.
In the LCV sector, Hyundai sold 1,153 units this year, compared to only 736 in October last year, for a whopping 57-percent growth. H-100, under the LCV segment, had a very significant growth of 117 percent   from 169 units sold last October 2016 to 366 units sold this October 2017.
Elated by Hyundai's inspiring performance just two months before the Yuletide, Ma. Fe Perez-Agudo, Hari President and CEO, said: "As the season of giving approaches, Hyundai is thrilled to offer our customers value for money deals. We are committed to put our efforts in full swing through modern premium products and customer service."
PEE STOP Again, Toyota has staked an Altis as a hole-in-one prize in the 68th Fil-Am Golf Championship set to start tomorrow, Saturday, in Baguio's John Hay and Country Club, ending on December 16. A Wigo is one of the lucrative raffle giveaways in the two-week event drawing another banner field from both overseas and home shore clubs…. Here's another salute to the men and women who make the Fil-Am Golf a smashing success year in and year out, including BCC General Manager Anthony de Leon and CJH's Tim Allen as chairmen. Helping out as usual as part of the Tournament Committee are Andrew Pinero, Shean Bedi, Ely Lagman, Secretariat chief Roanne Galicia and Lanie Licudine, among others. Cheers, guys!… Alphard fans are growing by leaps and bounds but the problem is, there is no stock. Because my friend from Davao, Ken Angeles, is dying to own one, he has joined the long queue of buyers. When model allocations from Toyota Tokyo are scarce, even the top TMP brass are helpless… Thank you to Sir Vince S. Socco of TMAP (Toyota Motor Asia-Pacific) for graciously hosting a sendoff breakfast as I embark on my yearly mission as Rulesman in the Fil-Am Golf, together with my perennial partner Jake P. Ayson. Sir Vince flew in last night from his Singapore base for today's "break-binge" at the Edsa  Shangri-La. I couldn't thank him enough for his kindness that has become legend for the longest time. May your tribe increase, Sir Vince!