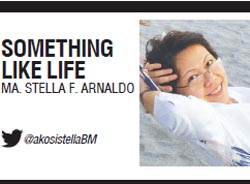 I HAVE lived for over 20 years with blurry vision. My eyes finally succumbed to my genetic heritage probably because I abused it for looking too much at the computer screen. At that time, I was an editor of a well-loved daily, reading and editing copy of the reporters. Despite the screen being black and white, my not taking enough breaks to ease the eye strain may have aggravated the condition.
So after suffering a few months of constant migraines—which I earlier ascribed to just the heat, or my constant stress at work—I was pronounced to have astigmatism. According to the Asian Eye Institute (AEI), astigmatism "is an eye condition where a person has distorted and blurred vision at all distances. It is caused by an imperfectly shaped cornea that prevents light from focusing properly on the retina."
So I started wearing prescription lenses to correct my semi-fuzzy vision. It was a nuisance at first, and because it wasn't part of my body, I would constantly forget my eyeglasses at home, or in the bathroom. Also, while I was able to read and see things more clearly when they were near, I couldn't make faraway objects very well. In fact, before I got my corrective eyeglasses, I could watch TV with ease, even while seated at a distance. This changed when I got my eyeglasses; because of my work, I had to prioritize my reading vision.
Then vanity caused me to turn to contact lenses. I liked the way I looked without glasses, and the only downside was I had to clean my contact lenses everyday, then soak it in a solution overnight. That, too, became a chore. And those lens solutions and the corrective lenses weren't that cheap either.
Coupled with that, I constantly suffered from dry eyes, which, according to my ophthalmologist, is really due to age. Ugh. As most of us get older, the moisture in our eyes is reduced, which calls for constant drops of a solution, which I call "fake tears."
Around the year 2004, I heard of Lasik surgery, which seems to have solved many of my close friends and relatives' eye problems. I kept bumping into them, sans their glasses, and they looked better, even younger! Arrgh. How could I not be envious?
Though I have an irrational, mortal fear of getting poked in the eye, I finally worked up the courage to go to AEI. Those days, its only branch was at Rockwell in Makati. I had myself checked by Glaucoma and Cornea and Refractive Surgery (Lasik) specialist Dr. Robert Edward Ang, who had come highly recommended by so many people whose opinions I respected.
As the director of AEI's Cornea and Refractive Surgery Service, Ang is a renowned Lasik surgeon who specializes in treating patients with nearsightedness, farsightedness, astigmatism and presbyopia (difficulty reading at close distances). He has also worked on cutting-edge research on new technologies that improve diagnosis and treatment of different eye conditions.
After examining me, however, Ang told me I couldn't have the Lasik surgery. Apparently my astigmatism was at the "front and back"—meaning, aside from the abnormal curve of my cornea, I had an irregularly shaped lens, which is located at the back of the cornea.
Despite this, my astigmatism was not severe, so if I had a Lasik surgery, he said, it may "overcorrect" my condition and I'd still end up wearing prescription eyeglasses just the same. He told me, "if you were my sister, I wouldn't advise you to get Lasik."  That sealed it for me. Coming from a respected eye doctor like Ang, I realized I just had to accept my fate—damn those Arnaldo genes!—and live with my condition. From that time on, there was no more whining about what could have been, or daydreaming about various eyeshadow combinations/blends to bring out my beautiful peepers. (With glasses, eye makeup can hardly be seen anyway, so I possibly overcompensate by using a good lip color.) Now, my eyeglasses have been such a part of me, I even forget to take them off when I jump in the shower. True story.
I appreciated the frankness of Ang, not to mention the professionalism of other doctors and support staff at AEI, so since then, I have been their regular patient. (So glad it opened a branch at TriNoma, which is just a few skips away from home. I go there for annual checkups with glaucoma specialist Dr. Ma. Imelda Yap-Veloso, because, well, yeah, my mother's genes this time have made me a prime candidate for that condition. Thanks, Ma! Sigh.)
I was not surprised to learn, therefore, that the UK-based publication The Ophthalmologist recently named Ang as one of the most influential eye doctors in the eye-care industry. He is the only Filipino doctor included in the list.
Through its Power List, The Ophthalmologist recognizes the leaders, pioneers and game changers in the field of ophthalmology. Every year, it asks its readers to nominate individuals or organizations that they believe have made the biggest impact in the world of ophthalmology. Apart from ophthalmologists or eye surgeons, the list also includes scientists, engineers and CEOs.
By working with the biggest pharmaceutical and medical device companies in the cataract, refractive and glaucoma spaces, Ang has contributed to developing innovative surgical techniques for Lasik and cataract surgeries and applying new glaucoma treatment options. As a result, he has been invited to conduct numerous lectures and authored several book chapters and international publications.
Ang and his research team have been recognized by prestigious international organizations, including the American Society of Cataract and Refractive Surgery (ASCRS), the Asia-Pacific Academy of Ophthalmology and the Asia-Pacific Association of Cataract and Refractive Surgery (APACRS). In fact, he is a five-time winner of Best Paper Session Awards at the ASCRS.
He also received the APACRS Certified Educator that recognized his experience in using Supracor technology that allows patients with presbyopia to reduce or eliminate the need for reading glasses.
In 2017 he bested other American and Asian doctors and was recognized as the TopGun Best Overall Instructor for his expertise and contributions in the field of ophthalmology.
Recently, Ang was a runner-up at the 36th ASCRS Film Festival in Washington D.C. for his video on exchangeable intra-ocular lenses. It was his first time to join the festival. The film festival showcases the best ophthalmological videos, and serves as a venue for eye specialists worldwide to share their knowledge and experiences about newly developed technologies and surgical techniques.
"I'm extremely honored to be included in the Power List and be among innovators and game changers," he told me in a recent interview. "This motivates me as a researcher to continue working on new technologies and methods that can help more people improve their vision and enjoy happy and productive lives," he said.
He added: "With the help of my fellows and my research team, we look forward to continuing to provide patients with the best-quality care across our expanding clinic network. Filipinos deserve the best and the work we do is our way of thanking them for trusting Asian Eye Institute with their eye-care needs."
Congratulations, Doc. And more power to the Asian Eye team.