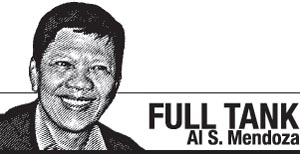 WHAT would be next in the traffic laboratory that is Edsa? I ask that because the latest one—limiting to just one occupant any vehicle traversing Edsa—seems to not be making any difference when it comes to easing the flow of traffic in the nation's most famous (infamous?) highway.
So unrealistic, seemingly, is the new scheme that several lawmakers—some are senators at that—want it immediately struck down. Others insist it should be on a voluntary basis and, if done so, "violators" should never be penalized, fined or punished at all.
Don't our traffic officials still get it?
Traffic at Edsa and elsewhere in the metropolis is mainly caused by the nonenforcement of road laws.
Buses, jeepneys and taxis, which comprise the main bulk of vehicles plying the metropolis, are the chief traffic violators.
They load/unload right at the very spot where a sign that reads, "No loading, unloading anytime," is easily seen. This is but one blatant kink in our traffic system.
But all of the time, this traffic signage is being ignored. And, most of the time, with a law enforcer in blue just standing by, looking the other way.
Buses almost always cross Edsa's yellow line and join the "mainstream" vehicles, crowding the already crowded center lanes of Edsa to worsen traffic jams practically 24/7.
The 15 or so bus stations at Edsa stubbornly refuse to heed LTFRB-ordered laws on entry/exit procedures along Edsa, stupendously contributing to the traffic mess, especially during rush hours.
Why? Blame the letter C for it: C as in corruption. You still wonder why President Duterte is exasperated no end?
As I have always said here, the cause of traffic problem at Edsa had been established for the longest time. The solution, too.
Problem: Choke points caused mainly by buses, jeepneys and taxis.
Solution: Consistent enforcement of traffic laws. Easy as ABC? Seemingly, not to our law enforcers.
They love to look the other way more than lick the scourge which they alone have the power to overpower.
They prefer band-aid solutions, like the High Occupancy policy, that is inutile all the way,  rather than long-lasting surgeries, like consistently enforcing traffic laws.
We want change. But what can we do, what do we do, when those who can make the difference refuse change?
Change them. Revamp. Beginning from the top. Now.
Innovative Toyota stickers
MAKE way for Carlo Nemo's pektus:
"Let your thoughts resonate with flair through these clever and colorful 'Say it with Toyota' Viber stickers!
"In celebration of its 30 years of bringing always better cars and always better lives, Toyota Motor Philippines Corporation once again breaks ground by being the first-ever local automotive brand to imprint its models on the widely used digital messaging app.
"The sticker pack, which high-lights Toyota's current lineup, allows you to choose from your favorite Toyota vehicles recreated in full, vibrant colors.
"Each sticker comes with a unique caption, perfect for that quick one-line reply or eye-catching conversation starter.
"The limited offer is available for free only from August 1 to September 20, 2018.
"For Android and IOS users, be sure to get the creativity flowing by downloading Say it with Toyota on this link https://vb.me/sayitwithtoyotastickers."
So there. What are you waiting for?
PEE STOP
His will be done, and so, Danny "Sir John" Isla, by God's grace, should be back by now in New Zealand. The former Lexus founding president and the Joy of his life were set to leave on Septembers 6 after spending almost three months in their home sweet home that is Alabang. It is also of course home sweet home for them in the Land of Sheep, mainly because all of their three children and their respective families now live there. What could be a better life than being with your entire family, especially at a time when you are freed, finally, from the drudgery of office existence? While there, enjoy your carpentry work, Sir John. Till then, as The Mills Brothers sang it…Advance birthday greetings (September 14) to Pareng Ramon Uy, the Fortuner-driving, foremost inventor of world-class shredders. He is now also into solar water technology, tremendously helping the irrigation needs of our country's millions of farmers who are almost perennially deprived of enough water supply to nourish their farmlands. Many more birthdays to come, Pareng Ramon! Here's a glass to you and the many more that you continuously inspire to propagate your advocacy.… Congratulations to the recent soft office inauguration of Visor, the latest motoring-savvy outpost put up online by Vernon B. Sarne, the former no-nonsense editor in chief of Top Gear Philippines. I'm almost certain that, under Vernon's stewardship, Visor will go places, given that the exceedingly erudite Vince Socco has become a regular Visor writer. I should know. For more than 10 years, I had written the column "Revolution" for Vernon's Top Gear. Under him, I've learned a lot. Welcome to the second coming. Cheers, Boss Tsip!