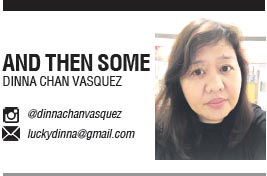 THE one thing that can make the mother of a newborn feel guilty is for her to take a two-hour nap in the day while someone else watches the baby.
A homemaker who watches her favorite TV show undisturbed can also feel guilty because she feels that she should be doing something more productive, like cooking or cleaning.
A busy executive assistant might feel slightly guilty for taking time to retouch her makeup in the middle of the day. Shouldn't she be working instead? "Filipinos love doing things for others," says Aimee Pernia, Watsons senior category manager. "The new Watsons campaign is all about us wishing consumers would think of themselves by finding the time for self-care and #MeTime."
Watsons's "Make Time for #MeTime" campaign hopes to inspire everyone to take time to take care of themselves with Watsons's skin, beauty, hair and health products plus a wide range of cosmetics.
So we've put together a list of how you can take a few minutes off your busy day to show yourself some love:
Even if you don't wear makeup, you should do use micellar water to clean the grime off your face at the end of the day. In fact, you should do this as soon as you reach home. Use a cotton pad dabbed with Garnier Micellar Cleansing Water and follow this with a non-foaming cleanser.
No time to apply body lotion? Or do you feel that it's too sticky? Neutrogena Body Oil leaves your skin smooth and lightly scented after a shower or bath. You just need a few minutes to apply on your body while it's still wet, then towel off.
You should apply sunblock even when it's raining outside. Belo SunExpert Face Cover SPF40 keeps you covered. Remember that you should apply a shot glass full of sunscreen on your face and body everyday and that you need to reapply every two hours. Check your nearest Watsons brand for suncreens that are best for your body. A good one to try is Vaseline Healthy White Sun+Pollution Protection SPF 24 PA++.
Don't neglect your tresses. Palmolive's new Palmolive Expertique Intensive Hair Mask can be left on the hair for 15 minutes after shampooing. You can do chores, answer emails and reply to text messages while it's soaking. You won't regret the extra minutes that it took. You hair will be smooth and silky.
We all know that face masks are one of the most effective skin-care secrets of Koreans. Invest in Mediheal sheet masks. They are one of the best! If you're a K-pop fan, Watsons has the BTS-Mediheal Boxed Sets. You get a bunch of masks plus photographs of your favorites.
Using  a toner may be an extra skin-care step but it's worth it. Toner prepares your skin for other products that you'll use later. Use an alcohol-free one like Celeteque DermoScience+ Advanced Anti-Aging Alcohol Free Toner.
Your #MeTime must also include taking care of yourself from within with Watsons's range of supplements and health products from Enervon, Cosmo Skin, Poten-cee, MX3 and Salonpas.
If you're an SM Advantage Card holder and purchase at least P500 worth of products from #MeTime participating brands, you can have the chance to win an iPhone X in an ongoing promo raffle.