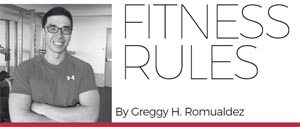 FOOD is primarily fuel. We are able to function on account of what we put into our bodies. An integral part of meeting our respective fitness goals is making proper nutrition choices in support of what we hope to achieve.
To build more muscle, for instance, we consume added protein in tandem with resistance training.  For fast, competitive runs, we load up on carbohydrates to help maintain peak athletic performance.
Now meet the fit Tung brothers: Mikko, 34; Mark, 33; and Macky, 25—whose family is into the food-manufacturing business. Since 1954 A.Tung Chingco Manufacturing Corp.—where the three siblings currently work—has produced the popular Ligo Sardines brand. All three have opted for fit lifestyles, by hitting the gym regularly while successfully running the family business.
Mikko, who is the company vice president for Production, does his cardio around twice a week, early mornings before heading for the office, where he works nine to five regular office hours. After a long day of overseeing company operations, he then lifts weights. Canned sardines, in general, he says, are known to be healthy as they come, loaded with calcium, protein, DHA and iron, as well as vitamins A and C. "Omega 3, which is known to help  prevent cancer, is  inherent in sardines," he points out. He prefers eating sardines straight from the can with chopped onions and calamansi. As for his fitness goals, Mikko avers that he always aims to outdo himself. "My fitness goal is quite simple. Every year, I tell myself to do better than the previous year. Whether it's losing a specific number of pounds, or being able to lift heavier than the year before," he stressed.
"Sardines have a lot of health benefits that people are not aware of," says Mark, who is vice president for Sales and Marketing. Omega 3, he adds, "promotes eye health and decreases the risk of heart disease." Mark, who lifts weights after finishing his duties at the office, is also into swimming and wakeboarding. He was influenced to work out by older brother Mikko. His fitness goal this year is to gain muscle mass. His preferred mode of consuming sardines is with pasta and rice. This certainly augurs well for his fitness goal of gaining muscle mass, as the carbohydrates from pasta and rice provide the energy for intense, muscle-building gym sessions. Carbohydrates also help raise the levels of insulin—an anabolic hormone—which can be beneficial for muscular development. The protein from the sardines on their other hand will help fuel muscle growth.
Youngest brother Macky, who serves as the company's Marketing Associate, just recently started working out with both machines and free weights, grinding out gym sessions four to five times a week. He points out a very important nutritional component of sardines. "I love how Ligo is fairly high in protein, with about 18 grams per can. And, considering I eat about two cans right after working out, it's a pretty great post-workout meal," he enthused."I've pretty much accomplished my fitness goal, which was to be a little bit leaner," says Macky. While not yet working full time for the family business, he helps as much as he can when it comes to marketing-related decisions. He prefers the Ligo Sardines Extra Hot variant which he eats straight from the can.
Sardines are a cupboard staple in most households. Relatively inexpensive, convenient to store and easy to prepare. Canned sardines can be a healthy and nutritious food option to consider, as elucidated on by the fit and active Tung brothers.