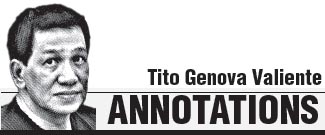 THE last time I saw Alice Guillermo was during the last time I attended a Christmas Party of the BusinessMirror. As I am not much of a party person and do not mix well with others, I stayed close to Alice. We belonged both to the Lifestyle Section: she with her art criticism and I with my film and media reviews. I was in awe of her, this motherly woman who, that night, seemed to shield behind a regular appearance a mind that would have outshone the most boisterous presence in that happy party.
She appeared to be enjoying the gathering, as she squinted her eyes and took all the movements and gestures around her.
My memory fails me now as I recall if I ever wrote art criticism when Alice Guillermo was still around. If my memory does fail me, my good sense does not: I would not have attempted to do any art review when she was still around.
Alice Guillermo was there in the early '70s. When martial rule allowed all kinds of art because the Lady in the Palace was into the True, the Good and the Beautiful, she found the space to take note of artists who also saw that public space, that tiny slit of a free horizon into which one could watch a future, any future. To the artists who were able to portray the social conditions of the period, Alice Guillermo appended the label "social realism."
In his paper, "Social Realism: The Turns of a Term in the Philippines," Patrick Flores states the argument of Alice Guillermo, that social realism in the Philippines "stresses the choice of contemporary subject matter drawn from the conditions and events of one's time," and "is essentially based on a keen awareness of conflict."
Alice Guillermo was always sure of herself. In her giant of a small book, From Image to Meaning: Essays on Philippine Art, she demonstrates this certainty when she defines the critic: "The mature viewer or critic is one who must have, after long expression and experience, arrived at the formulation of his or her own value system, his or her view of the world and humanity which he or she has come to feel deeply and strongly about. As the artist enjoys artistic independence, the critic/viewer also enjoys a measure of autonomy. For, to be sure, the critic is not an appendage of the artist or a promoter or publicist, but one who vitally contributes to the dynamic dialogue, interaction, and debate in the field of art and culture as these intersect with other human concerns, among them the political, social, and economic."
For Alice Guillermo, "The viewer/critic, as also the artist should, places a value on the capacity of art to influence and transform society."
From the same collection of essays on Philippine art, Alice Guillermo demonstrates that she is a teaching critic. For her, the critic and the artist are two elements in the art process. On this, she reminds us about an "underlying premise then is that the viewer of art, in particular the art critic, needs to have thought out fully his own values or the guiding principles by which he or she lives as a total human person. The artist likewise creates his or her art not as a fragmented human being or purely technical specialist, but as a total thinking and feeling individual."
If that bravery of ideas does not win readers, one should experience Alice Guillermo's prose, which is poetry. In her reviews for this newspaper, she seems to abandon all control as she is carried into the painting, living within the frame, discovering whatever wellspring is there necessary for the viewer to understand and for the artist to revisit, refuse or interrogate. Everything is possible after an Alice Guillermo's review because she opens a door, whether by theory or by sharing an experience.
In her reading of Lina Ciani's paintings, Alice Guillermo writes how the "delicate paintings of Lina Llaguno Ciani are like experiences on the brink of a high cliff, where one single misstep can send you plunging into an endless abyss of endless clouds and space into a surrealist realm of no gravity." She sums up the artist's works by impressing on us how Ciani "works on contrasts and contradictions: gravity and no-gravity, two-dimensional versus three-dimensional, small and gigantic, fragility and strength."
On Federico Aguilar-Alcuaz, Alice Guillermo is daring and sweet: "What is probably the secret of Alcuaz's art is that he was a true hedonist in his approach to life, nature and the world at large." On the nudes we are observers and voyeurs, allowed and disallowed by a phrasing that teases the legal, the ethical and the moral. Alice Guillermo's words save us from damnation as she talks of "the suppleness and ease of the nudes—they are fully at home in their boudoir—that create their harmonious poise, whether lightly crossing their legs or resting their hands on their lap, a sweet and tender vitality coursing through the body to the fingertips. The nude is usually seated beside a curtained window from which light softly blurs the contours of the sofa and backlights her figure lending a glowing tone to her skin. The elegance of the image also stems from its sparing use of color limited to light ochre for skin tones, browns, supple velvety grays and sparkling whites for brilliant highlights. Sometimes the artist plays with white…. To this the artist may add a burst of color, a vibrant crimson for a spray of flowers. Another nude may take a diagonal pose in a somewhat darkened room with suggestions of vegetation in the window but with only a colorful weave accessory to her long, flowing limbs." As we get lost in the near-prurience of the moment, she shakes us a bit with this line: "These subdued uncluttered images nevertheless convey a dignity as well as a sumptuousness that never cloys or tires the eye."
When she left the BusinessMirror, I was one of those who took her place. On the tenth time I submitted my art review, I recalled that on the space where her criticisms appeared, there was an old photo of Alice, her hair blown away, the face nonchalant but not aloof. "So, do I also get a photo beside my reviews?" I half-seriously, half-mockingly asked my editor. To which he responded: "Why, are you Alice Guillermo?"
Of course, no one can be like Alice Guillermo. No one can be like her, unapologetic when she states: "Indeed, the responsible viewer/critic must draw from a rich fund of knowledge and humanism."
Go, Alice, go and whisper to the Angels and the Holy Spirit. Tell them there is so much bad taste in this world. They will believe you, Alice, you with the blown-away hair, and that kind look. They will believe you because you are always true to your words and the arts those words define for all humanity.
E-mail: [email protected]
Image Credits: Jimbo Albano
Latest posts by Tito Genova Valiente (see all)