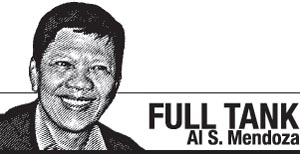 KENNON Road is still close to vehicular traffic. Jake P. Ayson and I had to pass through Marcos Highway, a longer route going up Baguio City from Manila, last week.
It's a shame because even if there is no typhoon to put Kennon Road under Caterpillars and other heavy equipment for maintenance and repairs, it has always been like that there: consistently impossibly impassable.
Which is a pity since the world-famed Kennon Zigzag is a historical landmark for its iconic scenery that was designed and built at the turn of the century.
It has become a national treasure worthy of global heritage status and, as such, its grandeur and magnificence must always be maintained for the world to see all year round.
I have it on good source that private contractors continue to abandon their job at Kennon in wild abandon mainly due to the government's habitual practice of not paying their debts on time.
But that has always been the ugly scene nationwide: the government perennially remiss in paying contractors at the designated time.
It is very common to see private companies spending in advance while doing construction and repair work on government roads, bridges and other infrastructure.
When it's time to collect, the government maintains this habit of making it difficult for the private sector/s to collect what's due them.
Corruption, coupled with bureaucratic procedures, seems always to conspire to stunt infra progress to the detriment of the traveling public.
That has always been President Duterte's plaint since Day One when he took office in July 2016.
To his credit, Duterte has fired several officials already, including high-ranking Cabinet-level factotums caught/suspected dipping their fingers into the public coffers.
Long before the drug menace has struck the country nationwide, corruption has already been the No. 1 scourge plaguing the innermost nooks of the government. And Kennon Road is but one of corruption's victims for the longest time.
And why are we here again in the City of Pines?
Jake and I are working anew—beginning December 1 yet—in the Rules Committee of the Fil-Am Golf Invitational, a commitment we've embraced for more than a decade now.
It's not a job but a passion, golf being our love since Jake and I picked up the game in 1985. Subsequently, we both went into mastering (still trying to) the rules of the sport.   In pursuit of this passion, Jake and I had been to rules seminars both here and in the United States to sharpen our knowledge on the rudiments of golf officiating.
I had said then that if I could act as an international judge in boxing, as a referee in basketball, why not also as golf rules man?
Thus, our continued involvement in Fil-Am Golf, which boasts of being the world's biggest amateur golf tournament with nearly 1,500 entries from all across the globe entered anew this year at both Baguio Country Club and Camp John Hay ending December 15.
A bit more history, you want?
Now on its 69th edition, the Fil-Am Golf is a product of unity and friendship forged by the late Sen. Rogelio de la Rosa and an American military official during their chance coffee meeting at John Hay in 1948.
Their coffee chat led to a round of golf and, in their subsequent rounds, they decided to stage what is now the Fil-Am Golf Invitational anchored on Filipino-American friendship forged on the fairways.
The rest, as they say, is history.
I salute the men and women behind this year's edition, led by co-chairmen Anthony de Leon of BCC and Tim Allen of CJH, Freddie Mendoza, Ely Lagman, Shean Bedi, Renato Rondez, Peng Perez de Tagle, Mario Benitez, Ramon Cabrera, Andrew Pinero, Roanne Galicia, Glaiza del Rosario, Abdullah Mastura, CJH Chairman Bob Sobrepeña and Atty. Rico Agcaoili, the dashing BCC chairman.
May your tribe increase, fellas.
PEE STOP Vehicle sales end of October have dipped compared to last year's data but that's understandable. The new excise taxes from the Train law's effects have forced car buyers to shy away from their fancied vehicles.   But I'm sure the industry will rebound before 2018 draws to a close. Always, the Yuletide cannot kill the buyer's urge to purchase a new car to greet the New Year.   That is a historical fact too difficult to dispute…My family condoles deeply with Rommel Sytin and the many other loved ones of Dominic Sytin.   Dominic, Rommel's very friendly and jolly brother, was recently gunned down by a lone gunman in a Subic hotel. Dominic was the man behind the highly successful United Auctioneers in Subic, who was, at the young age of 51, have already started engaging in philanthropic ways—among them his huge financial support to the UP Fighting Maroons in the UAAP basketball tournament. Rommel and his family are seeking justice "as we are still in shock over this tragedy." May the case be solved quick.   Calling on the police…