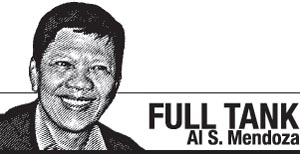 SINCE there seems to be no end to traffic woes, there also seems to be a never-ending attempt to find solutions to this modern-day malady.
Man's main trait has always been to know the problem.
Next, he will find a solution.
The man in the mirror consistently says there is no problem that can't be solved.
We conquered sea travel by building a ship.
We conquered air travel by building a plane.
We conquered long-distance land travel by building a car.
We will conquer traffic by building what?
Confidence. That's what we should start building to lick traffic.
Confidence entails belief in one's self to achieve even the impossible.
Land traffic has been with us for the longest time. It will not be cured if we say it can't be cured. It will stay with us if we say it will stay with us.
We should not stop looking for a solution or traffic will gobble us up hook, line and sinker before Digong's God parts the Red Sea.
Nothing is late
AS early as 10 years ago, traffic has been robbing us some P2 billion every day. By 2023 Japan's Jica estimates traffic thievery to reach more than P6 billion every day.
It's got to end or the carmaggedon would stop us all on our tracks. No manufacturing. No fishing. No agriculture. No trading. No life.
We shouldn't just watch the world worm its way into decay. We used to have a beautiful universe. We became complacent. We let it slide down to retrogression. Global warming is here. Climate change challenges us no end.
But nothing is late. Late is never late. Late happens only when we don't act at all.
Act we must. Always. Now.
2,200 buses out of Edsa
THUS, the forthcoming plan to kill traffic—again—will soon dawn upon us.
Provincial buses will only be allowed specific hours of travel at most parts of Edsa.
In the morning, most of Edsa would be off-limits to them between 7 and 10.
In the afternoon, most of Edsa would be off-limits to them between 4 and 8.
From this scheme, the government hopes to slash 2,200 buses out of Edsa.
From this scheme, therefore, came the correct notion that vehicle volume, indeed, has been established as the chief culprit of traffic gridlocks in the metropolis, specifically on Edsa.
Ah, vehicle volume. Some say this is largely due to companies' penchant to produce vehicles, amid lack of infrastructure to accommodate them on the roads.
This is twisted thinking, of course. From Day One, vehicle production has nothing to do with traffic jams.
Dictated by market forces
THE number of cars rolled out on the road is in accordance with business strategies, hatched way in advance and in conjunction with forecasts usually dictated by market forces.
If you see streets and arteries crowded with vehicles crawling like snails and turtles, not only in Metro Manila but in Cebu and Davao as well, the car companies had nothing to do with that.
Look the other way, as in training your sight on government inadequacy in maintaining public order. Yes, traffic is also a form of dysfunctional governance. When there is disorder on the road, public officials are to blame, especially on the issue of quick response to untangle the tangled. Even the ticklish tricycle irritant becomes an instant public official's territory, particularly when the three-wheeled machine strays into a national highway—which is as common a sight as mangoes flooding every market and trade fair during summer.
Traffic as incurable as cancer or Alzheimer's?
Not if you have confidence. Man knows it all.
Aren't we in Mars already?
PEE STOP Don't look now but the Vios, Toyota's best-selling passenger car for years now, will have an entirely new look when it gets unveiled on July 20….  And then on July 28 Toyota undertakes another first when it unwraps its Musicfest at the Filinvest in Alabang that features the country's top bands and artists, led by Ely Buendia, Spongecola and Parokya Ni Edgar. Free admission. If memory serves, no other car company has ever done this. Hat's off to Toyota's big wigs once more!…  And speaking of Toyota again, its most illustrious product, who is now a hebigat a.k.a. heavyweight in the Toyota hierarchy along the high-powered Asia-Pacific rim, is in town: Vince Socco. Sneaking out of Singapore for a much needed whiff of Philippine air, Sir Vince will have lunch with his fellow "Super Origs" dying, again, to hear his wit and humor always pouring out in abundance, before he joins Lexus President Raymond T. Rodriguez in hosting select friends to another Pacquiao Fight Treat. The list of guests for the July 15 Pacquaio-Matthysse bout includes another industry top gun, the now-retired Lexus prexy, Danny "Sir John" Isla, who flew in from his new base that is Auckland, New Zealand, for a Macallan single malt bash to go with watching the PacMan's return to the ring after an absence of one year. Para sa bansa!