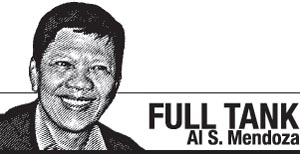 IT'S not done until it's done. And so, the plan by President Duterte to transform Boracay into an agricultural haven still remains just that: a plan.
Agencies have been ordered to make an audit of the island known globally as one of the best tourist destinations worldwide.
They will identify which part of Boracay is suited to farming, but not necessarily to discard the island's beach aspect altogether. Whether we like it or not, Boracay is inherently a place for lovers of the sea, sun and sand.
Now, was the President on a spur-of-the-moment mode when he brought up the farming idea on Boracay?
And if there is any doubt as to whether Duterte's move is within legal bounds or not, a presidential order was discovered to this effect, signed by President Macapagal-Arroyo in 2006 or thereabouts about Boracay also as being both a forest preserve and a vast land suited to rice farming.
What is more surprising, pleasantly, was Duterte's pitch that should Boracay prove to be such an agricultural area, he'd partition the lands there and distribute them to the farmers living in Boracay. Land for the landless at work, and at its best yet—if ever.
Commendable, indeed, if it'd push through, as the direct beneficiaries could be our Aeta brothers living there for centuries but have been deliberately displaced by the rapid and radical onslaught of commercial vultures.
One sure thing from the recent disclosures made by a task force to check on the construction state of Boracay is the numerous violations on how the buildings there, including many hotels, were erected. The most common infringement was faulty and, therefore, noncompliant sewage and sanitary issues.
I'd say the massive investigation came almost in the nick of time, saving the beautiful, powder-soft sands of the island from further degradation and impending decay. Even the once crystal-clear water there is now fast-becoming darker than dark due to improper waste disposals happening for the longest time.
But even as Boracay might yet undergo an out-of-the-box change, the fact remains that its natural beauty only Mother Nature can preserve must be maintained at all cost. Thus its innate trait as a tourist attraction will always stay with it—till the end of time.
It is with this latent truth that the bridge envisioned to be built crossing the sea to Boracay from Caticlan Airport by Ramon S. Ang, the head of the country's biggest conglomerate that is the San Miguel Corp., is as relevant as the President Duterte's friendship with President Xi Jinping of China.
The 19-kilometer bridge would easily decongest Boracay, especially at nighttime, as tourists could return, in a breeze, to their hotels in the Aklan mainland after enjoying the white-sand beaches in the daytime.
The entire length of the bridge could also be harnessed for pipeline use to deliver potable water and also install tubes, maybe for transmission of other matters both disposable and retainable.
The benefits out of the bridge construction could be as limitless as the gentle waves splashing to the shores of Boracay, including the construction of hotels and other buildings primed for investment opportunities.
Ang, called affectionately as RSA by those dear to him, commended Duterte's order to close Boracay for six months at least for a much-needed rehabilitation of the island.
"Let us support the President's move by doing our part in contributing to the island's survival, so that generations to come will enjoy the fruits of Boracay as the country's favorite tourism spot," said RSA, whose airport at Caticlan has become a huge help for tourists wanting a quick travel time to Boracay instead of having to pass through the circuitous route from Kalibo to Caticlan.
Known for his generosity and philanthropic ways, RSA plans to build the bridge to Boracay in tandem with San Miguel's resources. Also imbued with a sense of aesthetics (he usually designs his houses, hotels and other structures), RSA, a passionate car collector, wants to pattern the Caticlan-to-Boracay connector to world-famed bridges like New York's Brooklyn Bridge, Shanghai's Donghai Bridge, Hong Kong's Tsing Ma Bridge, Tokyo's Bay Bridge, Macau Bridge or the iconic Golden Gate Bridge in San Francisco. With RSA, nothing is impossible, indeed.
Nothing could be farther from the truth as growth from virtually all fronts has become palpably evident the last two years or so. With investments pouring in almost unstoppably in Boracay despite its impending rehab, I wouldn't be surprised if, soon enough, a car dealership will rise in the vicinity of that paradise of an island. If it should be Toyota doing it first, no surprise there, either. Its DNA for such an endeavor has become legend all these years.
PEE STOP Congrats to my fellow motoring journalist Alvin Uy for again successfully staging the just-ended Manila International Auto Show! Mabuhay ka, Alvin!…Let's all welcome the return today of STV's Test Drive bonanza at the MOA grounds in Pasay City extending up to Sunday. As usual, event founder Ray Butch "Elvis" Gamboa will host cocktails exclusively for his dear friends and tireless supporters aka industry bigwigs from the car world. Cheers, Elvis!