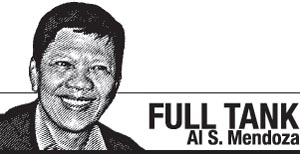 Department Order 118-12 from the Department of Labor and Employment (Dole) has been recently upheld by the Supreme Court.
It calls for bus operators to guarantee a fixed salary to their drivers/conductors and other benefits due them. In the National Capital Region covering Metro Manila, the order passed in 2012 requires a minimum daily wage for bus drivers/conductors at P512.
The Supreme Court order now allows the Dole and the Land Transportation Franchising and Regulatory Board (LTFRB) to cancel the franchises of those who do not comply.
In justifying its decision, the High Court said: "The Order is reasonable and not violative of due process as these enhance the economic status of bus drivers and conductors…and promote the general welfare of the riding public."
So there.
MG launch—and more
I wrote this days ahead of The Covenant Car Company, Inc.'s plan to launch the MG (Morris Garrages) on October 11 at the Shangri-La in Fort Bonifacio.
If it pushed through—I'm sure it did—I would miss it as I had a prior appointment. As usual, I'm pretty certain The Covenant's charmer Lyn Buena understood. Atty. Albert Arcilla, too. The always dapper Albert is The Covenant's top gun.
I would have really liked to attend the occasion as I have an affinity with the MG brand. My first car was MG, the Minica type.
Although it had seen better days as it was a delivery van for Bulletin newspapers in the Metro Manila area from the 1960s to the 1970s, I still bought the Minica for the sheer pleasure of finally owning my first car.
I drove it home that night like a kid excited no end in finally owning his first bicycle. It was my first time to drive a car in the city, but from Intramuros to my then Sampaloc apartment, it was a breeze. I kept honking; the thrill of it was unforgettable.
I fell madly in love with my Minica (that's how it is with your first love, right?) that I didn't only tinker with it constantly but I had it beautified endlessly, as well.
It got a repaint. Colored white. I put a large red star on its forehead. A political statement of its owner amid martial-law tremors then?
I knew it creaked and groaned with each trip I had.
But, hey, it had brought my family up to Baguio, heroically, after which I drove it all the way to Calauag, Quezon and back—gallantly. God is good.
Not a single flat tire.
Not a single overheat.
Not a single stall.
And when did I buy it again?
It was 1978. I was into my fifth year as a sportswriter for the Bulletin.
When Mariano Quimson, then the Bulletin president and treasurer, heard about my interest in acquiring the Minica, he called me to his office.
"Our motor pool guys tell me you want the Minica?"
"Yes, sir, I do," I said. "With your permission…"
"OK, you can have it," he said.
Just like that.
He did away with the auction, the company's practice of selling a used company car to the highest-bidding employee. You are the company president, forget the rules. You are the law.
The personnel officer would next call me to his office.
"Al, the president told me to talk to you," he said. "How much would your down payment be for the car?"
"No idea, sir."
"It's your call," he said. "The president said any amount would do."
"Thank you, sir," I said. "How about P400, sir?"
"Done," he said. "How many 'gives' would you wish to make?"
"How about 12 gives, sir?"
"Done," he said. "Make that P200 a month? You can pay it in full anytime you want to."
Without batting an eyelash, I said, "Yes, sir. Thank you very much."
The car, although a bit an old fogey already as I've said, was still a good buy at P400.
After the 1986 Edsa People Power, Mr. Quimson retired and flew to the US. I would next accept the offer from Tita Eggie Apostol to join the Inquirer (she was the original controlling owner of the Inquirer).
And, as luck would have it, Mr. Quimson and I would be together again—at the Inquirer beginning 1987. He'd become Inquirer president. I'd become Inquirer sports editor, one of several positions I would hold.
"Happy days are here again," I remember Mr. Quimson telling me when I finally convinced him to infuse massive capital, together with the late lamented Ben Pangilinan (formerly the Bulletin's circulation manager), into the then gasping .
Well, to cap it, this total disclosure: Mr. Quimson and I both hail from Pangasinan (he from Alaminos City, me from Mangatarem). He played favorites?
May his soul rest in peace.
PEE STOP Happy birthday (October 12) to 90-plus Tia Concep Magturo of Project 7, Quezon City. Tia Concep, whose favorite ride is the Toyota El Grandia, is the mother of my balikbayan bilas Jun Magturo, the jolly hubby of my beauteous hipag, Ofelia F. Juvida. For decades, pancit, dinuguan and puto are Tia Concep's birthday regular fare. This year is no exception, I believe. Happy birthday, Tia Concep! And to Jun, sana'y malasing mo kami ni Dante T. Fernandez of Roxas City.